8 Must-Try Filipino Dishes When Traveling To The Philippines
In a country where "kain tayo" (let's eat) is as legit a greeting as hello, experiencing must-try Filipino dishes has to be on every visitor's itinerary. But with the mouthwatering lechon on one end of the spectrum and the less-appetizing balut on the other end, where oh where does a confused traveler start?
In keeping with the famous Filipino hospitality, we've taken the liberty of coming up with a list that any visitor to the Philippines can use to navigate our dizzying, delicious local cuisine. We've whittled it down to the classics, and don't worry, for your peace of mind (and stomach), we've kept the half-developed duck embryos out. These are eight must-try Filipino dishes you should eat on your next visit:
1
Adobo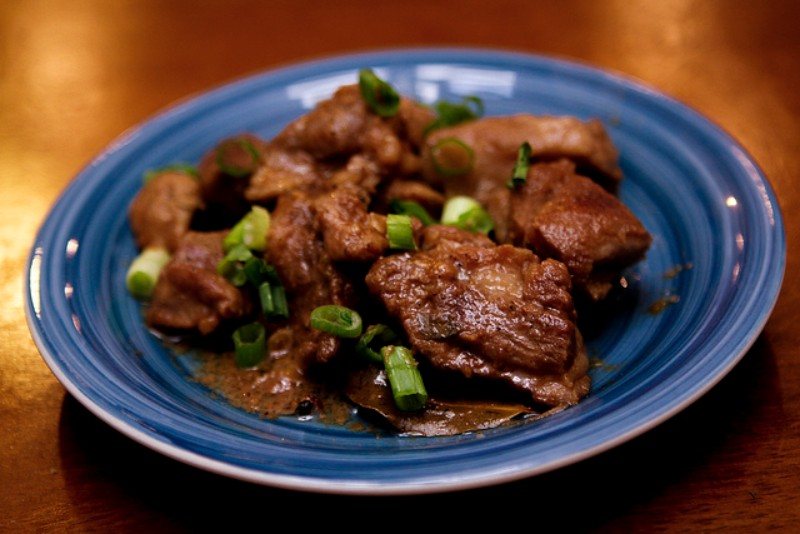 Trying to find a Filipino who doesn't like adobo is like trying to find a Filipino who would reject a turn at karaoke. It's virtually impossible. Widely considered the Philippines' national dish, this meat-and-vinegar stew gets props not only for its flavor, but also for how simple and easy it is to make. It is also loved for how much better it tastes a day or two after you've cooked it. They say there are as many variations to this dish as there are islands in the Philippines. You've got adobo versions done with different kinds of meat, and those mixed in with coconut milk, mushrooms, and even turmeric. Although, the best version is always the one made at home!
2
Sinigang
Those who aren't on #TeamAdobo will for sure be part of the #SiniGang. Sinigang is another one of our must-try Filipino dishes and a very strong contender for the title of national dish. This savory-sour broth typically made with tamarind is hearty, comforting, and tastes especially good when made with fresh seafood.
3
Lechon
Where there's lechon, there's a fiesta. This dish consists of an entire pig or cow seasoned with spices, stuffed with rice, and slow-roasted on a spit. It is often the centerpiece of big celebrations involving huge families or even entire towns. At parties, there will for sure be a long line of people trying to get a choice cut of lechon. The coveted lechon skin usually sparks the fiercest competition.
4
Sisig
Among our must-try Filipino dishes, sisig is perhaps the most sinful. This dish made of pork jowl chopped up into tiny bits can be eaten as a full meal with rice or on its own. Typically served on a sizzling plate or wrapped in a banana leaf, it's all at once juicy, savory, and most of all, perfect with an ice-cold beer. This makes it a staple at any inuman (drinking) session.
5
Bicol Express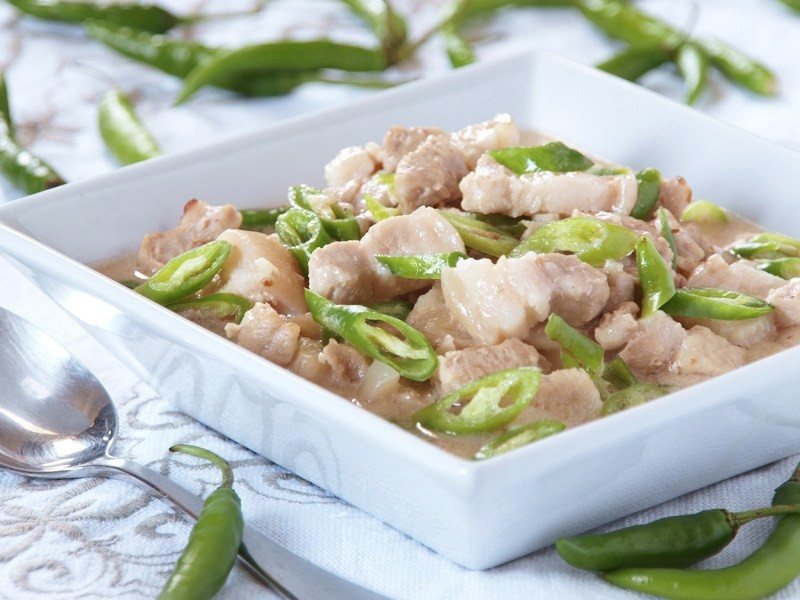 Originating from the region in Southern Luzon known for the perfect Mayon Volcano, Bicol Express is as fiery as its home province. It's basically pork stewed in coconut milk, shrimp paste, and a lot of chilies. It makes every bite a flavor explosion reminiscent of Mt. Mayon.
6
Kilawin
Take the catch of the day, clean it, chop it up, soak it in vinegar, ginger, and chilis, and you get kilawin. It is a raw seafood dish that you can find pretty much everywhere in the country, from the fishing dinghies in the small towns to the gourmet restaurants in the city.
7
Silog
Yes, Filipinos have rice even for breakfast, and we call it sinangag, which is basically fried rice. Add itlog (fried egg) into the mix and you get Silog, which is the base for most Filipino breakfasts. Just add your meat of choice—usually tapa (cured beef) for tapsilog, fried bangus (milkfish) for bangsilog, longganisa (sausage) for longsilog—and you've got the perfect breakfast!
8
Spaghetti
Everywhere else in the world, spaghetti would refer to the kind of noodle that people use in certain pasta dishes. However, in the Philippines, spaghetti, or more accurately ispageti, refers to the dish itself. It is spaghetti noodles in a sweetish tomato sauce made with ground beef, almost-illegal amounts of quick melt cheese, and the ingredient that sets the Pinoy version of this dish apart: hotdog bits. If it sounds weird, it probably is! As with all the other must-try Filipino dishes, don't knock it 'till you've tried it!
We hope this guide has done enough to whet any visitor's appetite. It's a crazy culinary journey ahead for anyone who dares to partake. But those who stick to these must-try Filipino dishes are sure to have a good time—and get to know the country even better.