We Did Not Know the Philippines Was This Fun [Guest Post]
After four months, we finally made it back to the Philippines for a trip that will always be in our hearts. Had we known the Philippines was going to be this much fun, we would have gone sooner! On our second trip here, we decided to book our tickets to the Southern part of the Philippines.
My boyfriend and I had been saving up for an open-end trip to Central and South America, but things turned out differently when we found reasonably-priced flights to Cebu. We did our research online and were pulled in by the sweet promises of landscapes more beautiful than any postcard. We just couldn't resist and we booked right then and there.
Here are our experiences on our new favorite islands in the Visayas area!
First Stop: Siargao
After one night of transfer, we reached Siargao, the surfing capital of the archipelago. Although Siargao is small, there were so many things to explore. Surfers would definitely love the laid-back vibe and the great waves.
We stayed at Kermit Surf Resort and Camp, a cozy resort that also organizes tours and offers good food from the in-house kitchen. Not only are the Filipino dishes far beyond delicious, the pizza at Kermit tastes like heaven.
Because my boyfriend and I were not really talented surfers—we tried it once, but I already got seasick on the way to the spot—we explored the island by scooter instead. We discovered breathtaking beaches and vibrant green mangrove forests, and we felt very welcomed by the limitless hospitality of the people of Siargao.
PHILIHAPPY PRO TIP: If you are feeling a little more adventurous, go paddleboarding in the mangroves (there has not been any crocodile attacks for ten years so don't worry!), ride on a water buffalo, and get drunk with exotic Jungle Juice (don't take this lightly) at the Jungle Disco.
After five days of staying on the island, we came to the conclusion that that's exactly what paradise is like. It might sound a little bit over the top, but we're not exaggerating. You should go to the far northeast of Mindanao, and you will come to the same conclusion too.
Read more on the best travel destinations for couples: 5 Philippine Destinations for Your Relationship Goals.
Next Stop: Apo Island
Another highlight of our trip was Apo Island. It's a tiny island with only around 1,000 inhabitants. There's only electricity for three hours a day, so it's better to charge all your gadgets before the power cuts off. Regardless of being disconnected from your mobile phones, Apo Island is the perfect place to relax and feel connected with nature.
We stayed at Mario's Scuba Diving and Homestay, which was a cozy and amazing place to relax. Our room had a nice sea view and we also got to meet Mario, the owner. He was an interesting guy who had traveled a lot and returned to Apo Island to raise awareness for nature preservation and to teach diving.
The underwater landscape around the island was a secret garden full of diverse fishes and colorful coral reefs. The most impressive inhabitants of the sea were the giant sea turtles that live close to the beach. It was not hard to spot them. To watch them strolling around and swimming in the water was a unique experience.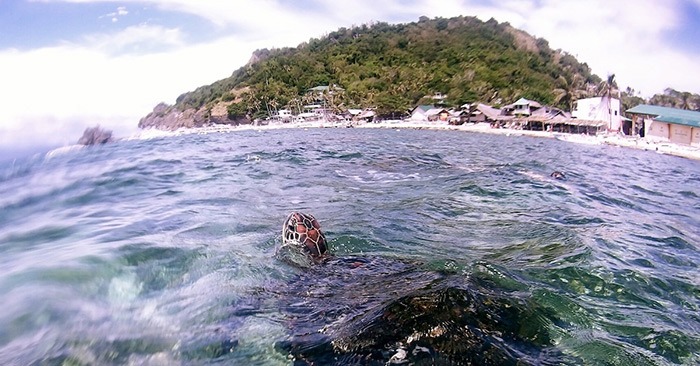 After a long day of snorkeling, we went hiking to the lighthouse located on top of the only mountain on the island. We watched the stunning sunset and golden colors overlaying the entirety of Apo Island. And just like that, once again, we were impressed by how beautiful the Philippines is.
PHILIHAPPY PRO TIP: Don't forget to bring a flashlight because it can get very dark before they power on the generator. The total darkness isn't so bad, though—it's the perfect time to watch the stars! At night, the basketball court and the milkshake bar are the places to be, the milkshake was the icing on top of a perfect day in paradise.
More than the beauty we had seen were the open-minded and warm-hearted Filipinos. During our stay, we even got invited to two birthday parties. They sure knew how to party and how to start the festivities early!
Unfortunately, we had to leave the Philippines after three weeks of nothing but amazing experiences and memories. We weren't able to explore all the wonderful things we wanted to discover, but this just gives us more of a reason to come back. We will definitely return because it is definitely more fun in the Philippines!