The Picasso Makati: An Art Haven Meets Hotel Luxury
The Picasso Makati
119 L.P. Leviste Street, Salcedo Village, Makati City
Accepts Credit Cards
Wheelchair Accessible
Smoking Allowed
Wireless Internet
Pets Friendly
Parking available
Reservations Allowed
Child friendly
Makati is a thriving city where business and pleasure meet. Even as it is known as Manila's business district, visitors to Makati will never have a shortage of things to do. It is also home to some of the city's most luxurious and restful hotels. If you're tired of the usual generic beige hotel rooms, try spending your next Makati staycation at The Picasso Makati!
The Picasso Boutique Serviced Residences is not your usual cookie-cutter accommodations. It is an artist haven and boutique hotel that offers the conveniences of condo living with added hotel luxuries. Even from outside the hotel, the white artsy building already catches one's attention. Who wouldn't notice the vibrant walls of their balconies that perfectly contrast the pristine building?
Inspired by Pablo Picasso
Stepping into the hotel is like stepping into one huge art gallery filled with vibrant colors and patterns making up a beautiful artwork.
Inspired by the life and works of the legendary Spanish artist Pablo Picasso, this stylish boutique hotel is a pleasant visual feast for any art enthusiast. It exudes an artsy and cool vibe that stimulates people's curiosity to see what more is in store.
The Picasso Makati is just in the heart of Salcedo Village, just a stone throw's away from the location of the popular Salcedo Saturday Market. It's really a convenient place to be if you're having your weekend staycation in the area since it's close to many places of interest!
Spacious Rooms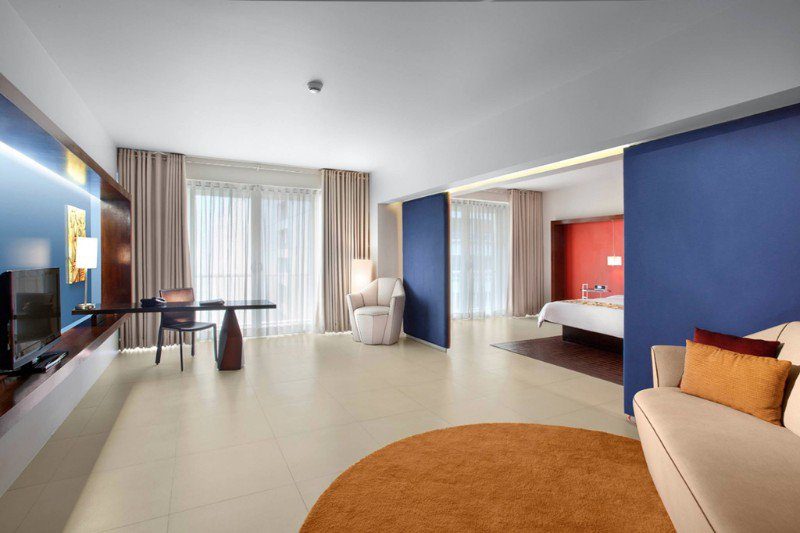 Unlike other hotels, The Picasso Makati gives you breathing room during your stay—and then some!
The rooms in Picasso Makati are aptly named after places significant to Picasso's life. Choose between the smaller yet still roomy Malaga and Madrid Studios, and the Andalusia Premier Studio. You may also want to check into the Barcelona and Montparnasse suites, which are incredibly spacious. Big groups will love the Mallorca adjoining rooms while the Picasso Loft is the ultimate VIP room.
The Montparnasse, which we stayed in, is an 88-square-meter suite. Yes, it was huge! The suite is fitted a king-size bed, rain shower and bathtub, living room, kitchenette with microwave and electric stove, minibar, workstation, and two balconies. It is the sort of hotel room you wish was your actual home! Moreover, the vibrant walls and minimalist interior with Cubism-inspired furniture pieces provide a lot of interesting eye candy during your stay.
Work and Play
The spacious bed, rain shower and tub, and all other hotel comforts helped us relax and feel cozy after a long day of work. We did not use the kitchenette, but if guests were to stay longer, they would have definitely appreciated this.
Kitchenware and dinnerware are available upon request and free of charge. If you're a non-cooker like us, you can order room service from Pablo's Bistro at the ground floor. You can easily turn your staycation into a romantic one by having your dinner served in the room with a bottle of wine or champagne!
The couch in the living area, work desk with free Wi-Fi, and the balcony are major plus points for us because as digital nomads, we always prefer staying in a business-friendly hotel–and the Picasso Makati was exactly that!
PHILIHAPPY PRO TIP: Run a pleasant bath by bringing your own bath bombs and bubble bath!
Where to Eat
The hotel's in-house restaurant is Pablo's Bistro. Hotel guests have their complimentary breakfast here. For breakfast, you will be handed a menu from which you can choose your morning meal. A modest selection of bread, a couple of fruit choices, and salad are served buffet-style.
We opted for their oatmeal and french toast from the menu while we toasted our own bread from the buffet table. The staff served us our cups of hot coffee, which were perfect! We believe they offer Yardstick coffee. Some people might prefer a bigger selection for breakfast, but for on-the-go, fuss-free guests like us, we really do prefer breakfast sets more than a bigger buffet selection.
Aside from breakfast, this upscale restaurant also offers European dishes and cocktails. The ambiance of this place is amazing. We could only imagine hanging out here at night, maybe next time! It is a quaint, fancy, intimate restaurant and bar that is not intimidating at all.
You can also try the nearby newly opened café and deli, which is called Cartel. We were not able to check it out, but from the outside, it looks like a new nook for coffee aficionados that is yet to be discovered.
Hotel Amenities
So what other things does this hotel have in store for you? The Picasso Makati has a Wi-Fi lounge at the 2nd floor which looks like your very own office. The whole hotel has high-speed free Wi-Fi anyway, so we did not feel the need to stay there. Do note though that only a maximum of three devices can connect.
They also have a fully-equipped fitness gym, spa, salon, and in-house art gallery. We did check out the art gallery, which is definitely worth checking out!
The running exhibit at the time of our visit was Born of the Moon by Agnes Arellano. If you're interested in dropping by, the exhibit will be at the Picasso Makati until November 2, 2016.
If you wish to roam around Makati City, you can park your car at the hotel's free parking space and opt for shuttle services offered by the Picasso Makati. Just advise the Front Desk and they will happily assist you.
Perfect for a Staycation
The Picasso Makati is a work of art in itself. Not many can truly say that they got to sleep in a cool and art-filled boutique hotel! We could see ourselves staying here again given how suitable the amenities are for both work and relaxation. Try staying over the weekend, and expect to see a more laid-back and hip Makati!
---
The Picasso Boutique Serviced Residences
119 L.P. Leviste Street, Salcedo Village, Makati City.
Book the best deal on this hotel now!
+63 2 828 4774
[email protected]
Website, Facebook, Instagram