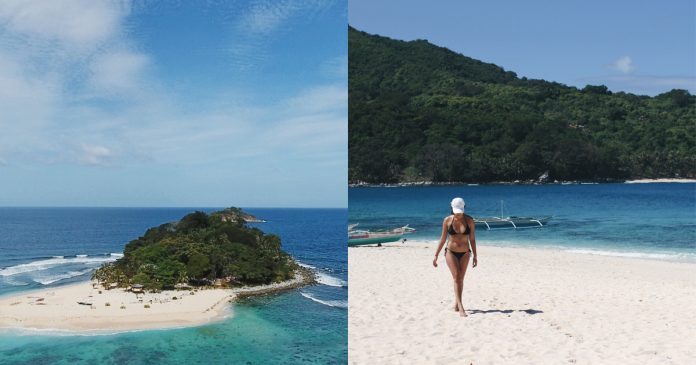 Brother Island In El Nido Lets You Enjoy The Private Island Life
One of the biggest reasons many people keep falling in love with the Philippines is the abundance of beaches. You can almost always find a sunny stretch of sand and clear blue waters to escape to, whether it's for a weekend or for much longer. Usually, public beaches or private resorts do the trick. But what if you want a one-of-a-kind experience of having an island all to yourself? Well, you can at Brother Island in Palawan.
Located in El Nido, Brother Island offers a unique island experience. For just a little while, you can feel what it's like having an entire island to yourself, with pristine sand and surf inviting you to relax and unwind.
How to get to Brother Island
If you are taking a commercial flight to El Nido, you may book one via Air Swift. It is more expensive compared to flying to Puerto Princesa, then taking a six-hour van ride to El Nido proper, but it saves you more time. Still, if time is not a factor, you can still take the more affordable route to El Nido. 
Upon arrival at Lio Airport, you can then take a tricycle to El Nido Town. Brother Island is an hour and 15 minutes away from town proper. It will take you 45 minutes via van to Teneguiban, the nearest town to Brother Island. From there, you will take a 20- to 30-minute boat ride to Brother Island depending on the weather condition.
PHILIHAPPY PRO TIP: The boat was small, and the waves were big. The ride was not for everyone! We took it as an adventure, though. Make sure you seal all gadgets and valuables because you will get wet.
Privacy for the beach lover
El Nido is already known for its incredible sun and sea. Brother Island, aka Small Darocoton, can attest to that beauty. It plays host to numerous local and international guests who want to experience what it's like having a private island. As listed on Airbnb, it is one of the more affordable of its kind and offers the no-fuss, no-frills island life.
Brother Island is surrounded by volcanic rock formations, which is truly breathtaking to see. For such a small island, it's remarkable how it has such a vast white beach. Yes, a white beach!
The Brother Island life
Living accommodations at Brother Island were more than satisfactory. The hosts and friendly housekeeping staff will be there to attend to your needs. The house was big and had more than enough room for a big group. If there's not enough space and if the weather permits, you may even opt to sleep under the stars with the cool breeze.
The entire house is very native, which is amazing! There were huge windows everywhere for the sunlight and the cool breeze to come in. The second floor had a big balcony with beds and couches, too. The foyer has a dining table where we ate our meals.
Because staying on the island sets you apart from civilization, be prepared for slow yet enjoyable days! We wake up in the morning, drink our coffee, and head to the beach to stare at the waves (if we're not running after the chicken or stalking tiny crabs).
At sunset, the sky turns into a beautiful orange, or sometimes into pink or purple. At night, the skies are so clear that you could see the stars shining so bright. We've never seen that many stars in Manila! That was an experience we are unlikely to forget.
The perfect barkada vacation
Indeed, a getaway to this island is perfect for big groups. The main house can comfortably hold ten people.
The price per night already includes full-board meals throughout your stay, which is a great deal! We always had rice at every meal. No diet allowed! For breakfast, aside from having traditional Filipino meals, they also served bread and jams. For lunch and dinner, they usually cooked a freshly caught (not to mention, huge) fish. Top your feast off with fresh fruits!
Coffee, tea, hot chocolate are readily available at the kitchen. Ring the bell if you need anything more from the staff.
Since we had a big group during our stay, we enjoyed playing beach volleyball and table tennis. There are also hammocks and a gazebo to lounge in!
More activities
If you want more than just enjoying the chill island life, the hosts of Brother Island can arrange for various activities for you and your group. These include snorkeling expeditions to neighboring islands, hiking tours, local fishing, massages, and more.
There are also some friends to be made on the island! Rambo, was barking at us as we alighted the boat when we arrived. We love dogs, so we were not scared by his welcome. Zorro, on the other hand, was sitting patiently waiting for us to alight and pet him. Lucky, the only puppy and female dog on the island, was playful and had an odd fascination for feet and footwear. Better keep those shoes on tabletops if you don't want to go looking for the missing pair around the island. Being the dog lovers that we are, we loved the company of the fluffbutts.
Brother Island offers an authentic island experience. It is as advertised on their Airbnb posting, and it's as accurate as it can get. You get to experience the simplicity of an island life which is a good break from the fast-paced city life. You may even realize how much city life has consumed you and that outside that box is actually a very beautiful world worth appreciating.