Buffet under P500 in Manila: Sandaya Yakiniku
Cooking food is a skill not everyone has. Admittedly, I'm no cook myself, but I find dining in restaurants which give me the option to cook my own food oddly satisfying. Sandaya Yakiniku gives you the unique experience of grilling your food, smelling the caramelization of the meat, and inhaling the smoke from the crispy fat you've just rendered.
Yakiniku, a Japanese term for "grilled meat," is the Japanese take on barbecuing food at the dinner table. Located at the 3rd level of Fisher Mall, Sandaya Yakiniku offers a variety of Japanese dishes. From sashimi to top-of-the-line, USDA-approved beef, Sandaya Yakiniku is sure to keep your tummy satisfied.
I go to Fisher Mall a lot, and Sandaya always seems to have a lot of customers. And I'm sure I'm not the only one who sees this as a testament (or, at least, a measure) to the food a restaurant serves. Usually packed during buffet hours, I was lucky to be seated without making prior reservations. Upon entering, you already know that you are to expect good service because you'd be greeted by friendly staff and be comfortably seated at your table.
The doodles on the placemat got me excited to eat and experience the #SandayaPromise. Newbies to yakiniku will not be intimidated here at all. I knew if I enjoyed my meal I would be coming back to try all the possibilities. Do note that their buffet is but a small introduction to everything they offer; other Japanese dishes like sushi, tempura and shabu-shabu are also available and affordable.
On weekdays, the lunch buffet is priced at PHP 495, and dinner buffet is PHP 595. Just add PHP 100 to both prices for weekend dining. If you're ordering à la carte, a budget of around PHP 300–500 per person is more than enough to order whichever Japanese dish you're craving. More select meats for grilling, such as choice cut beef, will cost you more, of course.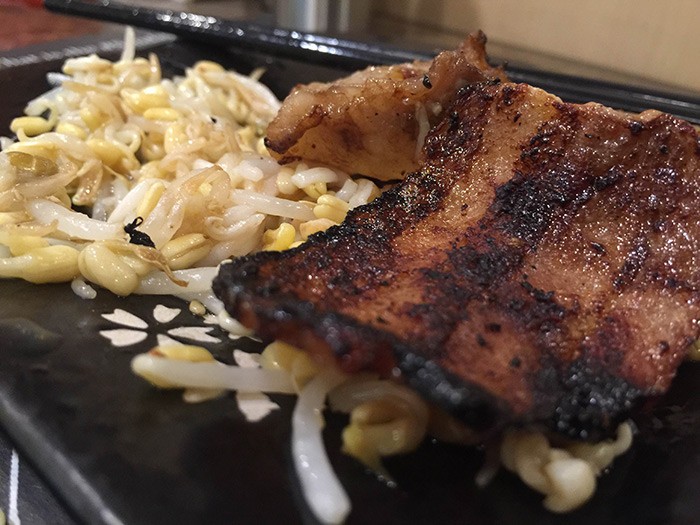 Sandaya Yakiniku's Eat-and-Drink-All-You-Can barely makes our list because of the price but rest assured every peso you pay is worth it. For the price, you get unlimited servings of beef short plate, pork belly, boneless chicken leg with sprout salad, and miso soup. Plus, the buffet also includes unlimited rice and bottomless lemon iced tea.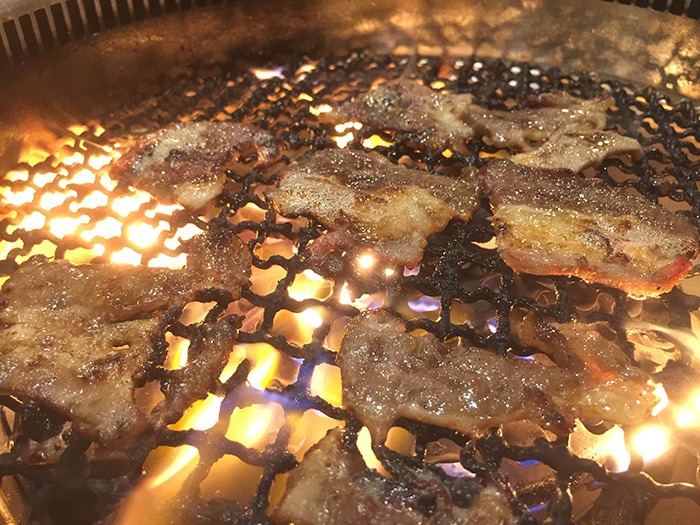 I was new to this style of buffet, so I burnt my food a few times. The server had to put out the fire, but it was a good laugh. Apparently, that happens a lot because of people taking too many photos, but what the hell, we eat with our eyes right? Tip: don't take too much time taking photos while grilling.
My experience was simple and straightforward, unlimited delicious yakiniku that I grilled myself. I was very satisfied after having four servings of the meat plate, but according to the staff, people order two to three meat plates on average. So needless to say, my stomach was more than happy; the food was good, the service was excellent, and the ambiance was superb.
I will be back and grilling again at Sandaya Yakiniku, probably this time with company. If you're a big party, call ahead to make reservations.
Any budget buffet I should try? Let me know through the comments section below. I just might treat you myself! Philihappy eating!
---
Sandaya Yakiniku is located at 3F Fisher Mall, Quezon Avenue, West Triangle, Quezon City. It is open daily from 10:00 a.m. to 09:00 p.m., and until 10:00 p.m. on Fridays and Saturdays. Lunch buffet is available from 11:30 a.m. to 2:30 p.m., and dinner is available from 5:30 p.m. onwards. You may also contact them at (+632) 287 8984 or through their Facebook page. For more information on other branches, visit Sandaya's website.