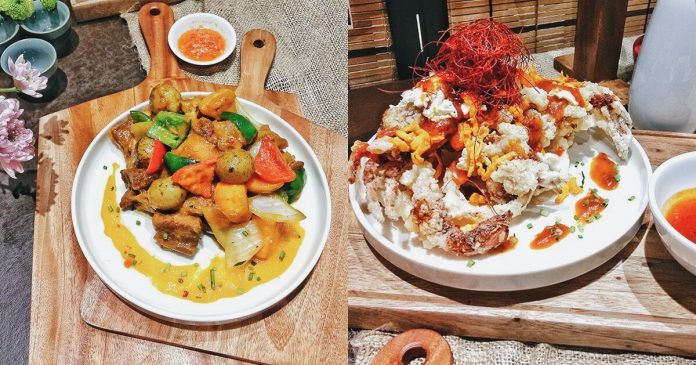 Have A Christmas Feast With Holiday Dishes From Wee Nam Kee
Wee Nam Kee
G/F Promenade, Greenhills Shopping Centre, Greenhills, San Juan City
Monday:

10 a.m. to 10 p.m

Tuesday:

10 a.m. to 10 p.m

Wendsday:

10 a.m. to 10 p.m

Thursday:

10 a.m. to 10 p.m

Friday:

10 a.m. to 10 p.m

Saturday:

10 a.m. to 10 p.m

Sunday:

10 a.m. to 10 p.m
Accepts Credit Cards
Wheelchair Accessible
Smoking Allowed
Wireless Internet
Pets Friendly
Parking available
Reservations Allowed
Child friendly
Just in time for the holidays, Wee Nam Kee launched their holiday offerings in celebration of the Yuletide season. Wee Nam Kee, known for bringing the taste of Singapore to Philippine shores, is very popular for their take on Hainanese chicken. Their holiday offerings, however, show us more complex dishes filled with both flavor and color, turning a basic feast into a more vibrant and celebratory one.
What to expect this Christmas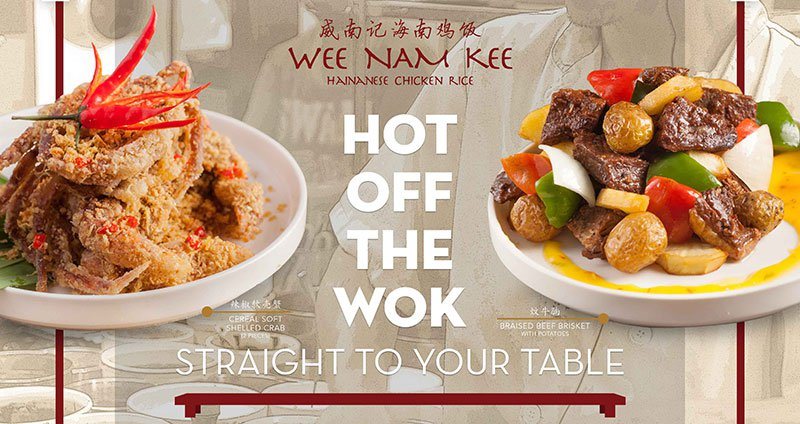 There's always something special about the Christmas season that makes us feel relaxed and bond over great food. That is the exact reason why we bond with our loved ones over this much-awaited event!
For this year's holiday season, Wee Nam Kee promises the kind of culinary experience that is delivered "hot off the wok and straight to your table." The dishes included in the holiday menu boast of layered flavors and bright colors, true to the way Filipinos prepare their feasts for Christmas. Although the dishes aren't quite the reminiscence of traditional Filipino Christmas food we're used to, they surely deserve a special spot in your holiday feasts. Break the usual routine and enjoy sumptuous dishes at any of Wee Nam Kee's seven branches!
Starters and old reliables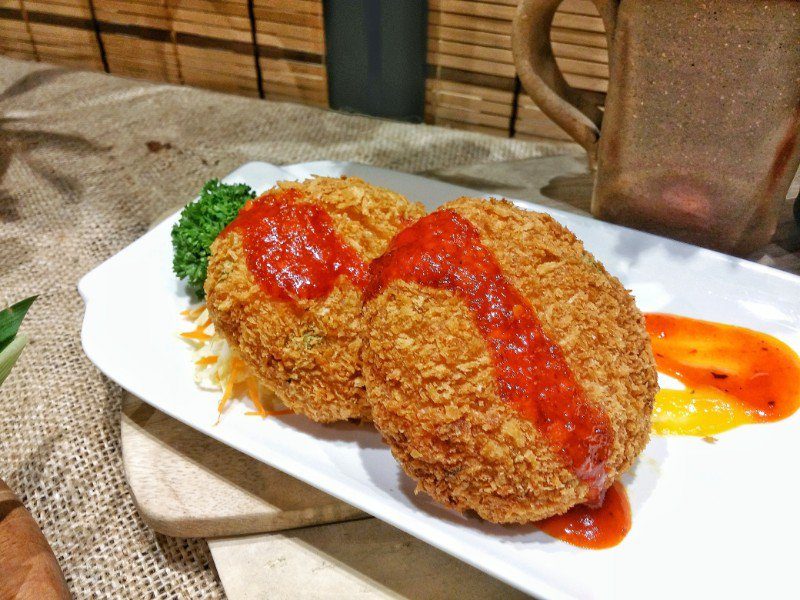 Tickling the palette is the Laksa Lava Fish Cake (2 pieces, PHP 195). This starter is a tasty sneak peek on what to expect for the rest of the meal. It is an unassuming dish that consists of two crispy homemade fish cakes. This fish cake will surprise you at first slice! Packed with layers of curry and coconut cream that complement the fish, the laksa lava oozes out in a brilliant orange.
Most fish cakes usually taste a lot more like flour and a lot less like fish. This one is different; it is filled with all the flavors and ingredients it promises. That first crunch is truly enjoyable!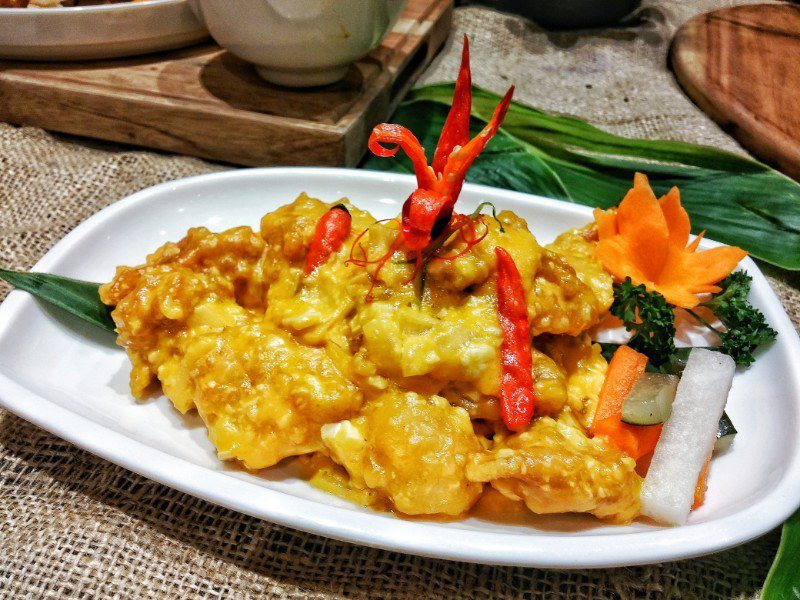 Before heading straight to the new dishes for the holidays, we were also served other notable classic dishes from the everyday Wee Nam Kee menu. Much to our delight, the best-selling Salted Egg Chinese Style Fried Chicken (PHP 320) was on our table! It lives up to all the salted egg hype we've been witnessing lately. The breaded fried chicken is given that distinct salty kick with the salted egg sauce, without overpowering the real taste of the chicken. We can practically live on this salted egg fried chicken with extra cups of rice!
READ: Get Your Cravings Fixed With These Salted Egg Dishes In Manila
Amazing Asian favorites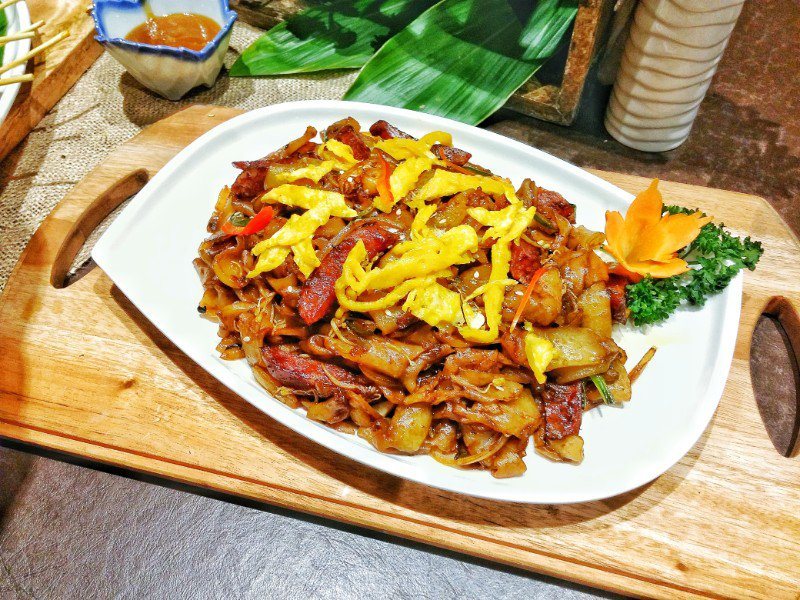 Not to stereotype, but what is Asian cuisine without noodles? We were served Char Kway Teow (PHP 335) in our dinner, a stir-fried dish made of wide flat noodles with a delightful concoction of shrimp, eggs, and vegetables topped with sesame seeds. Just a little tip, this more-Asian, less-Filipino take on noodles should be a good alternative to your pancit. The noodles were a bit bland to our taste compared to other takes of the dish. It could be because it was cooked in a humungous portion that the flavor had to be slightly sacrificed. But noodles being noodles, it was still deliciously yummy.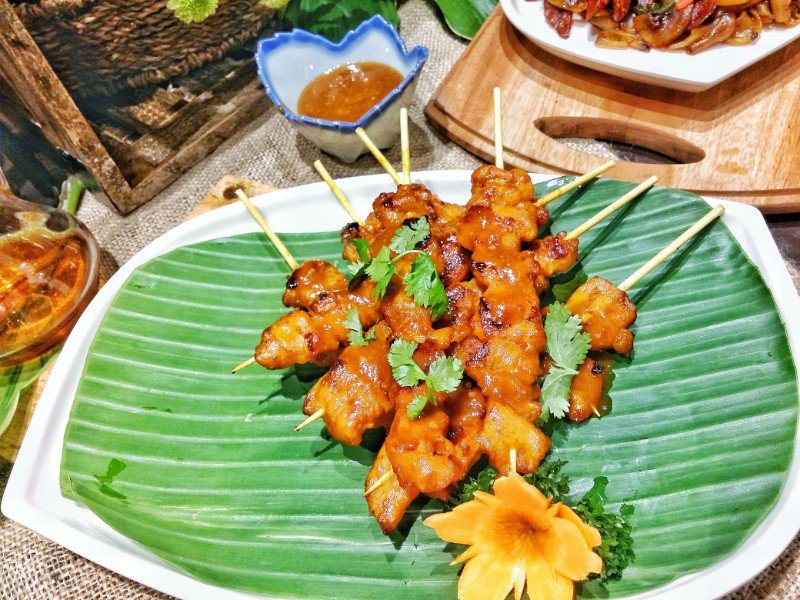 Last off the regular menu is their Satay Platter (PHP 330) that consists of chicken and pork satay served with peanut sauce. This dish is straight and simple, nothing fancy. That's precisely what we loved about it. Amidst all the complex flavors, it was good to have something that's straightforward and delicious to enjoy.
Special Christmas feasts
Starting off the holiday offerings is a dish that's very reminiscent to our traditional caldereta. However, the Braised Beef Brisket with Potatoes (PHP 380) boasts strongly of more Asian tones. The beef was incredibly tender that it yielded at the touch of a fork. The crunch of the bell peppers complements the stringiness of the beef.
The meal is mixed with tangy peanut sauce, and there was a perfect blend of sweet and savory. Although it was good, it was the dish, for some strange reason, that we least liked. Maybe, it still needed that extra kick to differentiate itself from the Filipino caldereta.
Crab dishes galore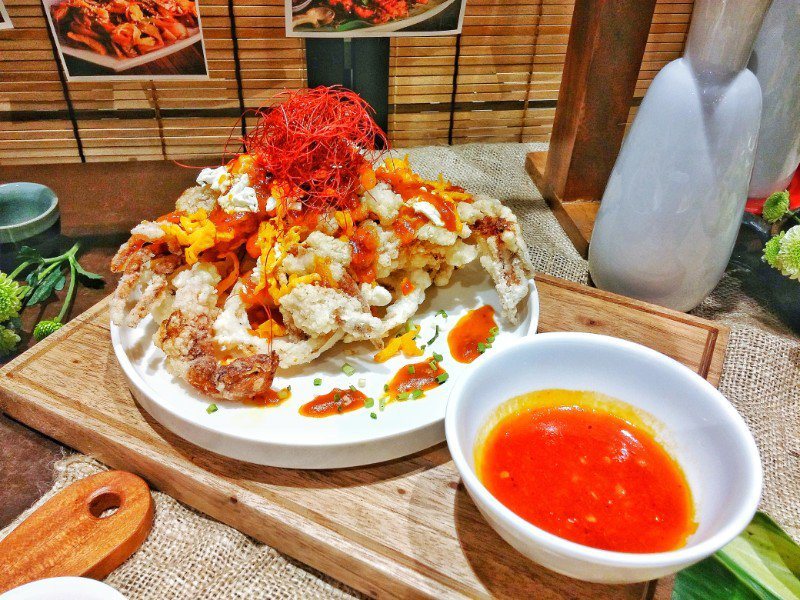 Now, what is Wee Nam Kee without the star of this year's holiday offering?  Yes, that title is reserved for none other than the Soft-Shell Crab (2 pieces,  PHP 658). This Wee Nam Kee version of the soft-shell crab comes in two variants—the cereal-battered and the chili soft-shell crabs. The Cereal Soft-Shell Crab is, as the name suggests, is covered in breakfast cereal tossed in butter. The Chili Soft-Shell Crab is made up of battered crabs drizzled with chili sauce.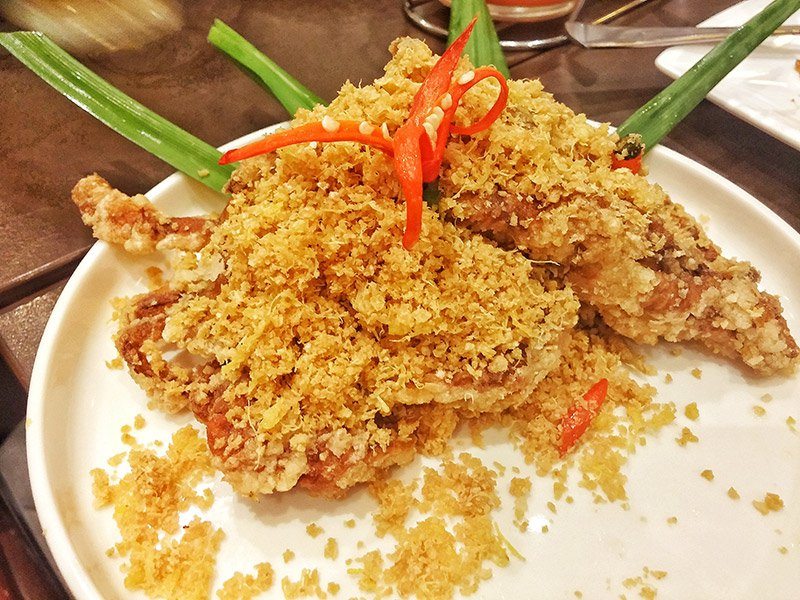 We opted for the Cereal Soft-Shell Crabs. To say it plainly, it was glorious. It was the highlight of our night! This dish is best for those who don't like getting their hands dirty just to get your piece of crab meat. However, you might have to fight others to land a spot on this one!
This dish, albeit pricey for the serving size, is a crab in all its glory and has crawled its way to the top of our favorites list. It's filled with real crab meat freshness and deep-fried crunchiness that you're going to forget the price tag that comes along with it. To be honest, we could've finished the entire thing in a single manner, but we were so full from everything else!
A Wee Nam Kee Christmas
This was just a glimpse of what it can be like celebrating an exciting Christmas with these Asian delights—bountiful and festive, filled with amazing food and great people. We had an enjoyable (and extremely satiated) experience of the Singaporean-Chinese cuisine. And this, you should have, too, this holiday season at Wee Nam Kee!
---
Wee Nam Kee
G/F Promenade, Greenhills Shopping Centre, Greenhills, San Juan City
More locations around Metro Manila
Facebook, Instagram