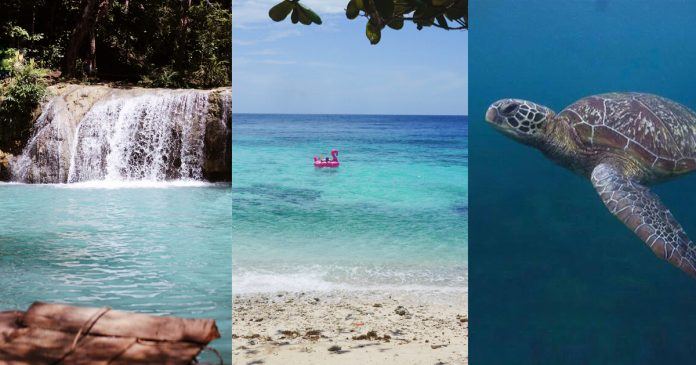 Here's Your Ultimate Dumaguete-Siquijor-Apo Island Itinerary
Want to experience an ironic laid-back city life? How about to relax at the beaches of an island known for its witchcraft and healers? Or swimming with the sea turtles at a volcanic island? These are just some of the exciting things you can do in Central Visayas! If you want to explore the places we're talking about, then make sure you bookmark this ultimate Dumaguete-Siquijor-Apo Island itinerary (with a bonus side trip to Manjuyod Sandbar)!
How To Get To Dumaguete
There are daily flights from Manila or Cebu to Dumaguete City via Cebu Pacific and Philippine Airlines. This is, of course, the fastest and most convenient way albeit expensive. Get the early flight, so you'll have enough time to roam around Dumaguete. If you are coming from Cebu City, there are also cheaper alternatives that involve traveling by sea. Although, these options will take you roughly four to five hours to get there.
Day 1 in Dumaguete and Siquijor
Known as the City of Gentle People, Dumaguete is an unassuming travel destination in the Philippines. Here, you'll be surprised to see a mix of various nationalities who have eventually found a home in Dumaguete's metropolitan-yet-relaxed atmosphere. Experience the city yourself as you start this Dumaguete-Siquijor-Apo Island itinerary right here!
1. Begin your day by eating breakfast at Sans Rival Bistro.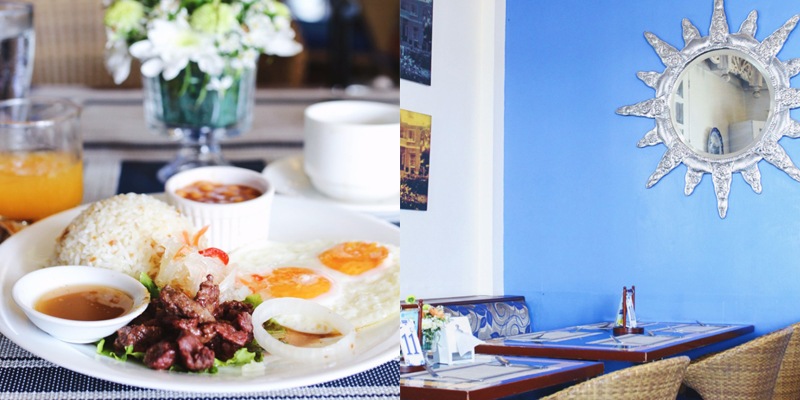 Arrive in Dumaguete as early as possible for breakfast for you to have enough time to see the city. From the airport, ride a tricycle to Sans Rival Bistro in Rizal Boulevard. A special trip from the airport to the restaurant costs PHP 150.
If it isn't obvious enough, Sans Rival Bistro is popular for their sans rival. But equally popular is their best-tasting silvanas, which many people take home as pasalubong. If you're down for a silog breakfast, order the no-fail tapsilog! Another must-try in Dumaguete is their bodbod suman with sikwate, which is basically a variant of a Filipino sticky rice cake enjoyed with hot chocolate. Sans Rival Bistro offers this as well, and it's called Dumaguete Breakfast on their menu.
PHILIHAPPY PRO TIP: Buy boat tickets to Siquijor at the port before proceeding with this itinerary. It's better to do something while waiting for your boat to arrive. Scroll down to see our guide on how to get to Siquijor from Dumaguete City. Just be sure to be at the boat terminal 30 minutes before ETD!
2. Stroll around Silliman University.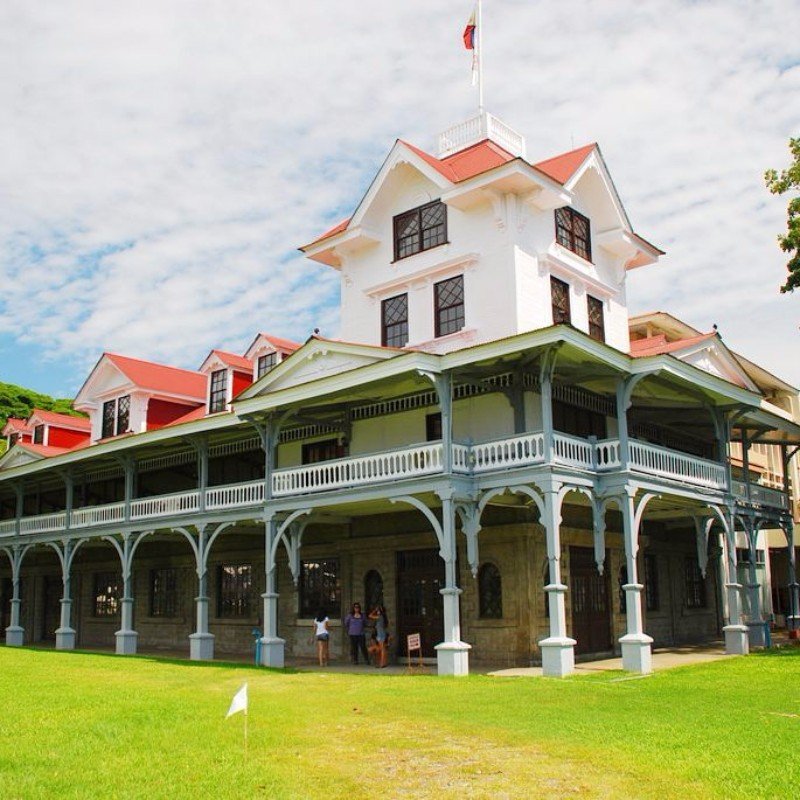 After buying your ticket, you can proceed to your sightseeing. First stop is the Silliman University. It is regarded as the largest campus in the city and must be included on your list to visit when in Dumaguete. This university boasts of its Old American structure and is one of the top universities in the Philippines that made it to the Top 300 Universities in Asia.
Not only is it a great university, but it also houses a hospital within its campus grounds, the Silliman University Medical Center. Accordingly, this hospital has also earned an outstanding reputation!
3. Explore Dumaguete Cathedral and the Belfry Tower.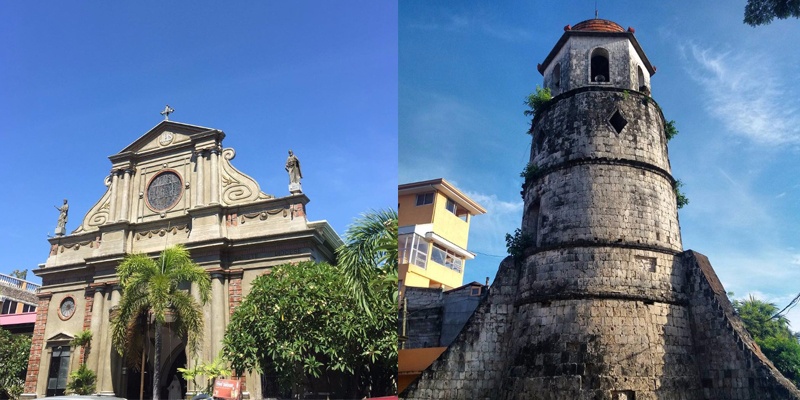 Also known as the St. Catherine of Alexandria Church, Dumaguete Cathedral is the oldest stone church in Negros island. Originally, it was built in 1754, and in 1776, it was finally finished and has been the city's most visited cathedral since.
Adjacent to the Cathedral is the Belfry Tower. Here, visitors can light a candle and pray a little prayer. It has stood for over 200 years and served as a watchtower during the World Wars. More so, the Belfry Tower has protected all the Dumagueteños and the entire city against pirates in the olden days.
4. Snack on some street food.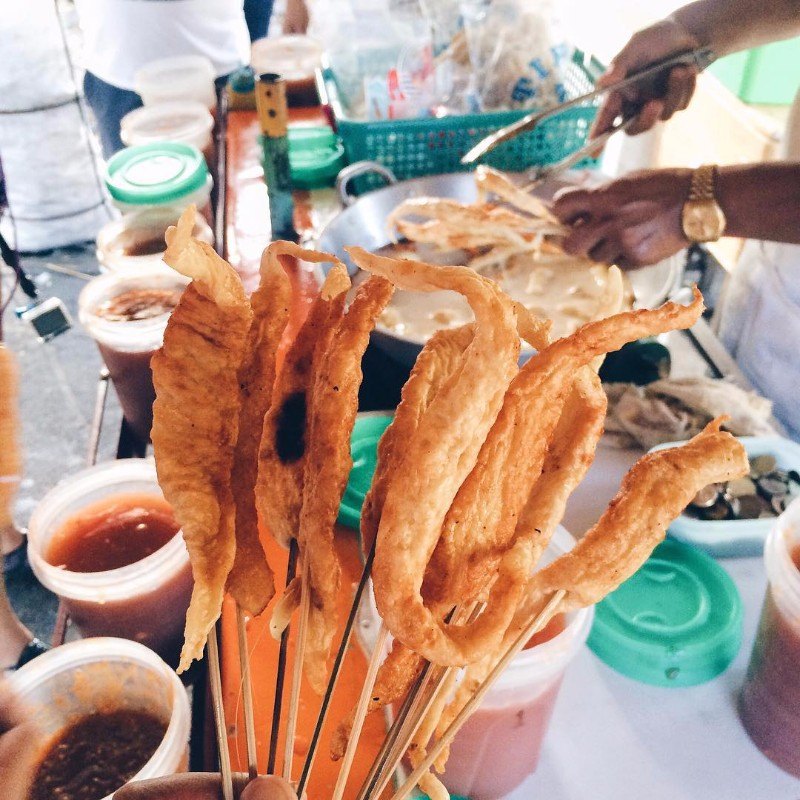 Before hopping on your boat to Siquijor, make sure you fill up your tummies with some snacks. Think of it as an excuse to avoid seasickness on your boat trip to Siquijor.
The most popular street food in Dumaguete is tempura, a deep fried fish cake (kikiam) dipped in spicy sauce. Here's the fun part: If you are to buy tempura in Silliman University, you get to choose from its five levels of spiciness! You can also buy bodbod suman for baon while on the boat.
PHILIHAPPY PRO TIP: Withdraw cash before heading to Siquijor because banks are not aplenty on the island. If you really find the need to withdraw in Siquijor, you can find ATMs at Larena. But whether they're working or not on your day of travel, that is a risk you should be willing to take.
How to get to Siquijor from Dumaguete
Take a tricycle to the port which will cost around PHP 8–10 per person if doing a shared ride. You may either take Oceanjet bound for Larena or GL Shipping Line bound for Siquijor town, the capital of Siquijor province. The duration of the trip is a little over an hour. Here's our say on choosing which boat to take:
Oceanjet has more comfortable seats, faster (it's a high-speed boat), and even has a business class (with A/C). For these conveniences, just be ready to shell out a little more for a ticket. Price starts at PHP 210 per person as opposed to GL Shipping Line at PHP 130 per person. Note that Larena is still around 45 minutes away from San Juan where most hotels are. GL Shipping Line is, well, uncomfortable, and we know this because we tried it. Although, they have boats leaving every hour. Also, be prepared to pay for a small terminal fee (PHP 15), which is required just as in any other port.
While you're at it, check the ferry schedule going back to Dumaguete to plan your return accordingly. The schedule for Oceanjet is posted on their website.
5. Eat late lunch at your hotel in Siquijor.
Upon arrival at Siquijor town, take a tricycle to your hotel. A tricycle ride will cost you around PHP 250 at the port exit. However, if you walk to the nearby local market, you can get a tricycle at PHP 25 per person going to San Juan. San Juan is where most hotels and restaurants are.
After checking in at your hotel, either arrange your next-day tour with your tricycle driver or ask your hotel or nearby shops for motorcycle rental. A whole-day tour via tricycle will cost around PHP 1,200 inclusive of pick-up and drop-off. This is not inclusive of entrance fees, though.
When all has been finalized, you are now ready to settle in and enjoy your first meal on the island!
6. Relax for the rest of the day at Paliton Beach or Solangon Beach.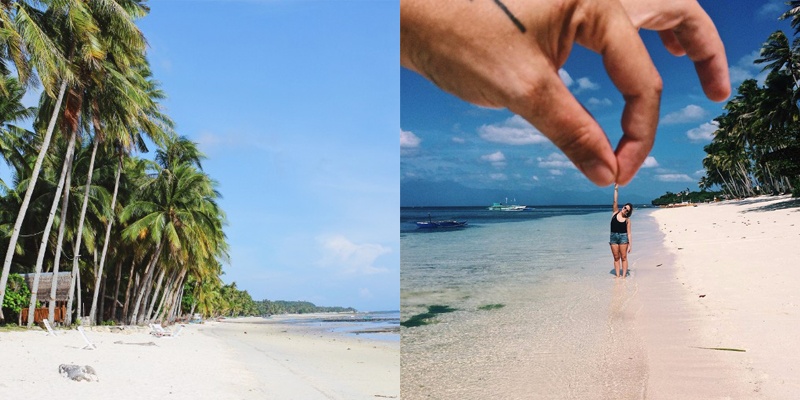 Choose a hotel along Solangon Beach! We recommend White Villas. It has a small pool that's perfect for dipping. Solangon doesn't get deep enough for swimming, but it has white sand to compromise. Paliton Beach, which is just a few kilometers away from Solangon, is a quiet and smaller beach.
7. Have some dinner and drinks at Baha Bar.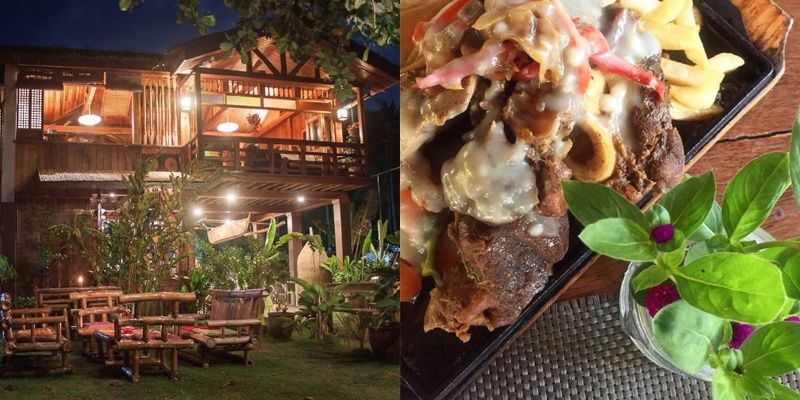 Order their best-selling sizzling bulalo paired with some craft beer on tap! If you're up for an adventure, try their crocodile steak. Baha Bar has live entertainment—live music, and sometimes, even fire dancers!
Day 2 in Siquijor
Your Dumaguete-Siquijor-Apo Island itinerary continues with a full day ahead! Get ready to see the beauty of mystical Siquijor island. Make sure you grab a quick bite for breakfast or bring some snacks with you. You don't want hunger to ruin your day! Also, you might want to arrange a late checkout if possible, because we bet you'll want to stay on this island longer, if not forever!
1. Get a foot spa at the Old Enchanted Balete Tree.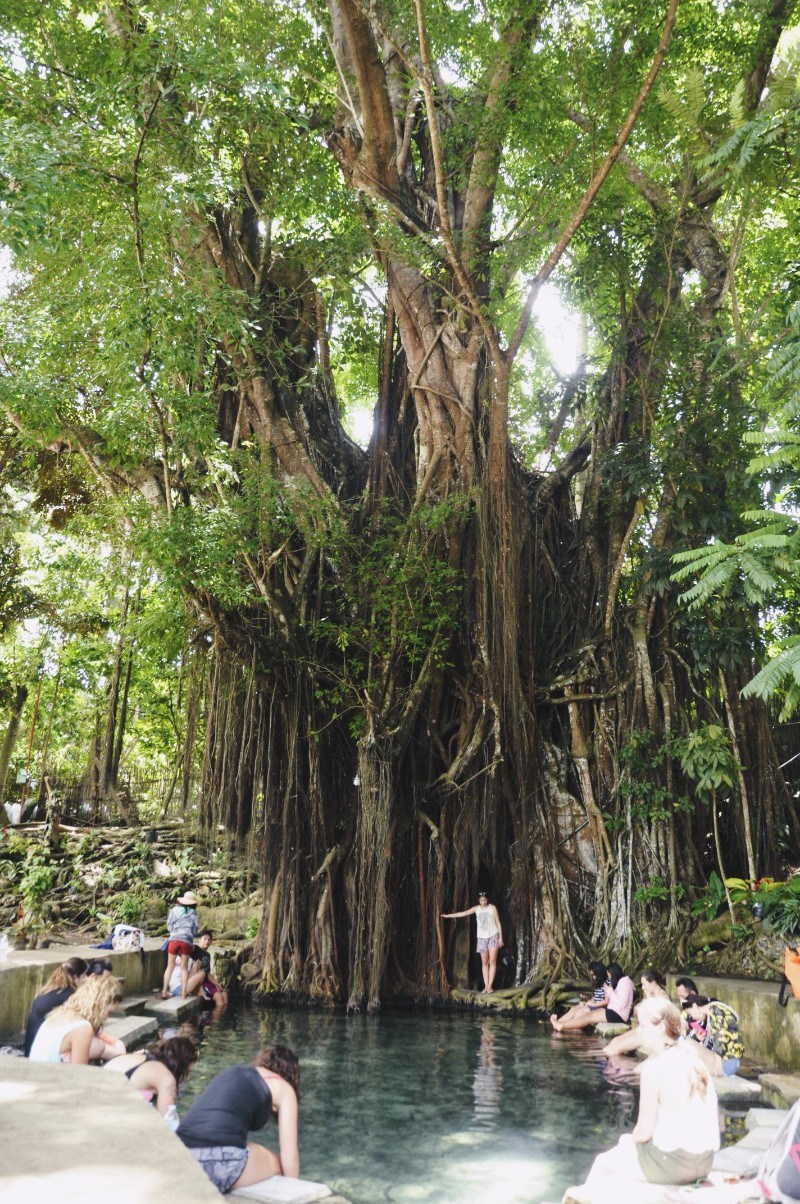 Located in the town of Lazi, this Balete tree looks so grand and eerie that you could only imagine yourself terrifyingly passing here late at night! But who would want to do that? During the day, you can treat yourself to a fish spa here for a small fee.
2. See the old architecture of San Isidro Labrador Parish Church and Lazi Convent.
Built in the 1800s, San Isidro Labrador Parish Church (aka Lazi Church) boasts of beautiful baroque architecture. It was declared as a National Historical Landmark and National Cultural Treasure. Across the church is the Lazi Convent, said to be the largest convent in the Philippines and in Asia. The convent houses the Siquijor Heritage Museum, which you can enter for a small fee.
3. Jump into the waters at Cambugahay Falls.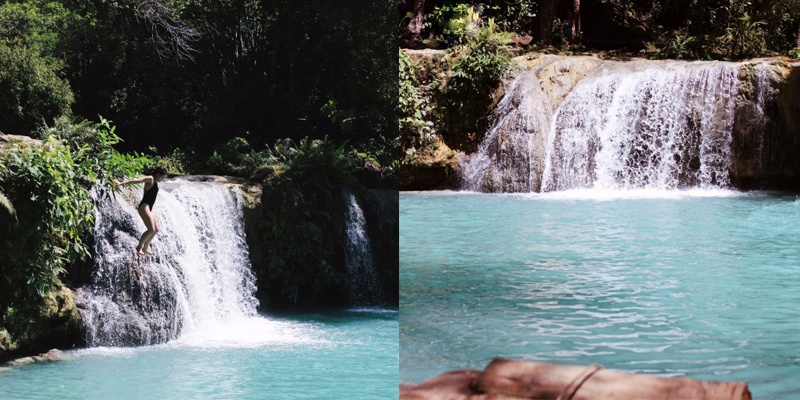 This could be one of the most popular among the spots mentioned in this Dumaguete-Siquijor-Apo Island itinerary. The swing and its clear waters alone might have lured you into visiting Siquijor.
When you get here, you'll be asked to pay a parking fee. Some tour guides-slash-lifeguards may offer their services in exchange for a tip. Although, you won't really need one because the place is very easy to find. Just go down the steep and slippery steps, and shortly, you'll find this beauty! Jump off the edge of the cliff or swing yourself into the clear and cold waters of Cambugahay Falls! You'll spend almost a good hour here because it's that fun!
4. Bask in the sun at Salagdoong Beach.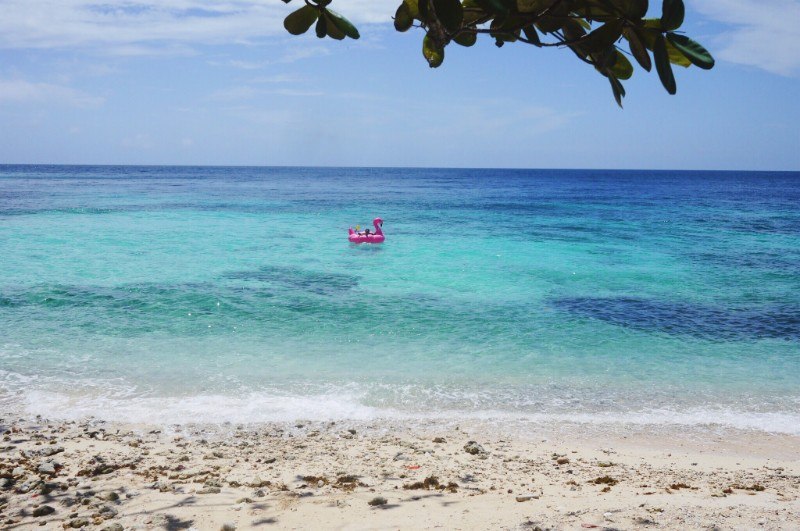 On your way to Salagdoong Beach, you will drive past the man-made Salagdoong Forest Reserve. When you reach the gate, you will have to pay an entrance fee. There's one beach resort in the area with cottages, but anyone can enter the vicinity to enjoy Salagdoong Beach. The white sand beach is so small, so it can easily get crowded. If you aren't tired enough from swinging and jumping at the falls, and if the tide permits, then you can also cliff jump here!
PHILIHAPPY PRO TIP: In case you were not permitted to have a late checkout, it would be best to check out first before proceeding with this Dumaguete-Siquijor-Apo Island itinerary.
5. Have a scenic lunch at Salamandas.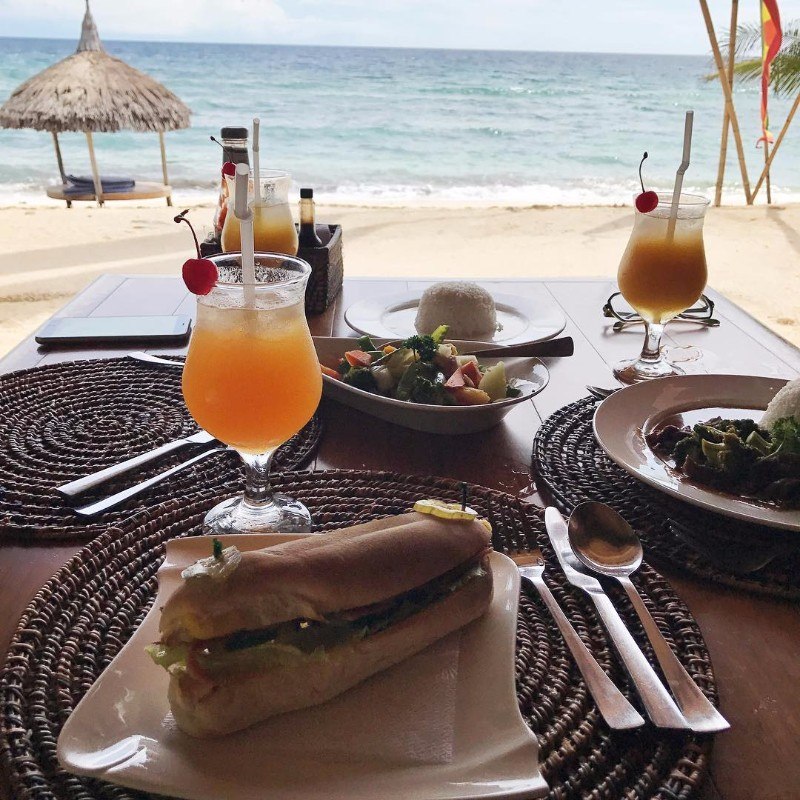 Salamandas is inside Coco Grove, a popular high-end hotel in Siquijor nestling on Tubod beach. Enjoy a sumptuous lunch here with the beach just a few steps away! This is a good way to spend your remaining hours on the island before heading back to Dumaguete. Make sure you check the ferry schedule while waiting for your lunch to be served, so you won't miss your ride back to the city.
ALTERNATIVE: For a restaurant near Larena, where Oceanjet docks, try out TOTO's aka the Little Molmol. They serve pretty good pizzas!
How to get to Dumaguete from Siquijor
It's basically the same way you got to the island. Just have ample time to get to the port and buy tickets. Again, you'll have to pay a small amount for terminal fee and you'll have to be at the terminal 30 minutes before ETD.
6. Have a leisurely walk along Rizal Boulevard.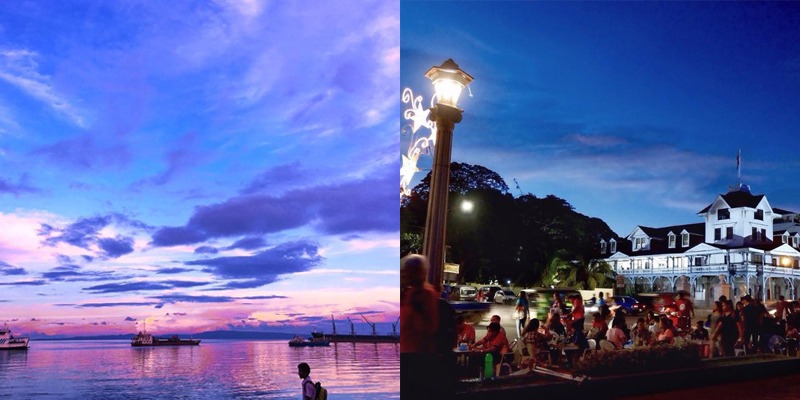 Rizal Boulevard is poppin' come sunset! Besides being a good spot to watch the sunset and the pier nearby, locals and tourists gather here for the street food, and sometimes, even live music. It's nice to see the place all lit up and lively with the crowd.
7. Try out the famous Chicken Inato at Jo's Chicken Inato.
Jo's Chicken Inato is conveniently located in Silliman Avenue near Rizal Boulevard, so it's totally walkable! If Bacolod has chicken inasal, Dumaguete has chicken inato. The difference? Inasal is on the salty side while inato is slightly on the sweeter side. To make your dinner even better? Jo's Chicken Inato offers unlimited rice!
8. Check in at Pura Vida Beach and Dive Resort at Dauin.
When planning a trip to Apo island, it's best to book through a resort or dive center. Pura Vida Beach and Dive Resort, and Vida Homes in Dauin are the best places to stay because it serves as a great jump-off point to Apo Island. You won't have to think about waking up so early for the commute, boat arrangements, tour guide fees, and snorkeling and diving fees. Sea Explorers, Pura Vida's Dive Center, will take care of your Apo Island day trip for you!
How to get to Apo Island from Dauin or Dumaguete
From Pura Vida Beach and Dive Resort, Apo Island is only 40 minutes away by boat. You will board Sea Explorers own boat and be joined by other guests and divers.
If you're neither staying in Dauin for the night nor arranging your trip with a dive center, you'll have to take a quick tricycle ride to Ceres Bus Station for PHP 8 (shared ride) in Dumaguete City. Then, hop on a bus bound for Bayawan City passing Malatapay Market. Ask the conductor to drop you off at Malatapay Market in Zamboanguita, which is the town after Dauin. A bus ticket will cost you PHP 50 (with A/C). Alternatively, you can also take the jeepney. The commute will take about 45 minutes.
Upon arrival at Malatapay Market, walk to the tourism office to rent a boat that will bring you to Apo Island. A boat good for four people is priced at PHP 2,000 for round trip while a bigger boat good for eight people is at PHP 3,000. Start your day as early as 7 a.m. if you choose this option.
When you get to Apo Island, you'll have to pay an environmental fee of PHP 100 per person. Expect additional fees of around PHP 500 if you want to snorkel with the sea turtles and if you need to rent snorkeling gear. Furthermore, no boats are allowed to leave the island past 4 p.m. for safety reasons.
Day 3 in Apo Island
A piece of paradise for all divers and snorkelers, Apo Island is sure to give you an amazing and unforgettable experience. This volcanic island is very small yet blessed with beautiful marine life. For this, it is easily one of the top diving destinations in the Philippines and a must on our Dumaguete-Siquijor-Apo Island itinerary. There's nothing much to do here besides enjoying the waters. Also, there are very limited options for food, so better to just bring baon (packed lunch) for the trip.
1. Dive or snorkel with the charming sea turtles.
Sea Explorers stops at great dive and snorkel spots for the enjoyment of their guest divers and non-divers alike. If you are lucky enough, you will spot one or two pawikans (sea turtles) in their natural habitat! This experience is even better than seeing these creatures in shallow water. Plus, you won't have to pay for a snorkeling fee at the marine sanctuary on the island anymore, unless you want to see more sea turtles. Nothing wrong with that! Just a reminder, though: You are not allowed to touch the sea turtle; you have to be at least five meters away.
2. Have brunch and relax at the beach.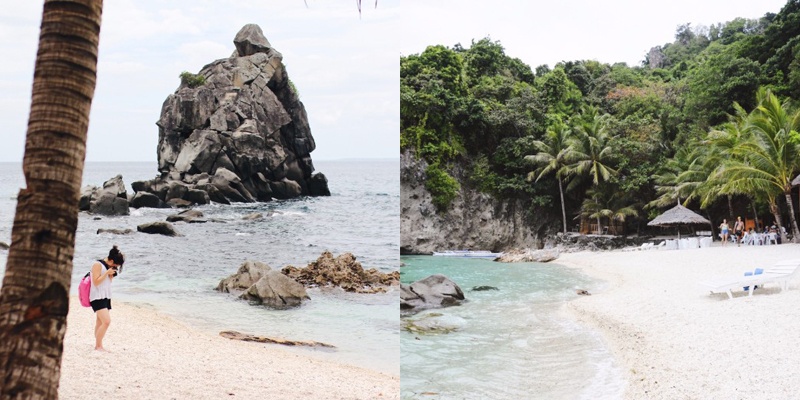 Being in the water for that long will certainly get you hungry! Upon arrival at Apo Island, set up a spot for you to have your packed lunch. Apo Island Beach Resort is actually the only decent beachfront property on the island where you can do just that. Here, you can lounge and order a few drinks by the beach. They do serve food, too, but don't expect a lot. Also worth noting is that there's no electricity in Apo Island during the day. The island only has electricity from 6 p.m. to 9:30 p.m.
Extend your trip: Day 4 in Manjuyod Sandbar!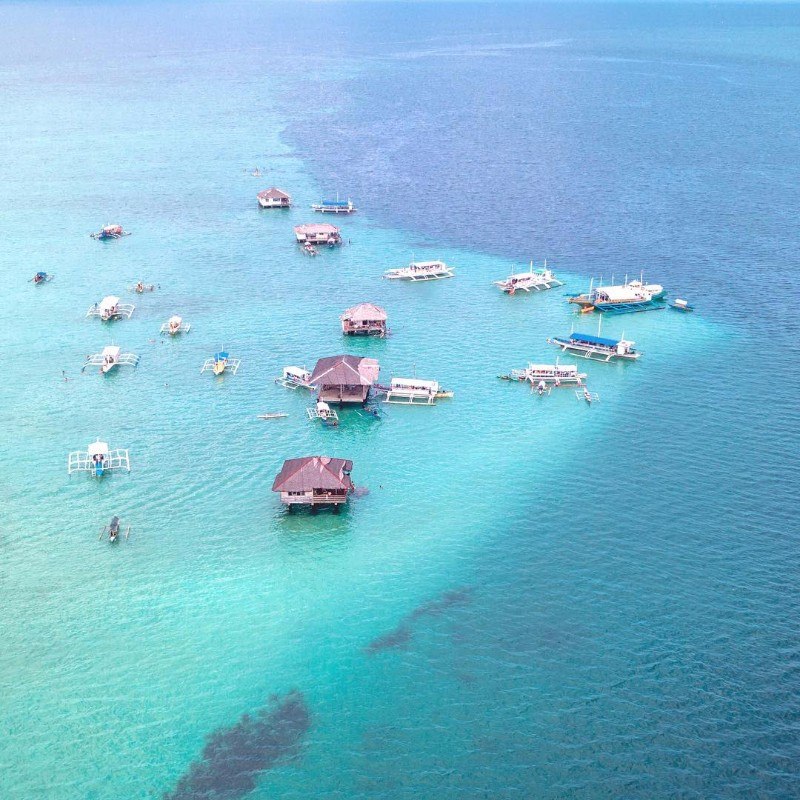 But wait, this Dumaguete-Siquijor-Apo Island itinerary does not strictly have to end at Apo Island! Since you're already in Negros Oriental, why not extend your trip to the famous Manjuyod Sandbar and do some dolphin watching?
When you get back from your Apo Island day trip, you can take the bus or jeepney going back to Dumaguete City. Afterwards, book a night in a hotel here because you won't head to Manjuyod just yet! It is advisable to visit Manjuyod Sandbar early in the morning when the tides are low, for you to see the reason why it has been dubbed the Maldives of the Philippines.
PHILIHAPPY PRO TIP: From this point, you may already pre-book a boat for your next-day tour to Manjuyod, especially if you're going there during the peak season. You may try contacting the Manjuyod Tourism Office at +63 35 404 1136, or the Bais Tourism Office at +63 35 402 8338.
From Dumaguete City, the nearest jump-off point to Manjuyod Sandbar is a two-hour bus ride away. Take a Ceres bus bound for Bais City; this will cost PHP 55. Upon arrival at the town center of Bais City, hop on a tricycle to either Canibol Wharf or Capiñahan Wharf. Canibol Wharf is up north, and here, you can rent a privately owned boat for your tour. On the other hand, Capiñahan Wharf is in the south, and here, you can rent a government-operated boat. Boat rental rates start at PHP 3,500 for a boat good for 15 people. This already includes a whole-day tour to Manjuyod Sandbar, the bird sanctuary, and the mangrove forest. Don't forget to bring your packed breakfast or brunch because there's no restaurant at the sandbar!
Philihappy Pro Tips
If you're heading to Siquijor from Dumaguete, be sure to buy your tickets at the port before roaming around. Be at the boat terminal ahead of time, at least 30 minutes before your departure.
When heading to Siquijor, bring enough cash with you. Banks on the island are only a few. Better be prepared!
Remember to use reef-friendly sunblock when going snorkeling or diving!
Respect marine life! Do not touch the sea turtles, and do not step on the coral reef.
Book your Manjuyod boat tour ahead of time if possible.
Are you excited yet? Hopefully, this Dumaguete-Siquijor-Apo Island itinerary helps you in your adventure of discovering these golden spots in the Philippines. And when you do go on that adventure, do us a favor and hold on to your dear heart, for you will surely fall in love with all these places!
Tell us which destination in this itinerary you are most looking forward to by commenting below! Please do tag us on your photos over at Instagram @Philihappy. We love seeing your travel adventures!
DISCLOSURE: Special thanks to Pura Vida Beach and Dive Resort, Vida Homes Condo Resort, and Sea Explorers for hosting our trip to Apo Island. For reservations and inquiries, you may contact them at any of these numbers: +63917 320 2284 (Pura Vida), +63917 531 7864 (Vida Homes), +63917 303 8065 (Sea Explorers).