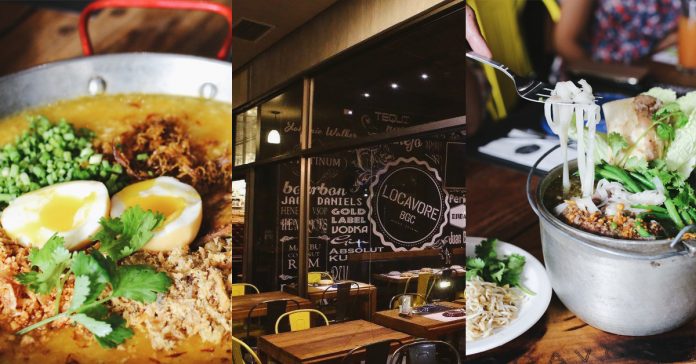 Locavore: Top Dishes You Didn't Know This Filipino Fusion Resto Had
Locavore is known for one thing and one thing only. That's their signature Sizzling Sinigang. Don't get us wrong, we love how awesomely sour our faces can get. The flavors are nothing less than perfect. Lo and behold! There are worthy ones pushed out of the limelight that you probably aren't aware of.
These seven dishes are some of the restaurant's least served but indeed, are must-tries. All of these fusion dishes sound familiar yet our taste buds haven't been exactly acquainted. That's because each one has a twist that makes every dish even more appetizing. This time around we got to sample these dishes at their BGC branch that almost dominated the top spot.
Champorado ni Speedy
The cocoa goodness is hidden in a thick bed of crispy tuyo flakes, powdered milk, and grated tsokolate. This all seems ordinary until you mix all the contents together. Drizzle a delectable amount of condensed and evaporated milk and into this heterogeneous mixture and voila! The flavor blends well combining sweet, savory and salty, letting flavors explode and stimulating your taste buds and senses. An unexpected treat comes from a fine and buttery-like cream cheese mousse. Who'd ever think this experimentation would turn out into something so beautiful?
Duck Lugaw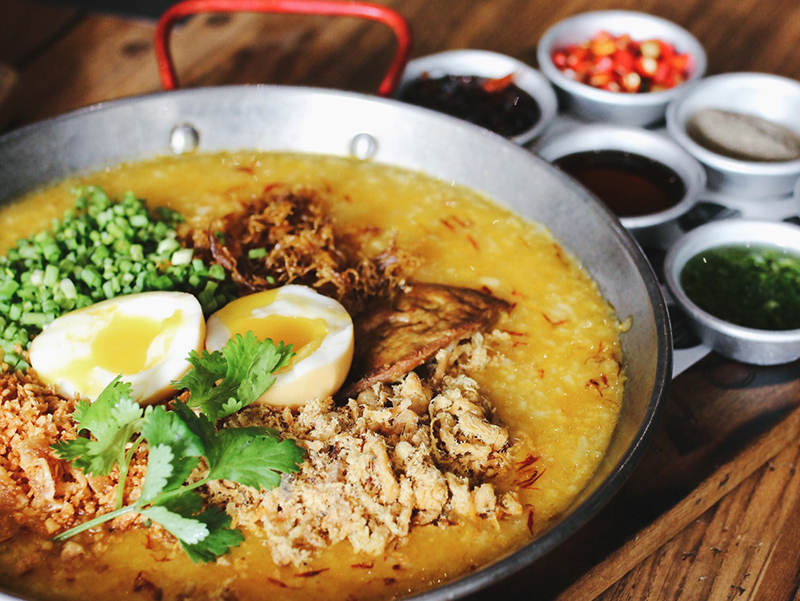 We absolutely fell in love with its presentation! This pot of gold was adorned with shredded chicken floss, spring onions, soft-boiled egg halves, and fried garlic bits. Don't forget about the stir-fried duck pieces and that seared foie gras chunk too! The preferences of Filipinos differ from one another as some might like it zesty while others opt for spicy. Good thing there's plenty of fresh condiments to experiment with. A warm serving of Duck Lugaw is guaranteed to bring a smile to your face.
Corned Bistek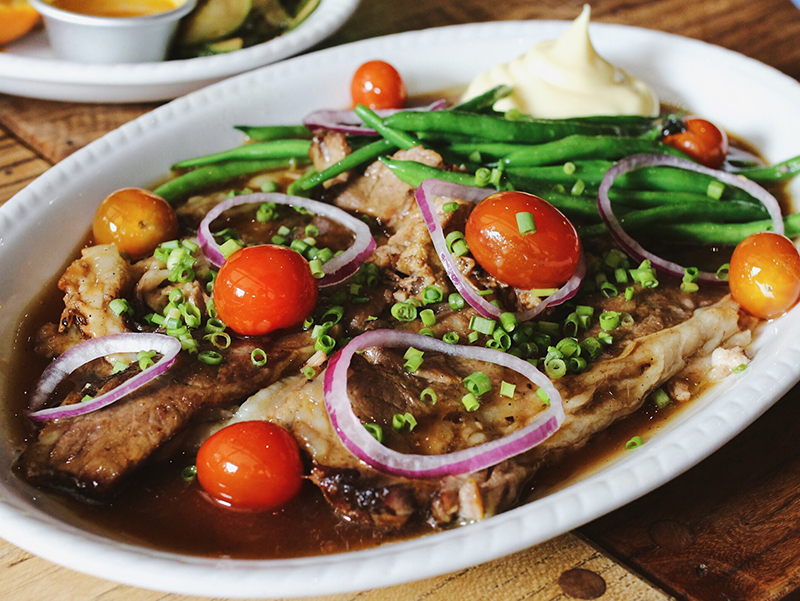 Personally, this one's a stunner! This intricate dish consists of bold flavors heightened by juicy beef strips, French beans, stewed tomatoes, and red onions. We don't mind the kalamansi-fused fatty bits that swish and play in your mouth. Dip or mix that velvety piece of beef into Japanese mayo and it's pure magic! Better yet, swirl everything together for an explosion of madness that'll leave you wanting for more. Masarap na, kinikilig ka pa. Extra rice for this one, por favor!
Grilled Tocilog
Locavore hasn't forgotten your all-day breakfast favorites. Fans will love their rendition of glazed pork belly. It's accompanied by overflowing fried rice, not one but two sunny side eggs, all balanced by pickled veggies. A single plate is deceivingly for two. Its unforgettable marker is that orange wedge that makes the plate anything but boring.
Beef Pares Stew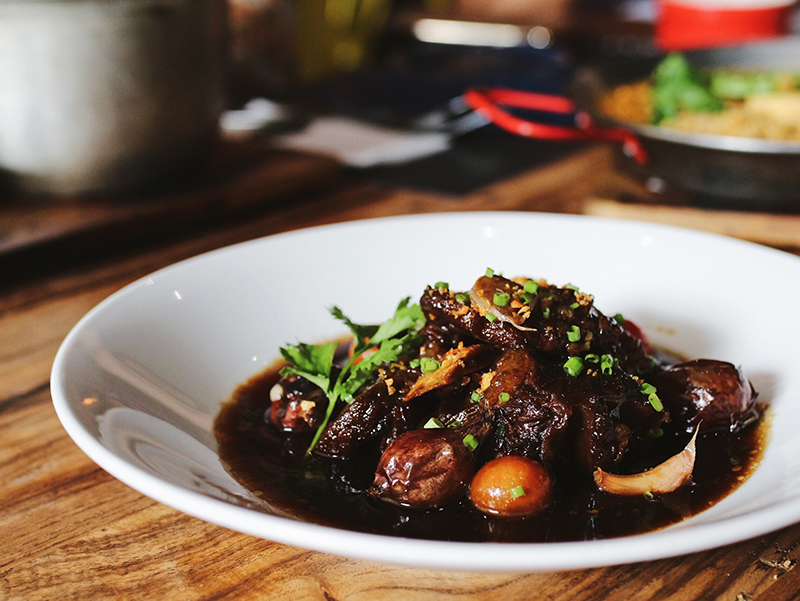 Beef Pares Stew of Locavore puts other beef pares dishes to shame! Too beautifully prepared, no wonder it's at the top with its honey-like textured sauce and tender beef chunks. Pair it up with a single or double serving of rice and you get a slice of heaven. Pare, ang sarap talaga nito!
Pho Lalo
There's nothing like a steaming bowl of hot soup sitting perfectly across you. If you're suddenly craving for pho or bulalo and you can't decide, Locavore has one solution. They have combined the two together and you get the fabulous Pho Lalo. Who'd ever thought that these two dishes blend in seamlessly? Holy crap! You'll notice a massive bone sticking out of a kaldero. It masks all that buttery cholesterol goodness, probably enough content to put someone in a grave. We mean that in a good way.
Sizzling Pandesal Pudding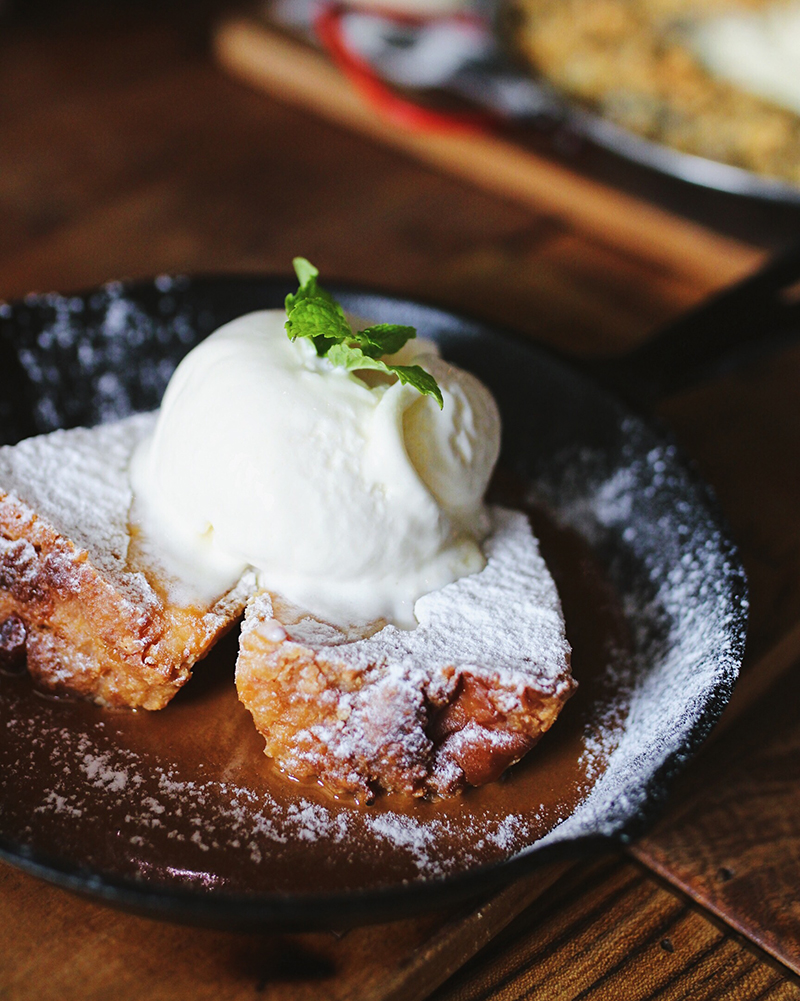 To balance off all that savory chaos, here's one dessert that'll sweeten the deal. Served on a sizzling pan, you'd be surprised to find a scoop of mantikado ice cream melting away at the warm pandesal. This pandesal houses delicate flavors like cheese, custard, and salted egg dulce de leche. Our verdict? Ang sarap! The trace of sugar isn't voluminous enough to cause us diabetes. Hindi siya nakakaumay. An enjoyable experience arises from this thanks to the counterbalance of warm and cold temperature. A lovely dessert to end any food trip session.
If that isn't a testament to non-traditional Filipino food, maybe the long line outside Locavore will attest to that. Large groups of families are willing to wait just to get their hands on delicious Filipino fusions like these. We thought it was just lunchtime that was making everyone mad but it was hours waaay past that! We can't blame them for waiting in line because Locavore whips up some of the best dishes in town.
The next time you walk into any Locavore restaurant including their original branch in Kapitolyo, be more adventurous. Don't be a sucker for the old-time favorites because we need fresh ones. No need to go through that daunting menu with our Philihappy-approved dishes. Other than often heard and best-selling favorites, these plates are just as exquisite, each one in their own way. Time to generate an excuse and head to the branch nearest you.
Locavore
Located at G/F Forbes Town Center, Bonifacio Global City
Other branch at 10 Brixton Street, Kapitolyo, Pasig City
+632 726 2017, +63917 574 2017
Open daily from 10:00 a.m. to 2:00 a.m.
Facebook, Instagram