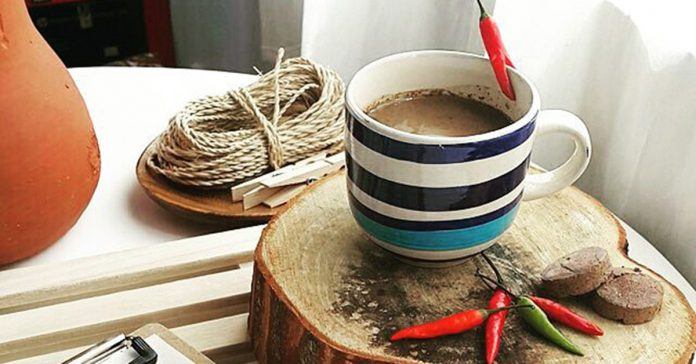 Café Mithi: A Little Motivation Café
Need a caffeine fix or motivation? Either way, Café Mithi is the perfect place for you.
Located at the farthest end of Maginhawa Street, only the famous foodie destination in Quezon City, Café Mithi perfectly embodies its name in a narrow three-storey building.
Mithi is a Filipino term for wish, ambition, or dream. And staying true to this word, the whole café radiates this encouraging Filipino word with its series of inspiring quotes posted on all corners of the room. The walls painted to resemble the clouds, the frames of beautiful calligraphy, the hanging origami cranes and dreamcatchers all thoughtfully designed to exude a positive atmosphere. These may just be decorations for some, but for others, these could be the signs or guiding light they have been looking for.
In theme with the deep Filipino word "mithi," the menu also creatively uses Filipino words which are rarely used in today's conversational language. The selection was filled with both local and adapted dishes and drinks carefully named to seemingly test your Filipino vocabulary. For instance, I got to try Café Mithi's best seller Alab, a homegrown drink made of pure cacao tablea with a hint of siling labuyo (chili). Alab is a Filipino term for flame or blaze and perfectly describes the feeling one gets while drinking a chocolate drink mixed with chopped chili.
How about a cup of coffee? Order from the selection of Lipi (Filipino term for tribe or race). Café Mithi sourced its coffee beans from the local farmers of different tribes in the Cordillera highlands. Another selection of coffee drinks is the Halimuon (aroma or fragrance), a term that aptly describes the moment of enjoying the aroma of an espresso before that joyful sip. This selection included Café Mithi's café latte, café mocha, dulce de leche, peppermint, and two variants of flavored iced coffee—hazelnut and macadamia.
Café Mithi also offers food options that are, although limited, still suitably named. I got a bountiful and bowlful of mojos and potato wedges called Masagana (abundance). You can never really go wrong with the deep-fried potato cuts and sour cream dip combo. If you're feeling more adventurous, try Simaron (wild), a dish of crocodile sisig and rice.
For the sweet tooth, there are interesting selections, too. I ordered Humaling (extreme fondness), a yema-cacao-banoffee cake. Who's not nahuhumaling to banoffee, chocolate, and yema anyway? Other best sellers are the Choc Nut cake Gunita (recollection or memory), pastillas cake Ulap (cloud), and yema cake Giliw (beloved).
A taste of Café Mithi will cost around PHP 500 for two people. I think the price is just at the same level as specialty cafés out there which will serve you two good drinks and two food items. The price range for drinks is PHP 65 to PHP 125 except for Alamid coffee worth PHP 265 per cup. The food and the desserts range from PHP 65 to PHP 195.
Although it's no guarantee that your mithi will come true after a cup of Lipi and a bowlful of Masagana, Café Mithi guarantees a pleasant experience that will leave you feeling inspired and satisfied—and more knowledgeable of the Filipino vocabulary—as you walk out the door.
But for people who are artsy or who are aspiring to be artsy, you may enroll yourself to a weekend of lettering and calligraphy lessons offered by Café Mithi. That's already one mithi off your list, and maybe one day you'll be the one making those framed motivational quotes inspiring people.
Have you been to Café Mithi? Did you get that inspired feeling, too? Let me know by sending your comments through the comments section below.
---
Café Mithi is located at 131 Maginhawa St., corner V. Luna Extension, Quezon City, Metro Manila. It is open on Mon–Tue from 12 p.m. to 10 p.m., Thu–Sat from 11 a.m. to 11 p.m., and Sun from 10 a.m. to 10 p.m. You may contact them at +63917 830 2323 or +63 (2) 4357448. For more information on the cafe including the workshops, visit their Facebook page or their website.