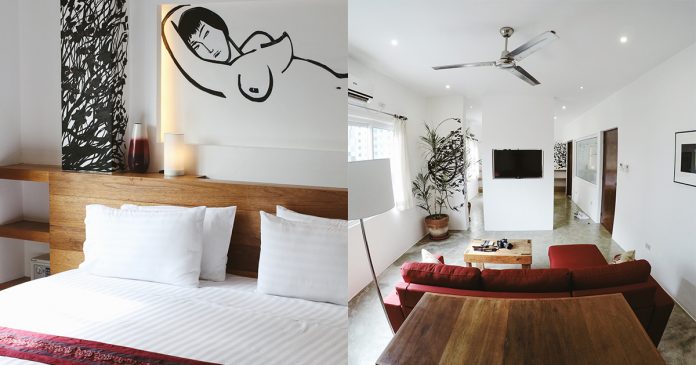 Enjoy Affordable French-Inspired Elegance At Element Boutique Hotel
Formerly known as Makati City's red light district, Barangay Poblacion has successfully flourished into the new place to be (really, we're still wondering how that happened). With so many hip joints popping up that have become the talk of the town, you just can't deny that this urban neighborhood has created a subculture of its own that is brimming with a laid-back and cool vibe. A new addition to this hip neighborhood is Element Boutique Hotel and Restaurant.
Element Boutique Hotel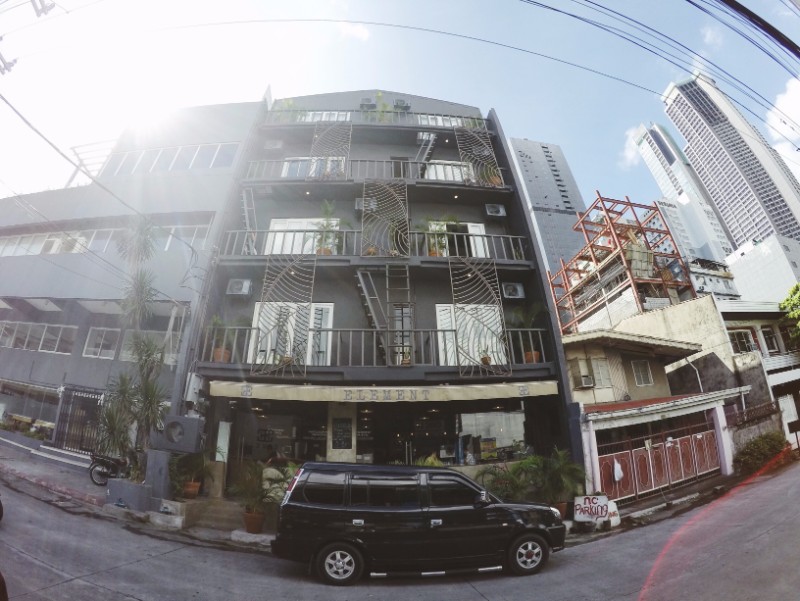 You can find Element Boutique Hotel in an alley across A. Venue Mall. The sophisticated and stylish black building stands out among other establishments surrounding it, which makes Element pretty distinct. It is at the center of the bustling nightlife of Manila's central business district, with several options for dining and drinking nearby.
Element Boutique Hotel is owned by a Franco-English couple. They shared that each room tries to marry the contrast between raw materials and modern design. While being impeccably designed, it is also affordable and keeps in mind the needs of the transient traveler.
Elegant yet sophisticated interiors
Element Boutique Hotel and Restaurant's interiors are fitting for the new-age travelers. This quaint hotel is not a luxury hotel, yet its elegant and sophisticated ambiance will leave you in awe. We were led to one of their penthouse suites by the owner himself, Armando. This was the room we would be staying in for the night.
The penthouse suite had more than enough space with its work and living room side, and the bedroom side. What served as a divider to the rectangular room was the big flatscreen that can be faced (yes, it's rotating!) whichever side of the room you desire to watch the next flick on HBO or Star Movies.
Thoughtful touches
We loved the two sinks located in the penthouse suite, which was perfect for couples. The room also has a makeshift tub!
The entire suite was tastefully bedecked with books, candles, and beautiful walls. The colors and decor magically transformed the room into a lovely artist's haven. When asked about the design, Armando said that they call it "industrial chic."
The red couch in the living space is perfect for movie nights in. You can even have some friends over for the afternoon and while the time away.
Element Boutique Hotel also has an elegant French restaurant, perfect for the type of guest who doesn't want to go too far for good food.
READ: 10 Poblacion Makati Spots Where You Can Eat, Drink, And Be Merry
Gracious service
The owners of Element Boutique Hotel are very hands-on, which makes them such gracious hosts. Armando and Eli, and their staff are always ready to be of service. From the moment they introduced themselves and the warm welcome we received, we knew that our stay would be memorable. The personal touch in terms of service sets Element Boutique Hotel apart from other hotels. They were very friendly and made sure that we were comfortable.
The lovely atmosphere Element Boutique Hotel and the gracious team behind it will make every traveler's stay a memorable one.
Element Boutique Hotel and Restaurant
4950 Guerrero Street, Brgy. Poblacion, Makati City
Book the best deal on this hotel now!
Facebook, Website