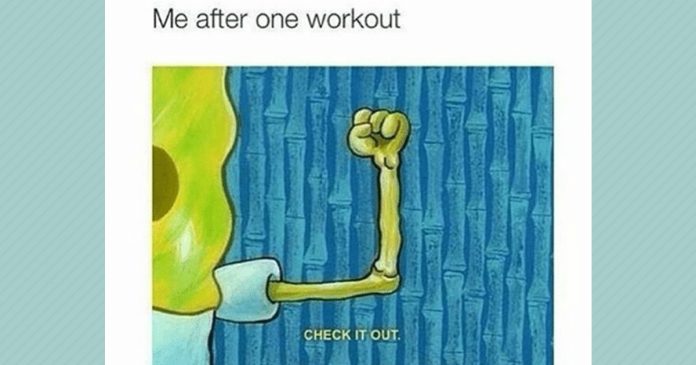 15 Things That Are Too Real For Gym Newbies
After years of being a certified couch potato, you finally signed up for a gym membership. It's the start of a new life, and definitely, it's the road to fitness and sexy-ness, if you dare yourself say.
But alas, dragging yourself to the gym is never as easy as you hoped. Who are you kidding, anyway? You knew that signing up is the easy part and actually having the motivation to continue is the real challenge.
1
You diligently go to the gym on your first week.
Three times a week? Easy peasy.
2
Then you start visiting sparingly on the following weeks.
It would be lucky if you dropped by at least once!
3
You immediately go shopping for the perfect gym outfit.
You hope that your matching gym shorts and shirt will inspire you to keep going.
4
You join as many free gym classes as possible. Zumba, aerobics, pole dancing—you name it, you've joined it.
You're the definition of awkward, though, and you wonder if you'd join the next class.
5
You can't help staring in awe at the fit people you see at the gym.
Will you ever be as ripped as them? You might never know.
6
Knowing how many calories you burned on the treadmill is enough to make you happy.
150 calories in 30 minutes? Hell yeah! Most number of calories you've burned in your laaayf.
7
Doing crunches for one whole minute feels like dying.
*grunts*
8
And the stretching exercises makes you feel like a grandma.
You could hear your bones creaking. Your toes never seemed so far away.
9
The exercise machines? Your worst enemies.
Who would have thought your legs could feel like lead?
10
You spent hours coming up with the perfect gym playlist.
You need the beats to match your quickening heartbeat.
11
You keep checking whether you've already achieved significant weight loss.
And you're furious when you haven't lost any. All that suffering for nothing?!
12
Sometimes, you're paranoid that other members judge your struggles.
Hey, you can't help it if you cannot follow the Zumba steps.
13
You feel like quitting in the middle of every set.
Because this is just so difficult.
14
But you tell yourself that you must be strong—you must see this till the end.
You're not a quitter, are you?
15
And after sweating your heart out after an hour or so? You're definitely coming back.
There's no stopping you on your road to fitness. Hopefully. *crosses fingers*