Azalea Boracay: The Suite Life For Your Holidays
Azalea Boracay
Station 2, Balabag, Boracay Island, Malay, Aklan, Philippines
Book now your room!
Are you looking for an amazing accommodation here in Boracay?
BOOK NOW
Accepts Credit Cards
Wheelchair Accessible
Smoking Allowed
Wireless Internet
Pets Friendly
Parking available
Reservations Allowed
Child friendly
We could live here! That was our first impression of Azalea Boracay as we were welcomed and led to our spacious two-bedroom suite. City dwellers would probably mistake Azalea as a condominium because of the grandiose property, from its large entrance to its six-storey white buildings with families going in and out of the lobby. But Azalea Boracay is actually a hotel offering serviced apartment-style living for your island holidays.
Welcome to your holiday haven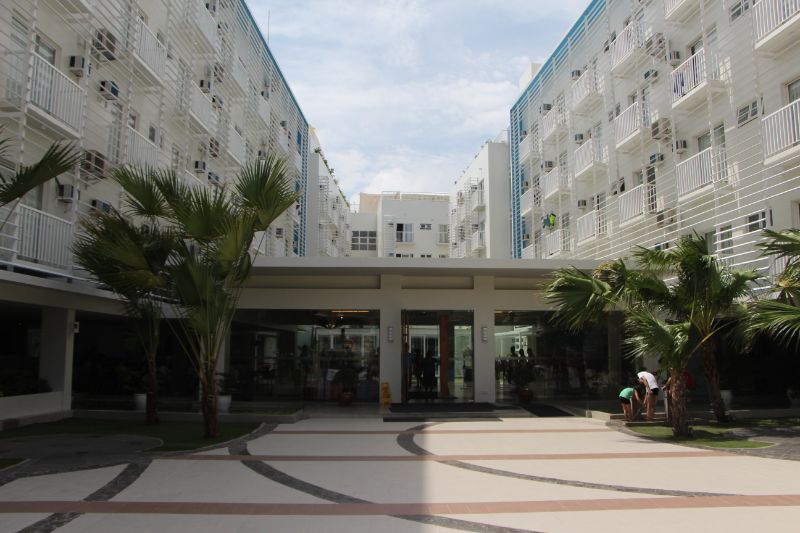 It's easy to spot the hotel with its azalea globe poised right at the large foyer of the property. The place is easily accessible by tricycle as it is near the main road of Boracay and just a few meters away from White Beach. Trust us when we say Azalea Boracay is really hard to miss!
As you enter, genuine smiles from their staff will set the tone for your holiday. There were swarms of people checking in, but the whole process just took us less than five minutes! It could be owed to the smart design of the reception where people are subtly forced to queue. There are five podium-like receiving desks, one is dedicated for senior citizens and PWD, and each desk has dedicated staff assisting with the check-in and check-out of guests.
With their comfortable couches at the lobby, refreshing welcome drinks plus cold towel, guests will probably not mind waiting to be checked in anyway.
Boracay's first serviced apartment suites
Azalea Boracay's apartment-style rooms come with full kitchen, dining room, and living room. The deluxe room is slightly different, but the kitchen is still there and the couch where you can eat and relax. To top the condo living atmosphere, daily housekeeping, massage services, and other hotel comforts are provided.
We stayed in their two-bedroom apartment suite. Both rooms have king-sized beds topped with a few azaleas (flowers), flat screen TVs, and balconies. But the master's bedroom has its own private bathroom. There's a common bathroom which is slightly bigger than the one inside the master's bedroom.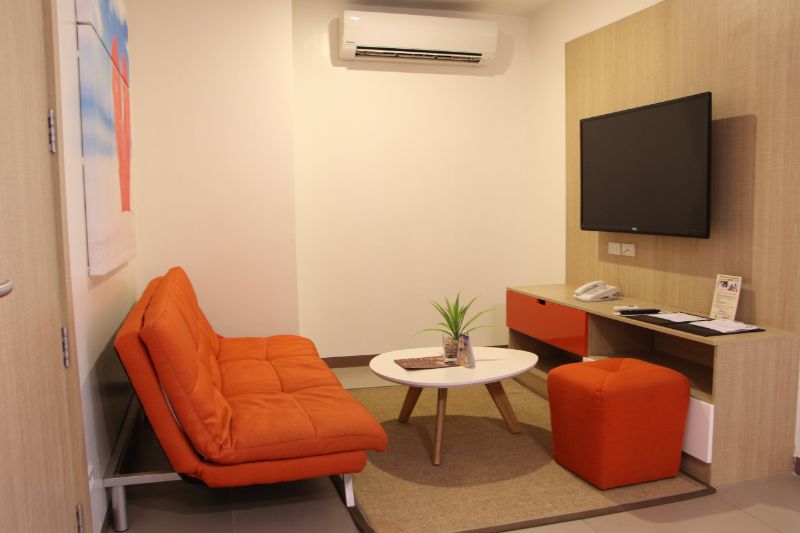 The living room is so cozy with its convertible sofa bed and large flatscreen TV. We could see ourselves staying in, just watching movies and ordering room service.
The four-seater dining room and fully equipped kitchen are perfect for when you want to cook your own food and maybe have some intimate drinks with your buddies.
There's free Wi-Fi, but the connection was not stable and pretty slow. This was not really a problem for us because we were always out with the group to do some fun activities.
Arranged tours
Azalea Boracay promises a fuss-free holiday to their guests, so they are more than willing to take care of your tour arrangements, too. Just ask the front desk about it.
Together with our blogger friends, we enjoyed fun activities specifically planned for a big group. This was actually a huge relief because we didn't have to negotiate and deal with flocks of tour coordinators at the beachfront. Also, this way, guests can avoid getting ripped off. In fact, companies offering tour activities give their partner hotels discounts, so the price you will get here will be your best bet, and not to mention, a fair one.
Dining at Kuya J Restaurant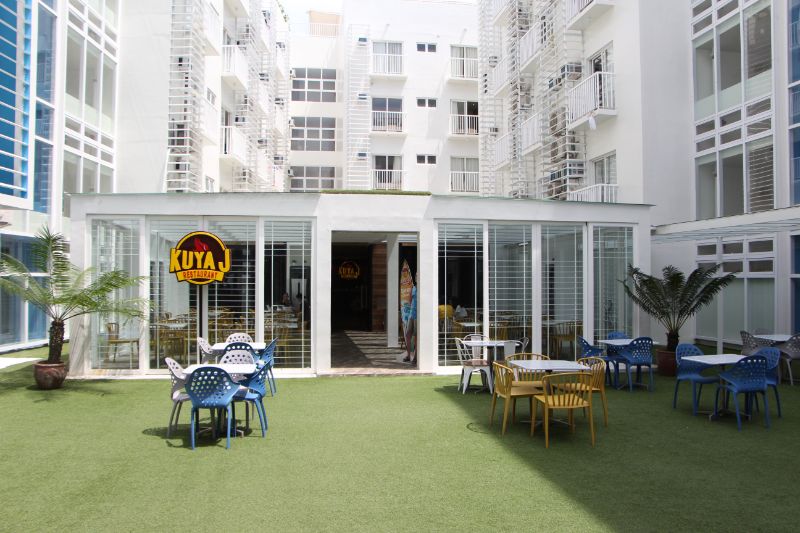 Smack in the middle of Azalea Boracay is Kuya J restaurant. Here, they offer delectable Filipino food and the complimentary buffet breakfast for hotel guests.
Unfortunately, we chose to skip breakfasts at Azalea and opted to eat our welcome fruit basket every morning (healthy?). Although, we did try their à la carte menu for lunch.
That meal we had, composed of crispy pata, baked scallops, and pork sisig among many other dishes served, was so scrumptious and filling. If we were to pick our favorite, the winner would be the crispy pata!
We also got to try Kuya J's special halo-halo as our in-room merienda after a hot day. This classic Filipino dessert was revamped into a snow ice dessert with such fine texture and luscious taste. Whoever thought of doing this is brilliant because this twist easily makes Kuya J's halo-halo one of the best halo-halos we've ever had!
Breathtaking view of the sunset
At the roof deck, you can enjoy Azalea Boracay's infinity pool (there's also a kiddie pool) with a breathtaking view of the sea. If you want the perfect relaxing moment, go up and take a dip while waiting for the sunset.
The little details
What really sets Azalea Boracay apart are the little details and thoughtful ideas they've incorporated into their service.
The moment you are assisted to your room, you will hear soothing music playing within the hotel grounds. It's such a pleasant way of starting your much-deserved vacation.
Then, the friendly staff will show you your room and hand to you an odd bracelet that looks like a watch. That strange-looking wristband is your waterproof key bracelet that has the same function as your key card. It's so useful and apt for an island getaway where you expect to be in the water most of the time.
After each tiring day of beach activities and festivities, you'll come home to boxes of sweets left in your room as compliments of the hotel. Each box comes with a card stating the weather forecast for the next day, so you can properly plan next day's activities. And the best part, for each night, you get different goodies! For instance, during our stay, they gave us yummy chocolate chip cookies, then butterscotch, and then tarts. We always had something to look forward to whenever we came home!
Summer never ends
Summer doesn't have to end with Azalea Boracay. While you're at it and having the best time of your life, look into availing membership to the Azalea Vacation Club. With that, you get the advantage of booking rooms at discounted rates. This privilege also applies to their other location, which is in Baguio. For membership inquiries, you may give they a call at any of the following contact details: +63 2 6347742 / +639178543860 / +639209776420. You may also send them an email at [email protected].
Our first impression of Azalea Boracay still stands. We still wish to live here and be permanently on holidays because of how perfect the moments were. Choose Azalea and have a taste of the suite life!
---
Azalea Hotels & Residences Boracay is at Station 2, Balabag, Boracay Island, Malay, Aklan, Philippines. For room reservations, click here. For other inquiries, you may contact them at any of the following: +63 (36) 2881144 / +639989953916 / +639178611138.