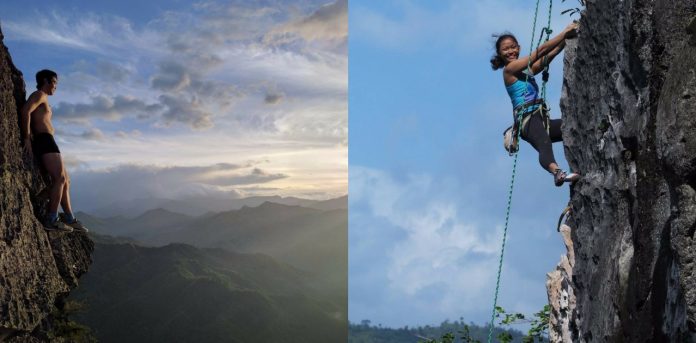 Have A Thrilling Adventure At These Rock Climbing Spots Near Manila
Manila is and has always been a fun city to explore. Every nook and cranny is filled with so many things to keep you occupied. Whether it's sampling the newest restaurant or the latest trend, there is always something to look forward to. So, what exactly is there to do this coming summer or check off the ol' bucket list? Why not have adventures at some rock climbing spots near Manila this time around?
You don't have to go far to experience the thrill behind this adventurous sport. Take a trip to one of these rock climbing spots near Manila. It doesn't matter whether you're a virgin or an expert (or somewhere in between). A day trip is simply perfect for enthusiastic urbanites, spontaneous dates, or last-minute barkada outings. Psych yourself and step out of that comfort zone because you'll need to experience this challenge indeed!
Why rock climbing?
One thing's for sure, trying out something new for the year should involve this one. That's because rock climbing is a perfect workout involving the entire body. It's a great cardiovascular activity that improves endurance and strengthens your core. Like chess, the sport has been proven to give you an excellent mental workout. You must find a successful way to maneuver around the rocks in order to reach the top.
Once you've accomplished this, rock climbing will reward you with a natural high that makes it addictive. Trying out this experience will give you an idea on why people keep returning to rock climbing for some more challenges.
Of course, travelling to these wondrous places make the climb worth it, what with spectacular views of nature. However, don't fret if you need something a little closer to home. There are indoor rock climbing spots, like Climb Central Manila, that are not more than a short ride away!
Where can I start climbing?
1. Atimonan, Quezon
Just 165 kilometers down south, a sweet escape from the city greets you. It involves a beautiful panorama involving a flowing river amidst voluptuous hills. Considered to be one of the best places for rock climbing, Tinandog Wall is suitable for both beginners and experts. Originally, it was supposed to be taken over by a quarrying firm. Luckily, the wall was saved by the local pastor and prevented it from happening (God bless you, Father!).
The wall presents itself as a challenge with as many as 35 routes to try out. Route names like Bladerunner, Mike Test, Grotto, and Pocket Full of Dreams should be enough to stir curiosity. Try climbing any of these rock climbing spots near Manila that reach 25 to 60 meters tall!
How much?
It will cost you approximately PHP 1,000. This includes the rental of shoes, climbing equipment, and a meal. Upon registration, you'll be required to pay an environmental fee of PHP 20. This portion of the fees goes towards preserving the wall. Commuting to and from Manila will cost around PHP 500.
How to get there?
At any terminal, take a bus headed for Lucena. Ask the conductor to drop you off at Lucena Grand Terminal. From there, take the bus or jeep that will go through Atimonan. Get off Barangay Tinandog. A one-way trip will take approximately three to four hours.
2. Rodriguez, Rizal
Outdoor adventure lovers will find a small refuge at the foothills of the Sierra Madre mountain range. Formerly known as Montalban, Rodriguez is a favorite among rock climbing spots near Manila in the past 30 years.
Unlike the serene walls of Atimonan, the cliffs of Rodriguez are rougher on the edges. Its walls can reach 40- to 50-feet high. Barangay Wawa has over 100 routes for you to try out, namely Veranda, Boogie Wall, Uling Wall, and many more. At Mount Binacayan, any climber is welcomed to try out any of its challenges. Some of its routes have been proven to be tricky even for experienced climbers. Sharp and uneven forms may seem daunting upon first glance. Nevertheless, every part of the rock provides clues on how to go about the challenge. Once you reach the top, the spectacular view banishes all of that weariness away.
If you want to experience both trekking and rock climbing, take a side trip to Mount Pamitinan. It is also located in Rodriguez, Rizal. You'll need to secure a guide and register at the DENR before you can proceed.
How much?
For every group consisting of 5 people, a guide will cost you around PHP 500. If you plan to commute, it won't cost you more than PHP 200 (one-way).
How to get there?
In front of Farmers Market (near Cubao terminal), take a UV Express van going to Rodriguez. Another alternative is taking the Cubao-Montalban route via jeepney or FX. It is one of the most accessible rock climbing spots near Manila.
Where do I sign up?
There are many indoor climbing gyms across Metro Manila. Most of them have scheduled out-of-town trips that you can sign up for. Check out their socials for latest updates or give them a call on when the next climbing schedule is. For a certain fee, you'll be able to rent their climbing gear and shoes. If that's not enough, you'll be joining a group of enthusiastic climbers so feel free to make friends!
Atimonan Rock Climbing
Pastor Noel Suministrado
+63921 336 8121
Facebook

Power Up Center for Climbing and Fitness
690 Tandang Sora Avenue, Old Balara, Quezon City
+63 2 932 7273
Facebook, Website
Philihappy Pro Tips
Leave around 2:00 a.m. to 3:00 a.m. to get a head start. Getting to your rock climbing spot can take as long as three to five hours depending on the traffic. Also, the DENR registration area opens exactly at 4:30 a.m.
Listen to the do's and don'ts as provided by the instructor. Safety is the utmost priority!
Read the weather forecast to ensure good weather on the day. Reschedule if there are any signs of bad weather. Rock climbing isn't fun if the rocks are wet or if you want to be blown off the edge by a rainy storm.
Like any other sport, stretching is the most important exercise if you want to avoid muscle injury. Warm up and cool down properly.
Wear sun protection. Slap on some sunscreen and put on a hat or head scarf for extra sunny days. It is advisable to wear a semi-fitted outfit. Loose clothing has the tendency to get caught on sharp rocks. Also, wear long climbing pants or sports leggings (especially for women). They will prevent unnecessary cuts from jagged rocks. Wear shorts over these leggings as they might accidentally tear during the activity.
Bring an extra change of clothes, toiletries (yes, there's a shower area nearby), light snacks, and a bottle of water. If possible, waterproof everything in case of a rainy day.
Don't be a litterbug by bringing your own trash bag to the site.
Remember to relax, enjoy, and have fun! Be careful though when taking pictures up there because you don't want to drop your phone.
Convinced yet?
Scaling walls may seem daunting at first once that hint of acrophobia starts to kick in. You'll see that this sport is not just another intense physical and mental workout. This transcendental experience will teach you plenty of things about yourself. You will discover about qualities you didn't even know you had! There is nothing more rewarding than going past your obstacles and reaching the summit.
This is the perfect time to try something new for a change. Step out and break routine now by basking in all that mountain air and heart-stopping views. With a new found confidence and no-fear attitude, you can overcome any Mount Everest that life throws at you.
Of course, rock climbing isn't the only interesting thing to do this summer. Fix up your travel bucket list and take the plunge to do something unique like freediving, sandboarding, canyoneering, and more! The thrill will be worth it!
Think you have what it takes to reach the top? Of course, you do! Share all your exciting adventures like this one with Philihappy by tagging @Philihappy on Instagram.