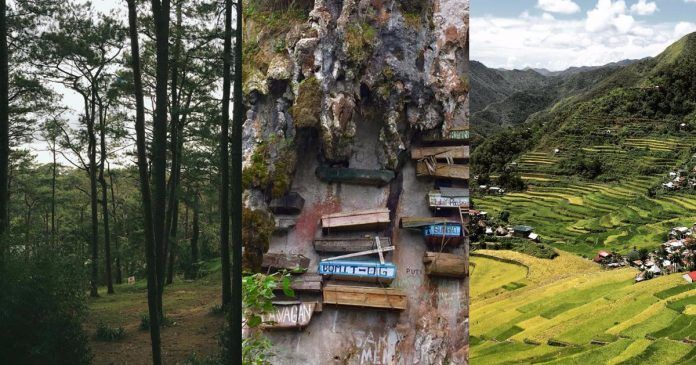 Baguio-Sagada-Banaue Itinerary: See The Cordillera Region in 6 Days
Break routine from work or school and get out of the grimy capital. Manila can make you hotheaded especially with its tropical climate and outrageous traffic. Travel up to the Cordillera mountain range to cool you down (and a chance to show off your "fall/winter" outfit). Why not visit places like Baguio, Sagada, and Banaue all in a single journey? Grab a cup of warm strawberry taho in Baguio, discover spelunking in the caves of Sumaguing Cave in Sagada, and experience the magnificent Batad Rice Terraces in Banaue. If that's enough to stimulate your wanderlust, here's a handy Baguio-Sagada-Banaue Itinerary you can bookmark for your upcoming travels!
How to Get to Baguio
Baguio is situated 240 kilometers north of Metro Manila. Your best way of getting there is to travel by bus like Genesis, Partas Bus, and Victory Liner. These bus terminals are located in key areas like Avenida, Cubao, and Pasay. A first class one-way trip will amount to PHP 750 with no or few stopovers, bringing you to Baguio within 5 hours.
The average one-way fare will cost only PHP 400 but can take a bit longer reaching 6-7 hours. Skip the traffic by taking the last trip at night and arriving early at Baguio. This will give you time to get plenty of shut-eye so that you can explore Baguio first thing in the morning.
Days 1 and 2 in Baguio
Leaving Manila at night is the best time. Resting on the bus will give you plenty of energy for the city. The first hint of the sun will greet you by the time you arrive at Baguio.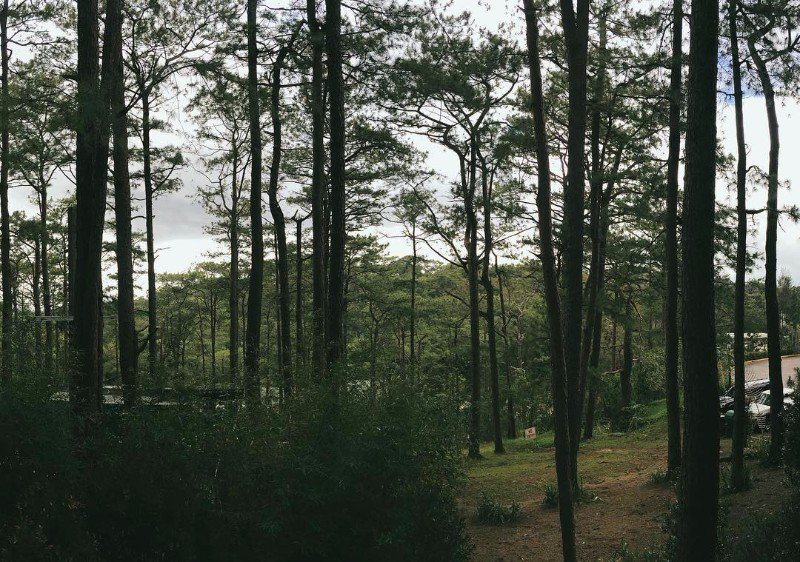 Baguio is the kind of place that never loses its charm. We already made a detailed itinerary that is perfect for a weekend if you only have a little time to spend in the City of Pines.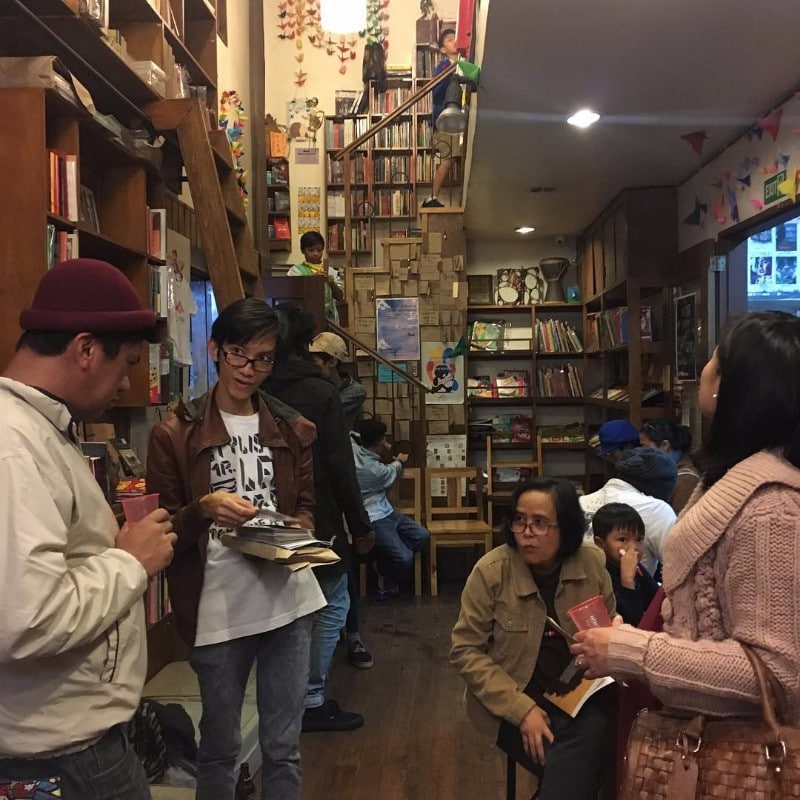 Enjoy the weather at Baguio's various parks, or check out lesser-known spots like the Baguio Cinematheque, Mt. Cloud Bookshop, and even a traditional artist village! Of course, no visit will be complete without sampling delicious food and beer while enjoying the nippy wind.
PHILIHAPPY PRO TIP: Prepare cash for your next trips! ATM is very, very rare in your next destinations.
How to Get to Sagada from Baguio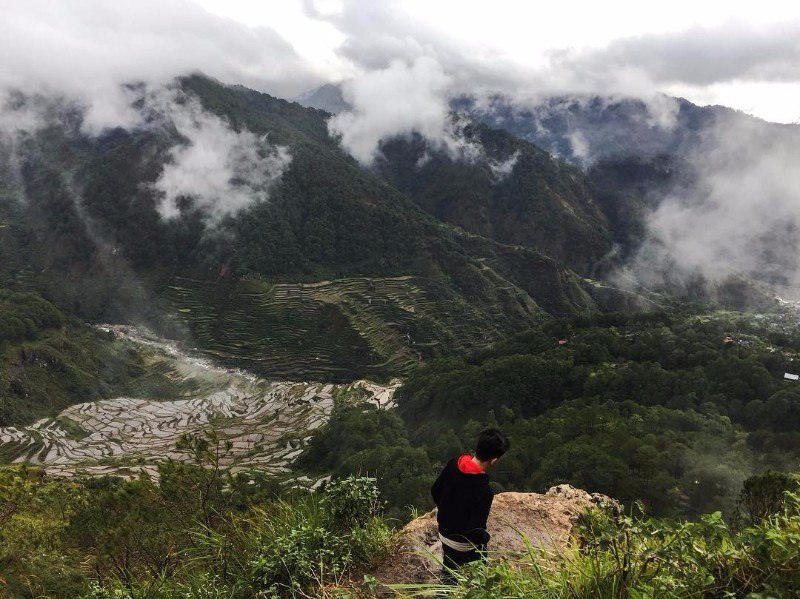 When you've explored Baguio, catch a GL Trans bus bound for Sagada at the Baguio Dangwa terminal. The first bus leaves at around 5:30 a.m. and the last trip leaves at 1 p.m. A one-way trip costs PHP 220 and will take you about 6 hours. The great scenery consists more of the Cordillera mountain range. For this Baguio-Sagada-Banaue itinerary, the goal is to wake up early for that first trip!
Day 3 in Sagada
On your third day in Baguio, wake up early and grab a quick breakfast. Catch the earliest ride to Sagada, so that you can make it in time for lunch at Mountain Province. Take pictures of the lovely scenery around you as you won't find them in the city!
1. Have lunch at Yoghurt House.
Try out the juicy roast pork for starters. Don't leave this place without trying their famous yogurt with irresistible toppings such as strawberries, bananas, and granola that's sure to leave a special place in your palate.
2. Attempt spelunking in Sumaguing Cave.
Wear proper attire for this slippery adventure. Its majestic formations will leave you speechless. Make sure you listen to your guide because yes, it can get a little dangerous if you aren't familiar with wet and slippery caves!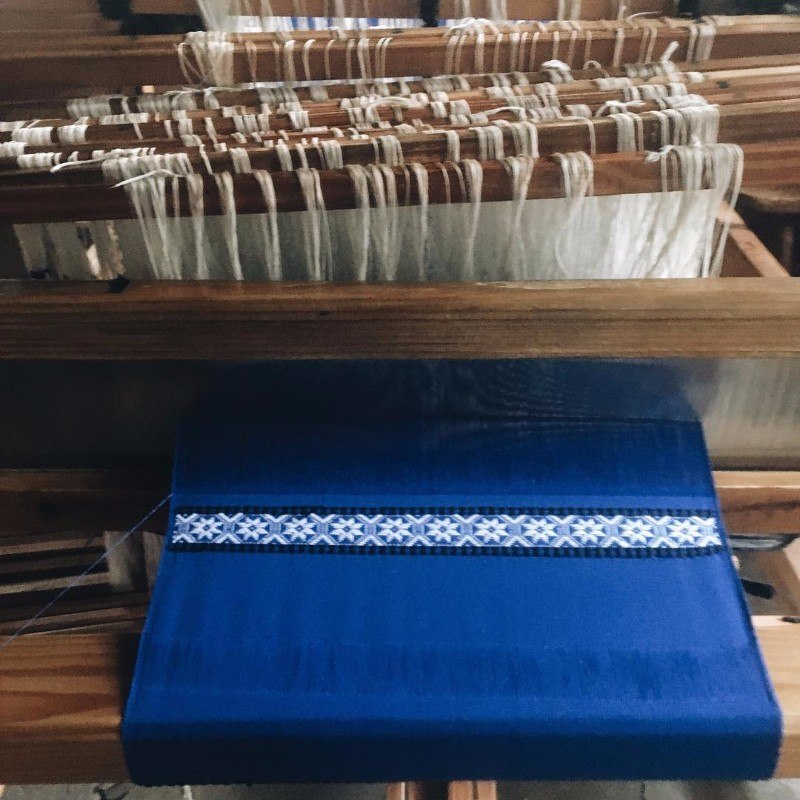 ALTERNATIVE: If the spelunking adventure is not for you, why not drop by the Sagada Weaving and Souvenir Shop? Witness the art of the local weaving that the Cordillera region is world famous for. It is a great stop for any Baguio-Sagada-Banaue itinerary.
3. Sample the local cuisine.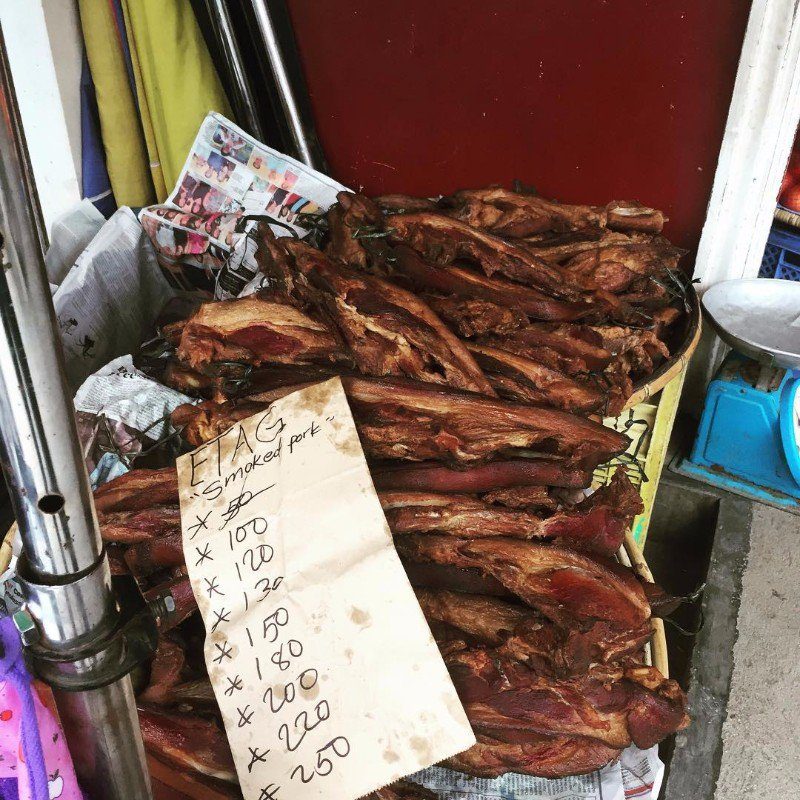 Etag is a local dish similar to ham. It is a smoked and preserved pork that is usually added to other Sagada specialties. You can find etag at the Sagada Public Market, where other fresh produce and cheap eats are sold. Other restaurants should have this, too!
4. Grab dessert at Sagada Lemon Pie House.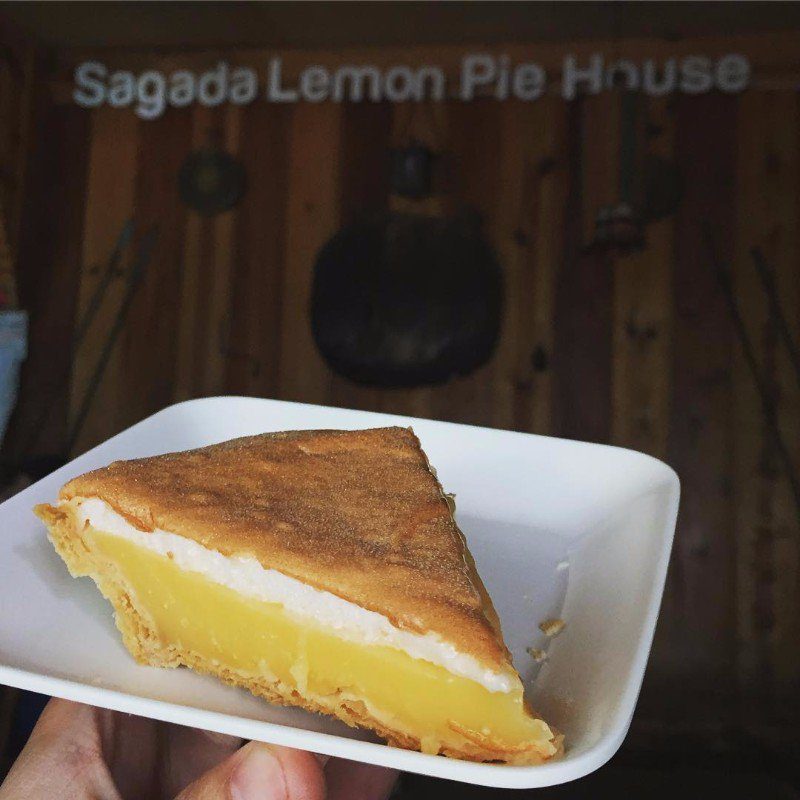 Lemon pie doesn't sound like your typical dish. Who knew that using lemons in a pie could turn into a wonderful, citrusy dessert? Whether it's a modest slice or an entire pan, we're simply pie lovers! Also, buy some for the next morning!
Day 4 in Sagada
Maabig ya kaboasan! It's time to spend another lovely day in Sagada. Let's see what interesting things to do (and eat) in this part of the Mountain Province.
1. Watch the sunrise at Kiltepan.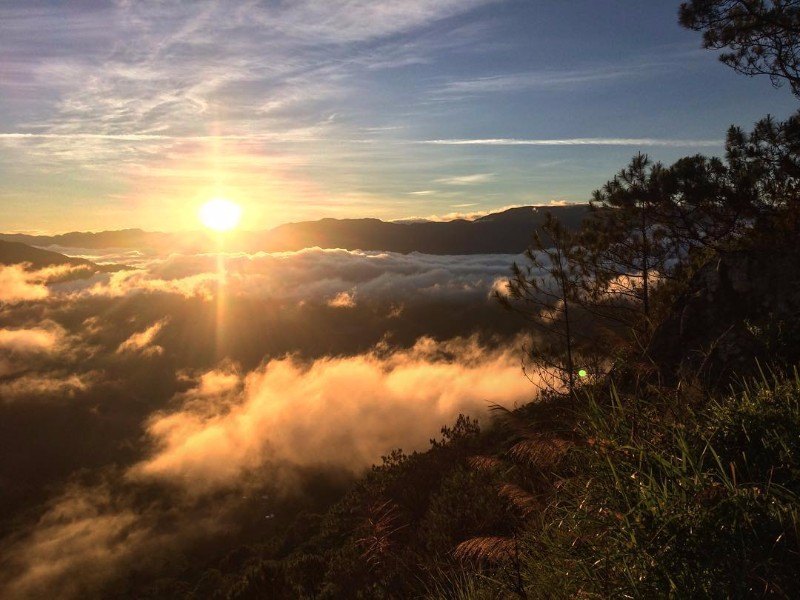 Fans of the local rom-com That Thing Called Tadhana know the significance of Mt. Kiltepan to the broken-hearted Mace. Even if you aren't battling love problems, the glorious sunrise at Mt. Kiltepan is worth waking up for! You can take a van to Kiltepan, or you can take a leisurely trek which will take about an hour covering four kilometers. Be sure to wake up early, bring light snacks and water, and leave no trash on the mountain!
2. Eat proper brunch at Masferré Country Inn & Restaurant.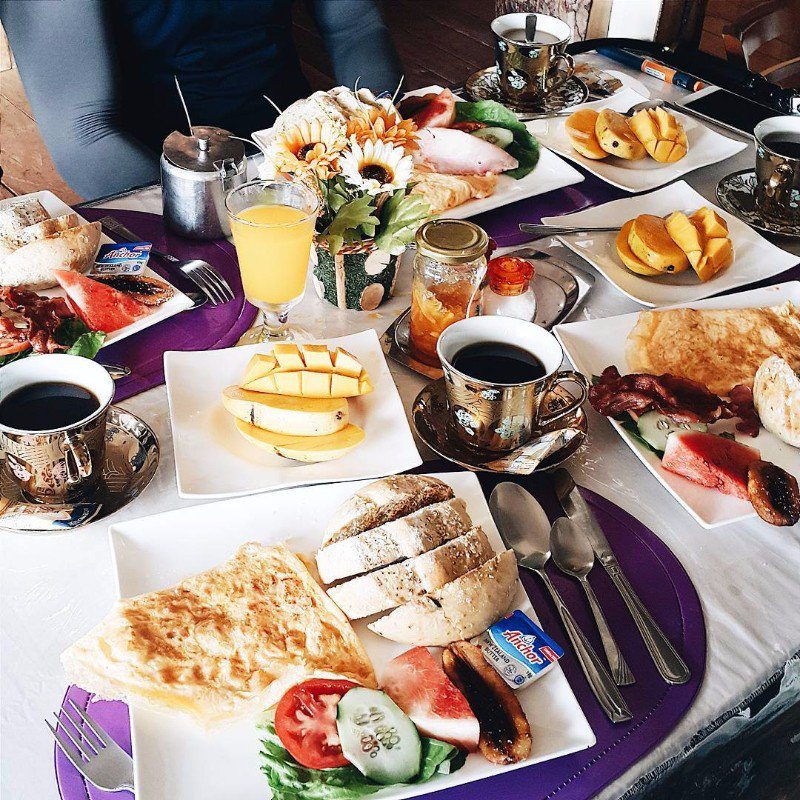 You can't go wrong with any sandwich from their selection. Why is that? It's because their breads are made from scratch and delicious in every way. You may need to reserve a table here before going.
3. Check out the Hanging Coffins at Echo Valley.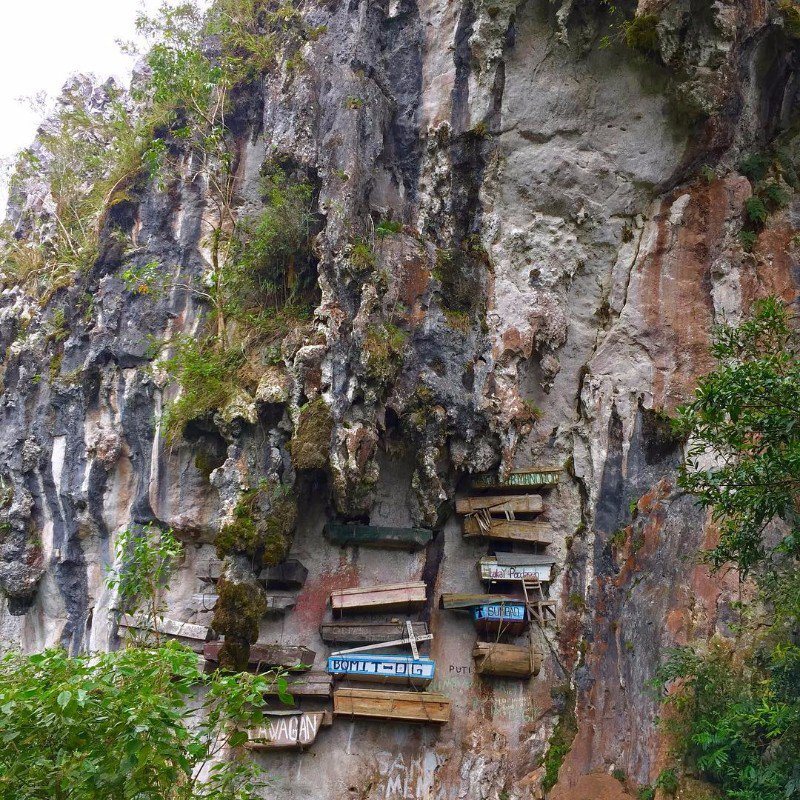 It's pretty amazing how their tradition differs from culture to culture when it comes to burying the dead. The people here believe that the higher their coffins are placed, the closer their souls are to reach heaven. No Baguio-Sagada-Banaue itinerary is complete without a visit here!
4. Have lunch at Sagada Brew.
Taste buds, lo and behold for something extraordinary! You might as well see what people have been raving about with their Sagada Orange Chicken. It comes with red rice and a side of salad. Yesterday, it was lemon pie. Today, it's orange chicken. YUM!
5. Pick oranges at Rock Inn.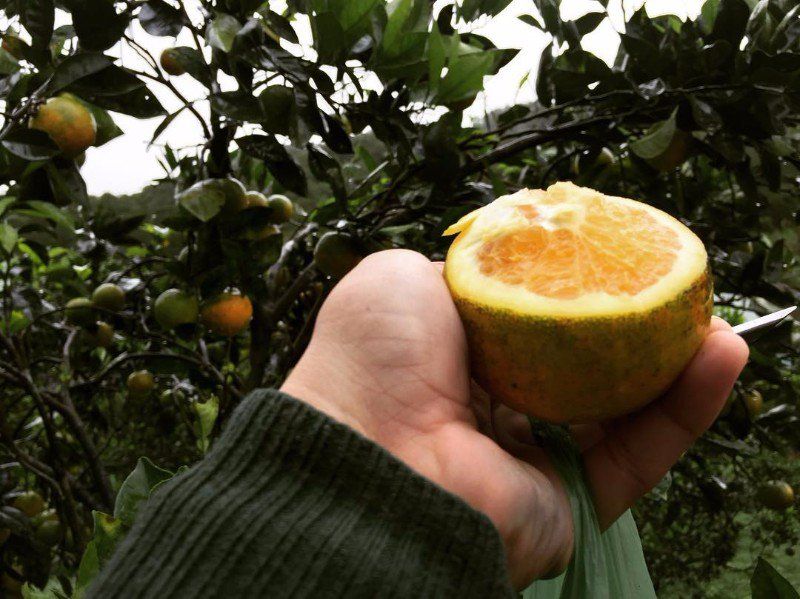 Now, this is something you don't see every day! Sagada has its very own orange orchard (sosyal)! You can actually pick oranges from trees and eat as you go along (for PHP 50 only). If you wish to bring a kilo as pasalubong, it will cost you PHP 60. Not bad, huh?
6. Enjoy a lovely dinner at Salt & Pepper Diner.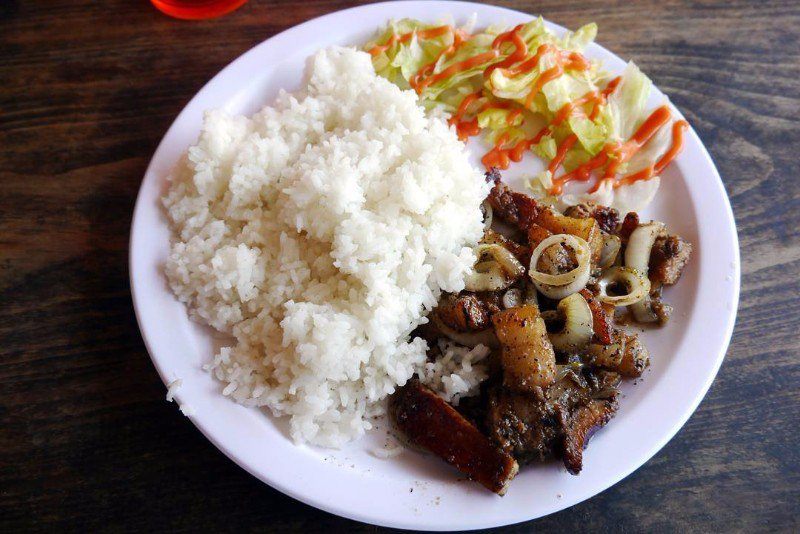 If you don't mind eating something fatty, try their dinakiw. The plate consists of delicious pan-fried pork swimming in rings of onions. The best combination to go with your favorite beer!
How to Get to Banaue from Sagada
At the Sagada Municipal Hall, take a 1-hour jeepney ride going to Bontoc (the capital of Mountain Province). The first trip starts at 6:30 a.m. and leaves every half hour until 9:00 a.m. Hourly trips are from 9:00 a.m. to 1 p.m. The fare is PHP 45. The earlier you are, the better!
From Bontoc Municipal Hall, take the local bus to Banaue. The trip will take around 2 hours and costs PHP 150. The first trip leaves at 7:00 a.m. Or board a van for PHP 200 that leaves at 8:30 a.m., 10:00 a.m., and 1:00 p.m.
Day 5 in Batad, Banaue
Say goodbye Sagada and hello to Banaue! Wake up early and catch the first ride to make it to breakfast at Banaue.
1. Have brunch at 7th Heaven's Café.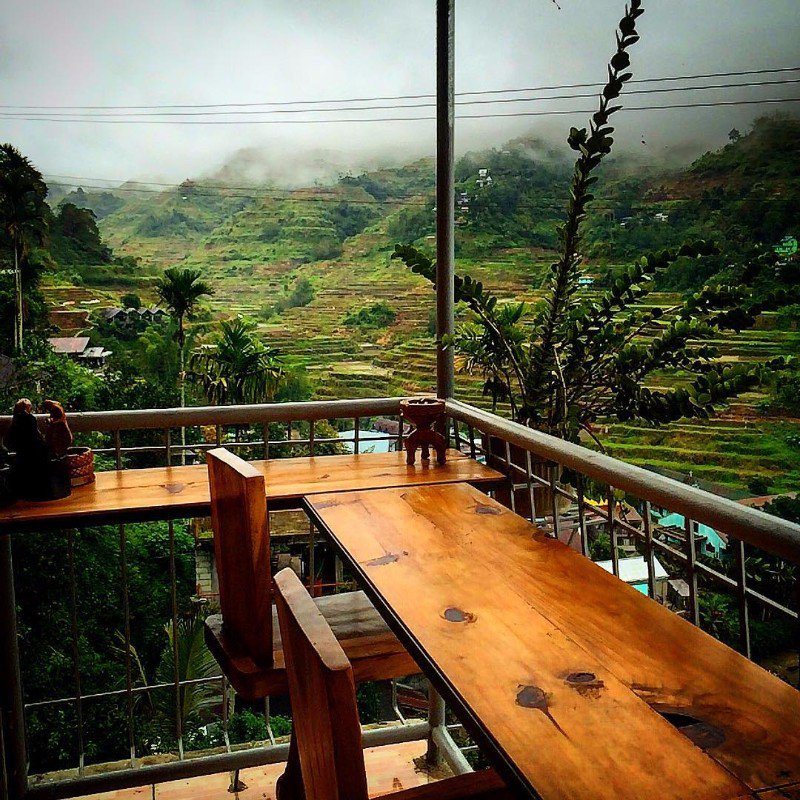 After registering at the Banaue Tourism Office, enjoy a delightful brunch right in front of the rice terraces! If you want something to keep you full for the long trek ahead of you, try their specialty Honey Cured Liempo. It is one of the best takes on the ever popular liempo! We're not even kidding.
How to Get to Batad from Banaue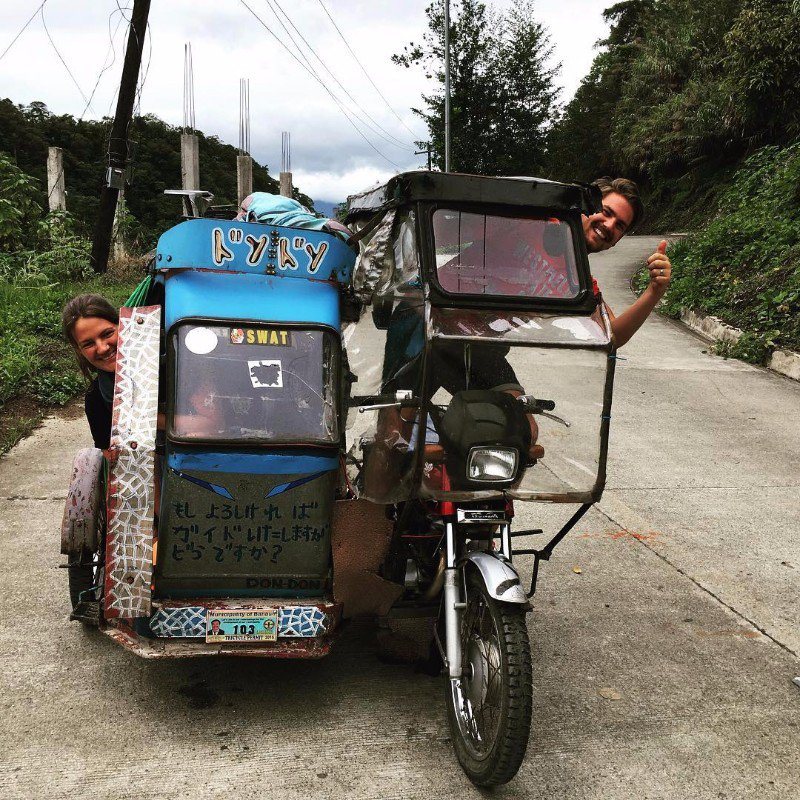 At the Banaue town proper, charter a jeepney or tricycle going to Batad Saddle Point. FYI, Batad is a barangay of Banaue, so technically, you are still in Banaue.
Chartering a jeepney will set you back at PHP 2,800 good for 20 pax. A tricycle will cost less (PHP 500 good for 3 pax) but prepare for a bumpy ride. We believe these are roundtrip rates unless you will be staying overnight which will cost you a little more. The trip will take you approximately one hour. At the Saddle Point, be prepared for a 30-minute trek to the Batad main village, where you can find lodging options.
PHILIHAPPY PRO TIP: Bring some snacks or even packed lunch with you before moving forward to your trek because it can get exhausting! Although, there are several sari-sari stores around the rice terraces too.
2. Trek to the highest point of Batad Rice Terraces.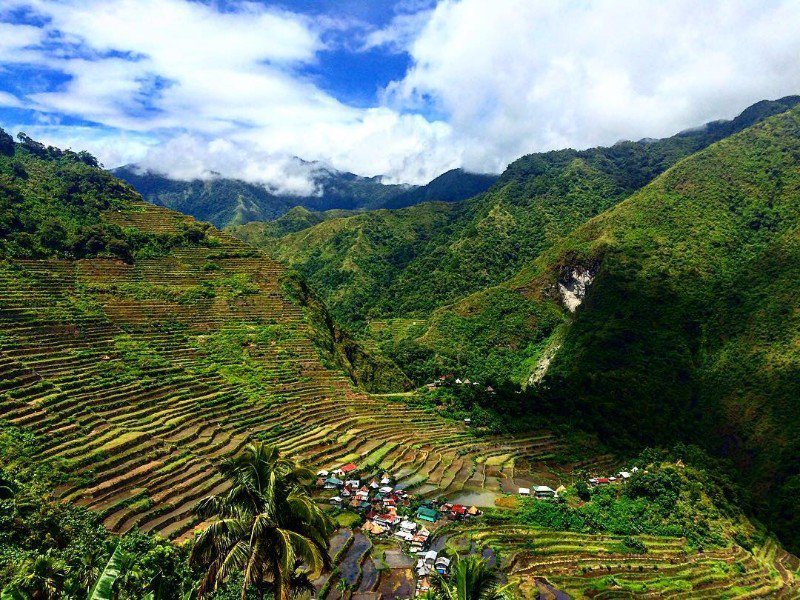 Hire a registered guide at the Batad tourist information center to help you go up and around the amphitheater, because it's possible to get lost in the beautiful mountains of Batad. While Awa View Deck gives you the best view of the majestic Batad Rice Terraces, the trek going up there will be much longer (say around two hours, one way)! For this Baguio-Sagada-Banaue itinerary, the viewpoint from the top of Batad Rice Terraces will suffice.
The Batad Rice Terraces is recognized as a UNESCO Heritage Site. Follow proper instructions when you're here because there are sacred traditions that are not meant to be broken.
3. Swim at Tappiya Falls.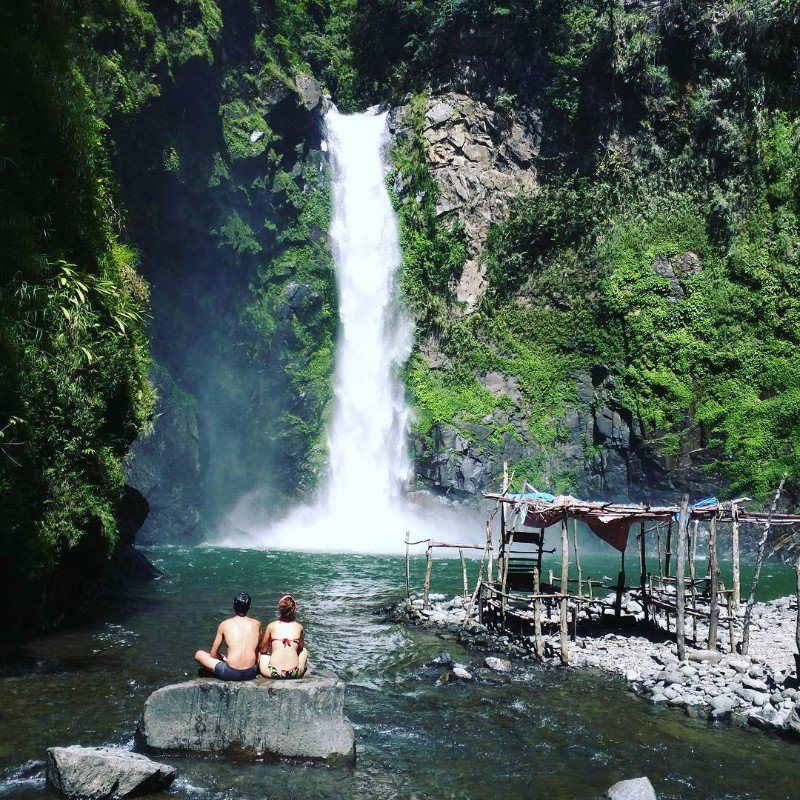 Don't forget to bring your swimming gear if you plan on getting closer to the water! The trek to Tappiya Falls will take around an hour, but you can eat your packed lunch here. Be one with nature as you enjoy the sight and sounds of the glimmering waterfalls.
4. Experience the local massage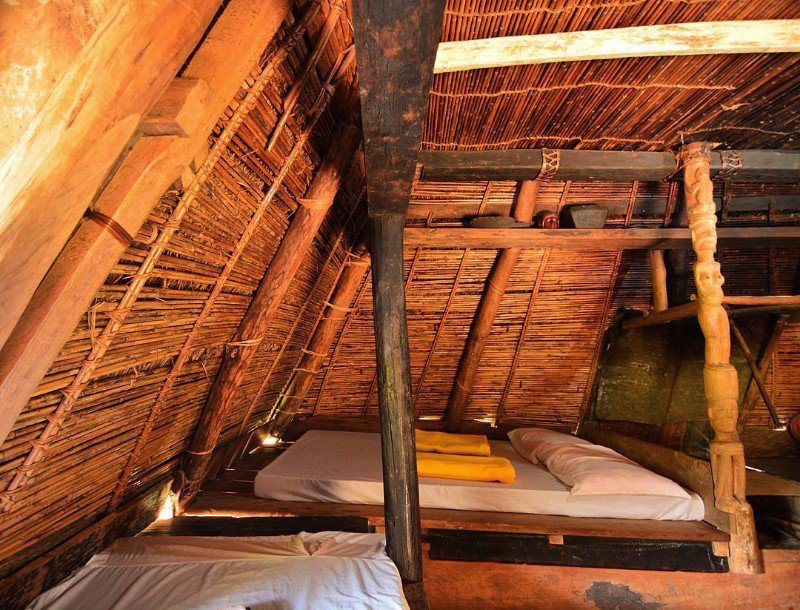 Getting a massage for your back and feet is probably something you'll look forward to especially after a weary day of trekking! Treat your body to one, and in no time, you'll fall asleep!
5. Cap off the night with the local rice wine over dinner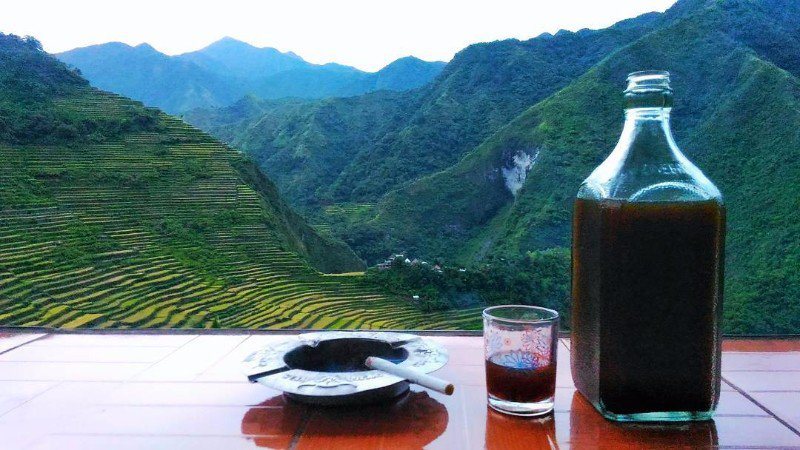 There are no fancy restaurants here, but most accommodations prepare home-cooked meals. Order ahead of time, so that it will be ready by the time you return from your adventure. Ask for their specialty (including their rice wine if available) to try something new. Turn in for a good night's sleep afterward!
Day 6 in Banaue
Wake up to the beautiful morning view of the mountains. The air is clean and crisp. It's time to bid farewell to Batad and head back to Banaue! The first trip back to Banaue is at 9:00 a.m.
1. Try the Ifugao's native coffee.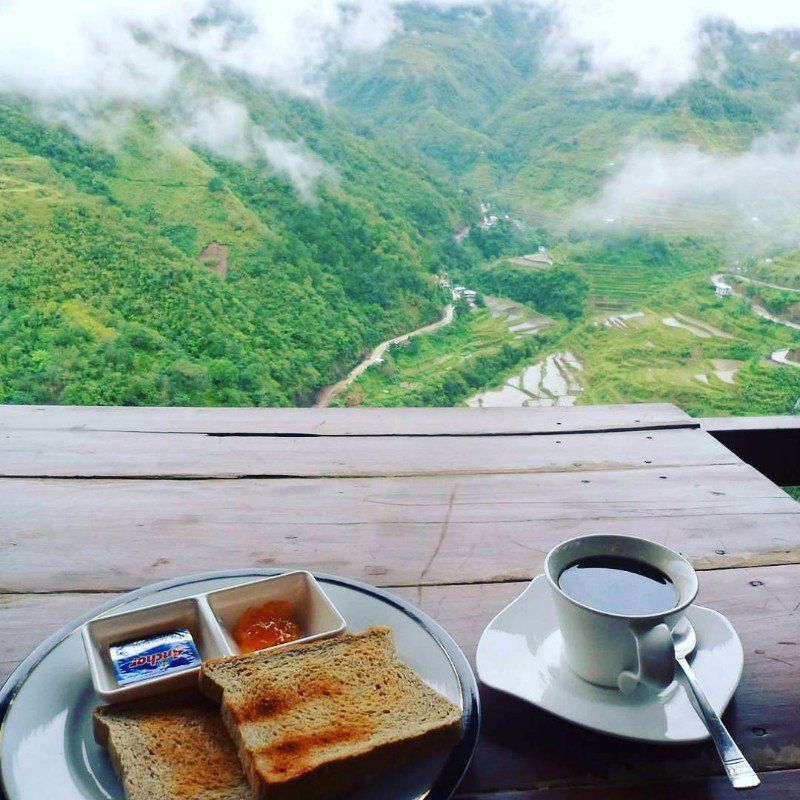 Their freshly brewed coffee is very rich and best paired with a hearty breakfast meal. It is the best way to start the day!
2. Capture Banaue Rice Terraces' beauty.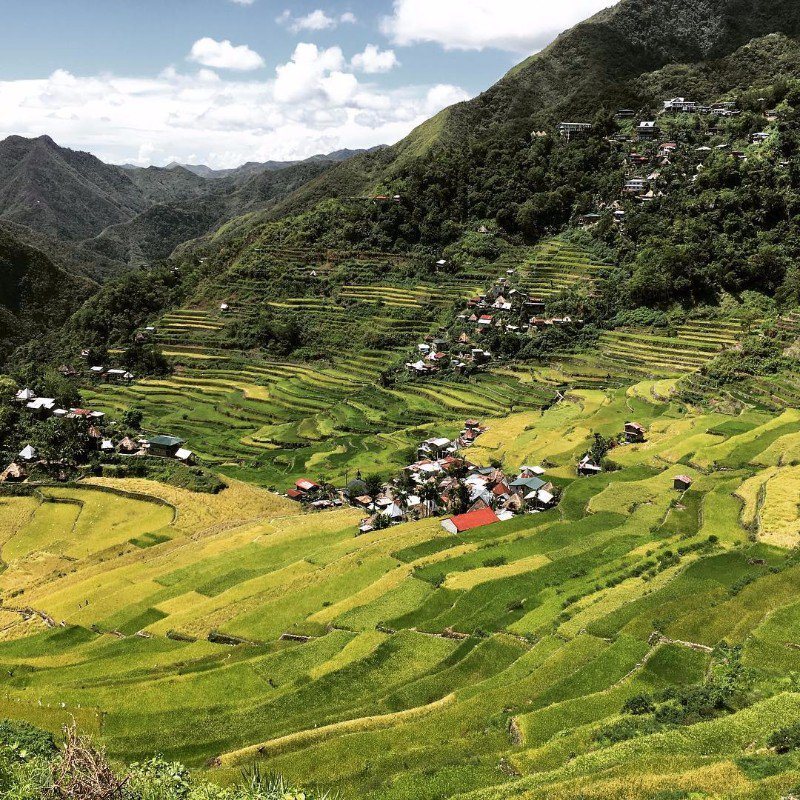 Thanks to many generations of hardworking Igorots, the Banaue Rice Terraces are considered as the country's national cultural treasure. They were built this way for the sake of irrigation, letting gravity do its job to water the rice, known for being a very thirsty type of plant.
3. Enjoy lunch at Native Village Inn and Restaurant.
Try their delicious pork/chicken with vegetables in coconut curry sauce and rice while having another spectacular view of the rice terraces. Nothing compares to this back in the city!
4. Buy local handicrafts and pasalubong.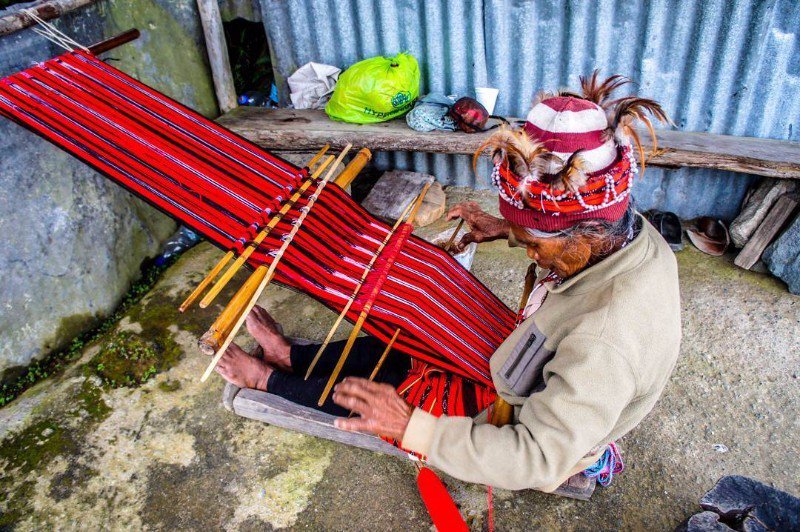 Don't go home without buying any of the crafts. Select from different kinds of binubudan tapestries, woodcrafts, and ornaments specially made by the local people. Thanks to tourism, you'll greatly boost the local community.
5. Grab early dinner at Las Vegas Lodge & Restaurant.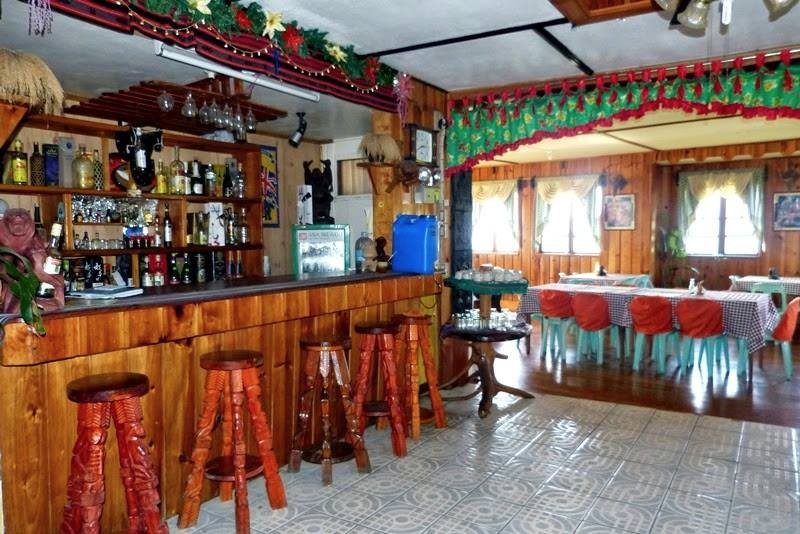 Try any of the traditional Filipino dishes like the pork adobo or chicken afritada. They are very delicious and come at affordable prices.
How to Get to Manila from Banaue
The Ohayami Bus departs from Banaue in the early evening particularly at 6:30 p.m., 6:45 p.m., and 7:00 p.m. The fare costs PHP 450 and takes about 10-12 hours. This is the perfect time to rest and recharge from your 6-day Baguio-Sagada-Banaue itinerary.
It's a little hard to believe that within a span of just one week, we were able to visit three beautiful destinations found up north. For a humid country like the Philippines, Filipinos can seek haven in a cooler climate in the Cordillera region without having to step on a plane elsewhere.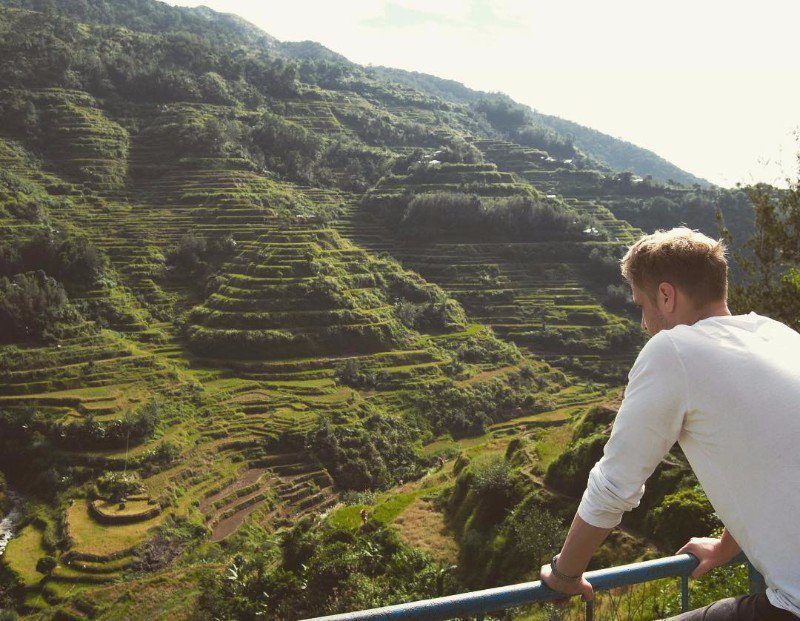 This Baguio-Sagada-Banaue itinerary makes it feel like there is more to explore in the islands of the Philippines alone. Who wants to travel out of the country when there are plenty of adventures waiting for you here in the country?
Wait and see where Philihappy will take you on our next adventure!