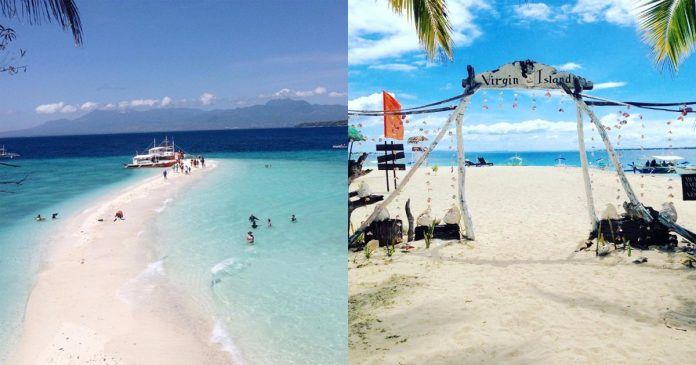 Best Beaches in Cebu: Your Complete Cebu Beach Guide
Divert tourist capitals such as Boracay and Palawan and take the road less traveled to the wonderful island of Cebu. Home of the best tasting lechon and dried mangoes, Cebu hides a good number of tropical paradises. If you're ready, hop on the next available flight, and let's explore the best beaches in Cebu.
How to Get to Cebu
Philippine Airlines, Cebu Pacific, and Philippines AirAsia have daily flights to Cebu from Manila. A one-way flight takes about an hour and 20 minutes. International airlines such as Asiana Airlines, Cathay Pacific, Korean Air, Malaysia Airlines, and SilkAir also have direct flights to Cebu.
Mactan Island
Not a fan of long travels? Mactan is the best choice for you! It is the most accessible beach because it's located within the city. In fact, the airport is on Mactan Island! Sandwiched between Cordova and Lapu-Lapu City, Mactan is home to a string of upscale resorts. Go ahead and choose a beachfront hotel, so you can lounge and sip on margaritas! You can also hire a small boat to go snorkeling or diving at nearby islands.
How to Get to Mactan Island
Hail any cab or book an Uber ride to any resort of your choice from Mactan-Cebu International Airport.
Camotes Islands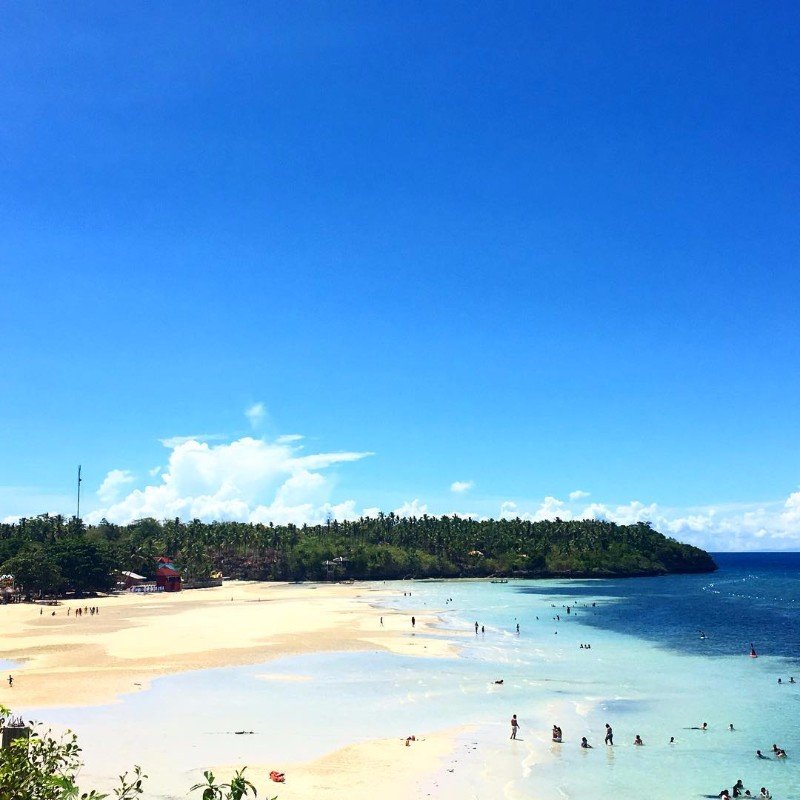 Sometimes called "The Lost Horizon," its unspoiled beauty has captivated the first Spanish explorers the same way it has with both local and international travelers. No one can decline an invitation especially with its natural forests facing the white sandy beaches and blue waters. It is one of the best beaches in Cebu especially when you explore other islands like Ponson, Tulang, Pacijan, and Poro. If you have extra time on your hands, take a side trip to the largest lake in Cebu known as Lake Danao located at Pacijan.
How to Get to Camotes
From North Bus Terminal at Reclamation Area Cebu, take a two-hour bus ride heading up north to Danao Port. The bus fare costs PHP 40. From Danao Port, take the two- to three-hour boat ride to Consuelo Port in San Francisco, Pacijan Island. The boat fare costs PHP 200 for an air-conditioned ride and PHP 180 for a non-air-conditioned one.
PHILIHAPPY PRO TIP: Since ATMs are rare among these small provinces, bring adequate cash (as well as coins and small bills) with you at all times.
Bantayan Island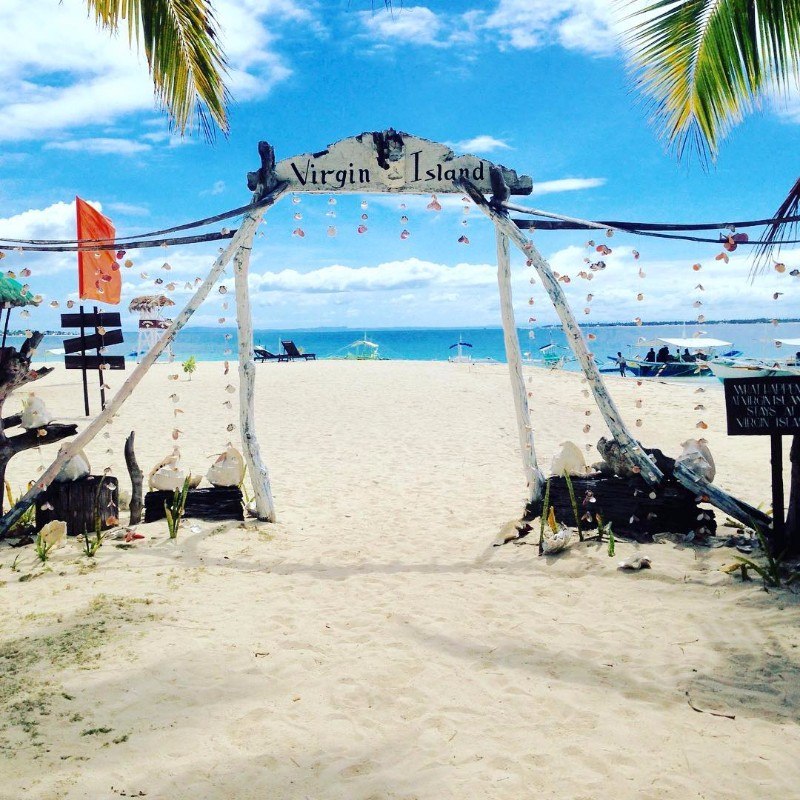 Somewhere in the northern tip of Cebu rests the beautiful Bantayan Island. Don't confuse this with Daanbantayan; that is an entirely different island! Bantayan's vast horizon captures its immaculate sand and translucent waters that it's hard to believe that such a paradise exists. Alice Beach, Maricaban Beach, Paradise Beach, and Sugar Beach are the most popular ones on Bantayan Island. Hire a boat to explore other islands namely Cabulauan (Hilantagaan Island), and Virgin Island.
How to Get to Bantayan Island
From North Bus Terminal, ride a bus ride to Hagnaya Port in San Remigio. This 2.5-hour bus ride costs around PHP 170. Upon arrival, you'll be required to pay an additional PHP 10 for the terminal fee. Hop on a ferry boat bound for Santa Fe. The one-hour trip will cost you PHP 170.
Malapascua Island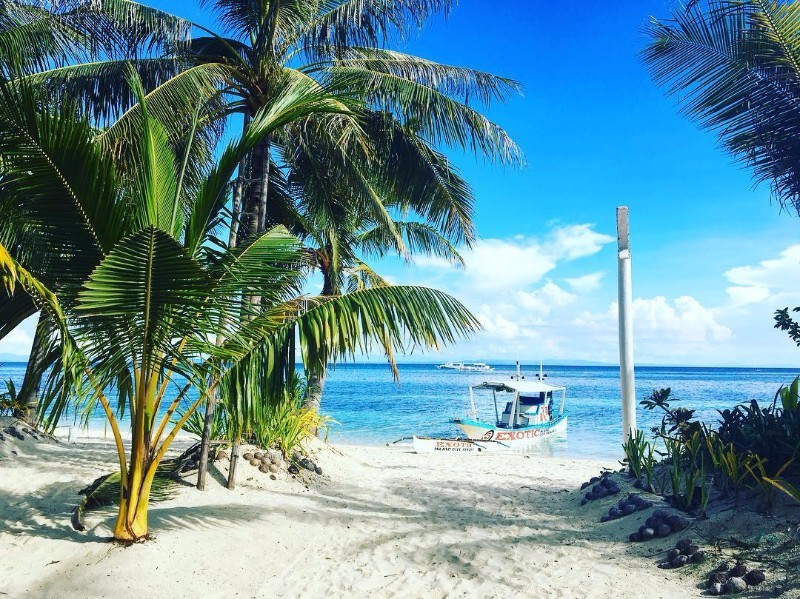 Situated at Daanbantayan, Malapascua's white fine sand and remarkable beauty are often compared to Boracay. The sight of unspoiled beaches in Malapascua can probably make a blind man see again (no proof, though). Visitors flock to Bounty Beach, which is the island's main beach dotted with resorts, cottages, and restaurants. Malapascua Island also made its name as one of the best diving destinations because of its richness in coral reefs, shipwrecks, and marine life.
If you're an advanced diver, have an early morning dive at Monad Shoal, where the shy thresher sharks are popular sightings! If you're in Bantayan Island, try to squeeze a trip to Malapascua to save time and money. However, if Malapascua is your main destination, charter a boat to the nearby Kalanggaman Island in Leyte!
How to Get to Malapascua Island
From North Bus Terminal, hop on a Ceres bus bound for Maya Port. Travel time is around five hours. This will cost you around PHP 190 for an air-conditioned bus and PHP 150 for non-air-conditioned. From Maya Port, ride a small boat to Malapascua (PHP 100/person).
Aloguinsan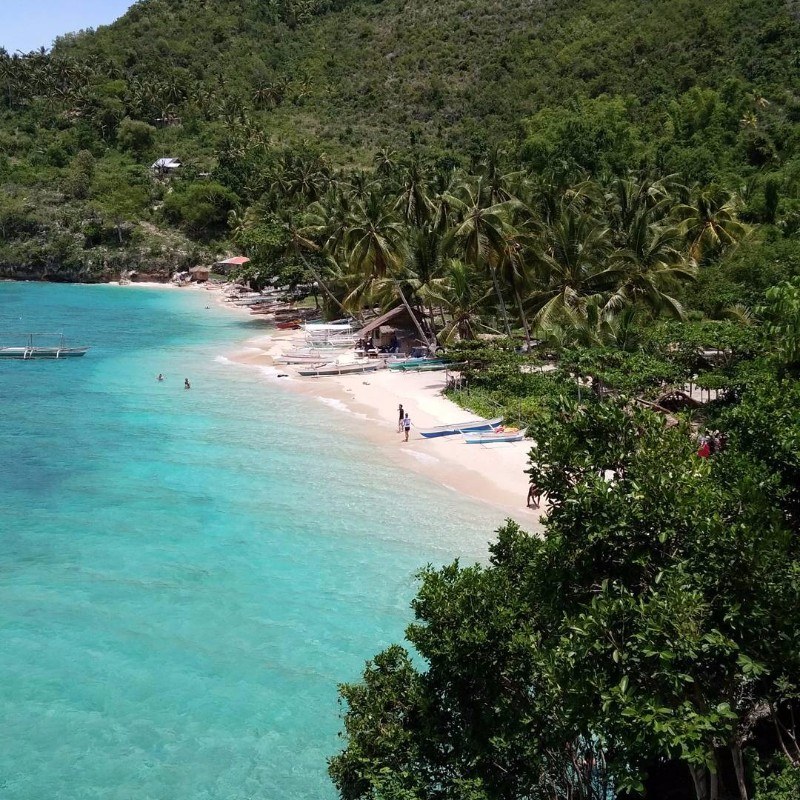 Wander away in the rural town of Aloguinsan, Cebu! This place is a popular weekend destination for locals because of its proximity to the city. If you wish to have a more secluded stay at Aloguinsan, opt for the Hidden Beach, a private beach resort concealed by coconut groves. If you want to see rich marine life and vast reef, be closer to nature at Hermit's Cove. You can also go for their famous Bojo River Cruise and meander through magnificent mangroves.
How to Get to Aloguinsan
From South Bus Terminal, take a two-hour bus ride (PHP 70) to Toledo. Then, take a 30-minute jeepney ride (PHP 30/person) to Barangay Bojo or Aloguinsan. At Aloguinsan, ride a habal-habal to Hidden Beach (PHP 25/person), or take a 20-minute habal-habal ride to Hermit's Cove (PHP 50/person).
Moalboal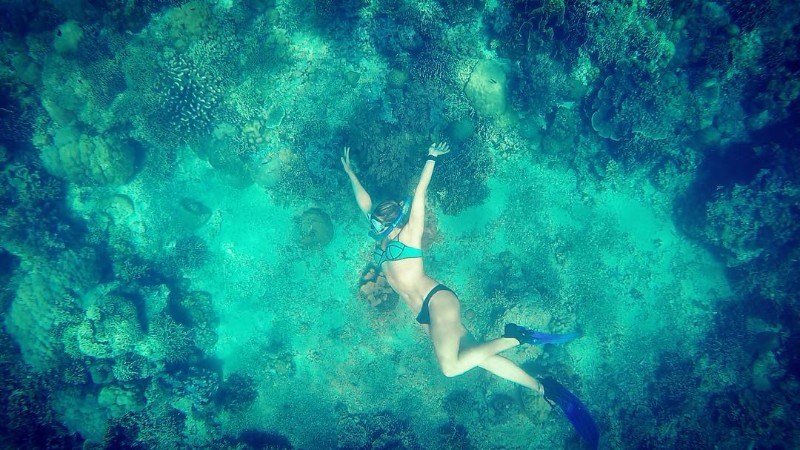 Why go to Maldives when you can visit Moalboal in Cebu? It's one of the best beaches in Cebu mainly because it's a great snorkeling spot and it's closer and less expensive. Be enchanted with Basdaku White Beach whose spectacular view combines the clearest of waters and the whitest of sand. Pescador Island, just off of Moalboal, has become another favorite diving destination because of its vibrant marine biodiversity.
How to Get to Moalboal
From Cebu South Bus Terminal, hop on a Ceres bus bound for Barili or Badian. Ask the conductor or driver to drop you off at Moalboal town. Travel time is around three hours, and it will cost you PHP 120 for the bus plus PHP 5 for terminal fee. At Moalboal, ride a tricycle (PHP 100) or a habal-habal (PHP 50) to Basdaku White beach where resorts are located.
Badian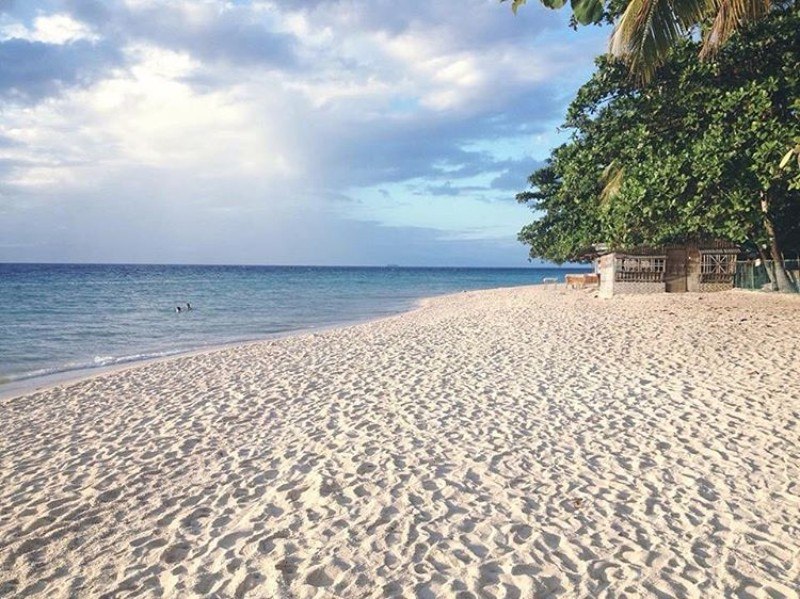 In the southwestern part of Cebu Island is Badian. Beachgoers often escape to a not so crowded Lambug Beach to get a taste of its white to cream colored sands (depending on the time of the day) and waters of varying shades of blue. If you're lucky and go off-peak season, you'll probably have the entire beach to yourself. At Kawasan Falls, explore nature in the most adventurous form of canyoneering! Safety gear is provided for activities like hiking trails, sliding down, jumping off from great heights, and of course, swimming. Its waters are in a magical hue of blue. Luckily, you don't need filters for this one!
How to Get to Badian
From South Bus Terminal, ride a bus bound for Bato via Barili (Not Bato via Oslob). The trip will take roughly three hours and will cost you around PHP 120-147. Ask to be dropped off at Badian Public Market. From there, hire a tricycle or a habal-habal to Lambug Beach. This will cost you around PHP 25.
Alcoy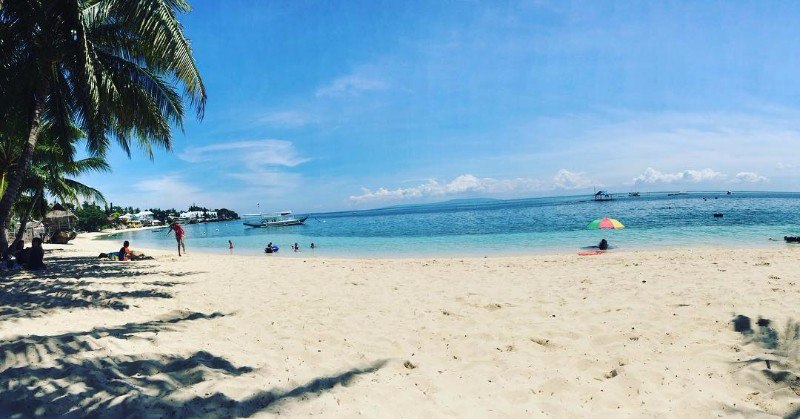 On the opposite side of Badian is Alcoy. Dig your toes into the beautiful white sand at another one of the best beaches in Cebu known as Tingko Beach. Mirrored by the clear blue sky, the surrounding azure waters will make you want to jump right in to cool off the heat. Charter a boat and spend the entire day island-hopping in search of other paradises off the grid!
How to Get to Alcoy
From South Bus Terminal, ride a bus bound for Oslob. Ask to be dropped off at Tingko Beach in Alcoy. The trip will take around two hours, and the fare costs PHP 120. Just be prepared to shell out PHP 10 for the entrance fee.
Oslob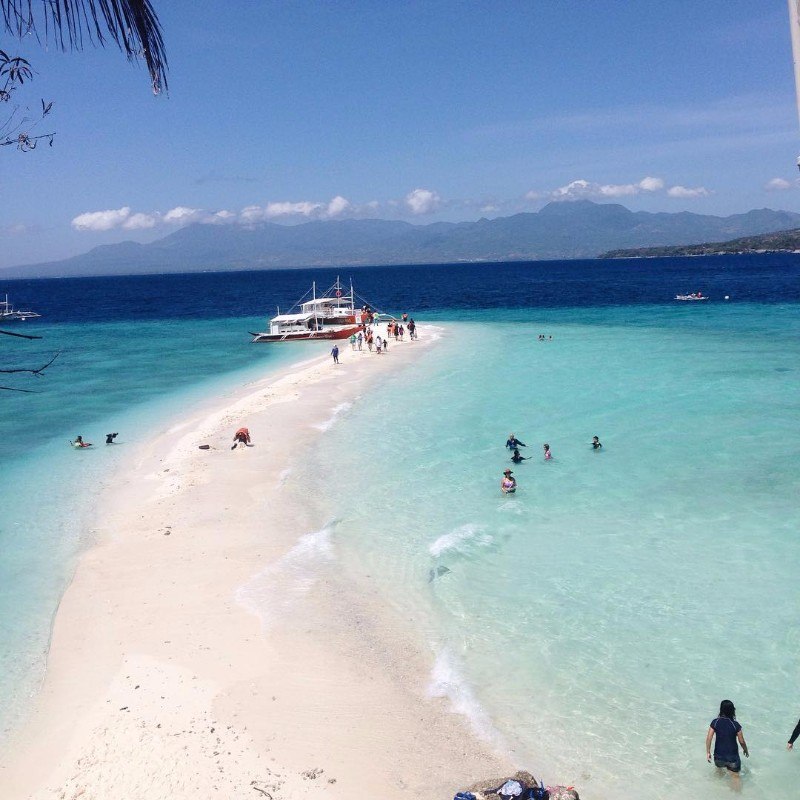 Slow things down at Sumilon Island. The sandbar frequently "moves" around the island, which makes it attractive for tourists (and their selfies!) because no sandbar is ever the same. Also, the island is surrounded by greens and blue waters that make the white sand really stand out. Fall deeper in love with Oslob by swimming at the majestic Tumalog Falls!
While whale shark watching is a common tourist destination here, Donsol offers a more eco-friendly alternative.
How to Get to Oslob
From South Bus Terminal, take the first bus ride bound for Oslob. Travel time is three hours, and it will cost around PHP 155. For Tumalog Falls, charter a habal-habal ride for a round-trip fare of PHP 120 for two persons. For Sumilon Island, take a 15-minute boat ride (PHP 35/person) from Oslob Port to the island.
Who'd ever thought you'd find these amazing beaches? Everyone will fall in love with the best beaches in Cebu because there are so many low profile paradises tucked under her wing. Foreigners will be ecstatic because there are direct flights to the island without having to stop over Manila. The best thing about Cebu is that you can avoid the large crowds and if the gods are on your side, you can even have the entire beach to yourself!
---
Note: Rates may vary and change without prior notice