Cebu Itinerary: From North To South Of Cebu In Just 4 Days
If it's your first time to visit the Philippines or to visit Cebu specifically, a week is the most ideal amount of time to get your share of island hopping, food tripping, and sightseeing! Known as the "Queen City of the South," Cebu is so huge, it's basically considered the second capital after Manila. But what's amazing about Cebu is whether you go up north or down south, the island will offer you something entirely different! Buckle yourself in for a 4-day Cebu itinerary!
How to Get to Cebu City
No matter what part of the world you're coming from, you'll initially land in the Mactan-Cebu International Airport. From there, you can take a cab or book an Uber to your hotel/first destination. This is what we recommend:
Day 1 in Cebu City: Sightseeing and Food Tripping
1. Check into one of Mactan island's beachfront hotels and lounge for a while.
It's only fitting that once you start your stay in Cebu, you make the most of their shores by checking into a beachfront hotel.  Since you'll be landing in Mactan Island, there's a slew of beachfront hotels to choose from here. You can also check out more of the beautiful beaches in Cebu if you wish to extend your stay.
READ: Best Beaches in Cebu: Your Complete Cebu Beach Guide
2. Try Cebu's best Rico's Lechon for lunch!
Cebu, in general, is known for its love of lechon, but if you want to try the pioneer restaurant, you must go to Rico's! You can even taste their spicy lechon version, which is so lip-smacking good. Rico's is just one of the many restaurants where you can go to get your fill of lechon, but you can try other places too.
Rico's Lechon is at F. Cabahug Street in Mabolo and at Mactan Promenade near the Mactan International Airport.
3. Do some sightseeing at the Mactan Shrine, Magellan's Cross, and Basilica del Sto. Nino.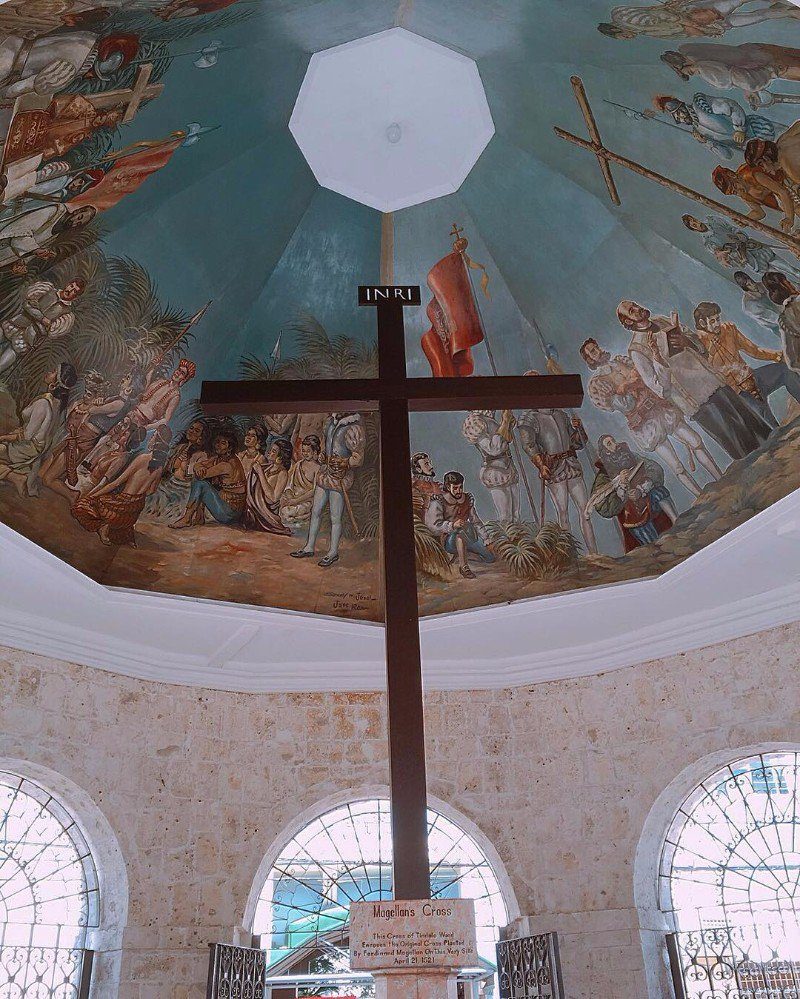 These are all famous landmarks that signify various historical and religious events that have shaped Cebu, and the Philippines into the city and country they are now. Mactan Shrine can be found in Lapu-Lapu City, while Magellan's Cross and the Basilica del Sto. Nino are in Cebu City. It takes a 1 hour and 10 min ride to get from one city to the next.
Mactan Shrine is at Punta Engano in nearby Lapu-Lapu City, while Magellan's Cross and Basilica del Sto. Nino are along Osmena Blvd. in Cebu City.
BONUS: If you think you can squeeze in more attractions, you can also check out Fort San Pedro, a military defense fortress, and the Taoist temple, which boasts of its multi-colored and tiered shrines.
4. Have some BBQ for dinner at Larsian!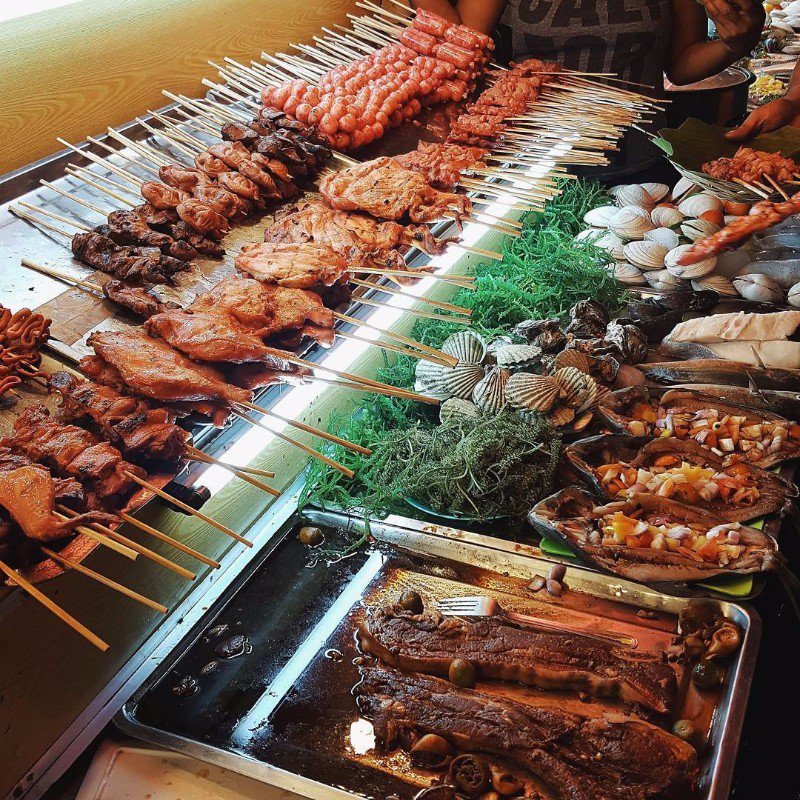 If you want to try authentic Cebuano food, scrounge their street market! Larsian has around 30 stalls offering grilled meat and seafood 24 hours a day. It's Cebu's favorite BBQ place and is located at the Capitol Site of the city.
5. Test your fear of heights at the Sky Experience Adventure.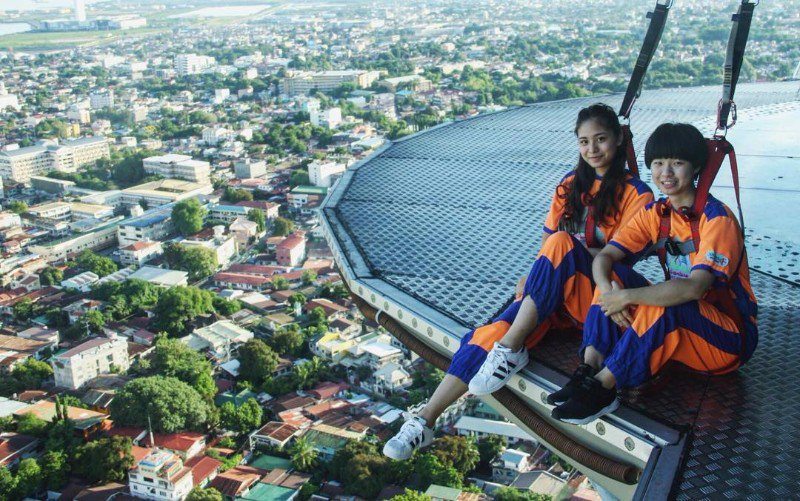 Well, you might want to make this your number four before your dinner, but this is definitely one of the highlights of the city! The Sky Experience based at Crown Regency Cebu features rides like the Edge Coaster (yikes!) and adrenaline-boosting activities such as the Tower Walk and Urban Zipline!
6. Let the night wind down at Mango Square.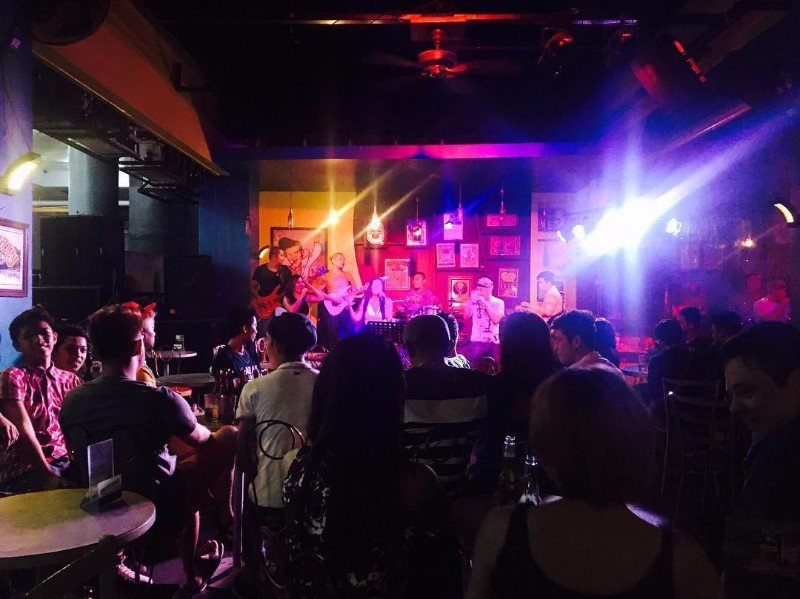 Also around the area of Fuente Osmeña is Mango Square! A lively strip of bars and music clubs that's perfect for a nightcap (if you still have the energy) and a chance to talk and laugh about all your activities of the day before tomorrow's island-hopping!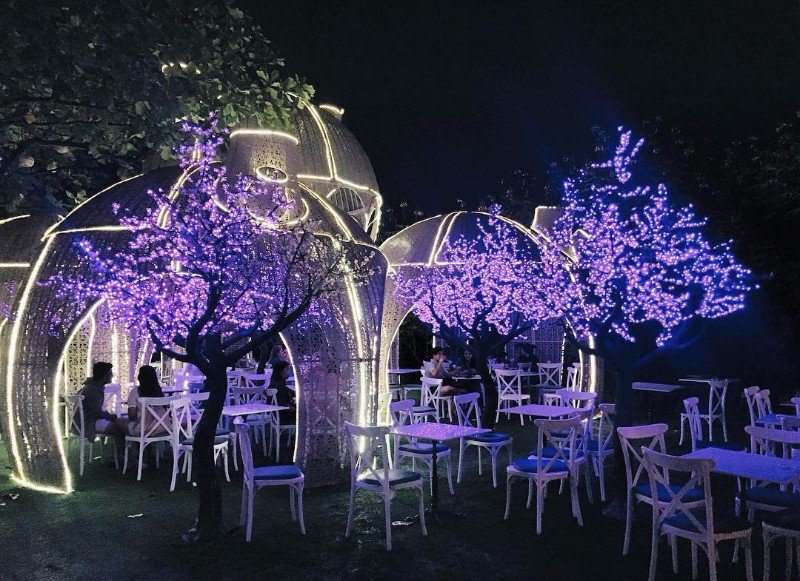 ALTERNATIVE: Enjoy a wine evening at La Vie Parisienne.
If you prefer a classy wine night, try dining at La Vie Parisienne. For just PHP 200–300, you have many options to choose from in their wine cellar. Pair this with one of their famous croissants (they are also a bakery) and admire their romantic setting of a garden when all the lights are turned on.
How To Get To Malapascua Island from Cebu City
From your hotel, take a trip to Cebu's most northern point via taxi to the North Bus Terminal. Take the Ceres bus bound for "Maya Bagay." The first bus leaves the terminal at 5:00 a.m. and every hour thereafter. Maya is about four hours away from Cebu, which is your stop to take the boat to Malapascua Island. The bus ride will cost you PHP 190 (air-conditioned), PHP 150 (non-air-conditioned), and the boat will cost PHP 80 with porter fees on both ends.
Leave early to make it to the port before 3:00 p.m., that's when the last ferry trip will leave from Maya to Malapascua. Beware of scammers who will try to jack up the prices if you're not willing to wait for the boats to fill up first, which is why there's no fixed schedule for departures. If you're with a group, you can opt to take a private boat, but you shouldn't have to pay more than PHP 1,500.
Day 2 in Malapascua: Snorkeling and Wandering
1. Have some brunch at Oscar's!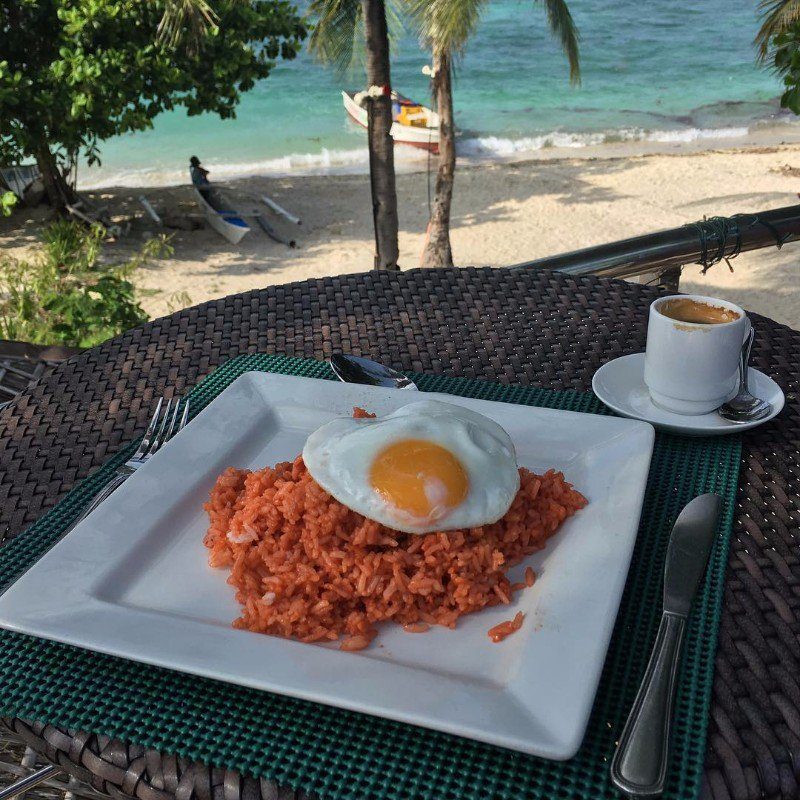 You're going to need lots of energy for the day, so get some brunch in first at Oscar's Bar and Restaurant. This British-owned and themed restaurant serves a Full English breakfast, fresh fruit pancakes, and a wide assortment of coffee. Oh, and they also accept credit card!
2. Scuba or free diving (or simply snorkel) at Ocean Vida Resort.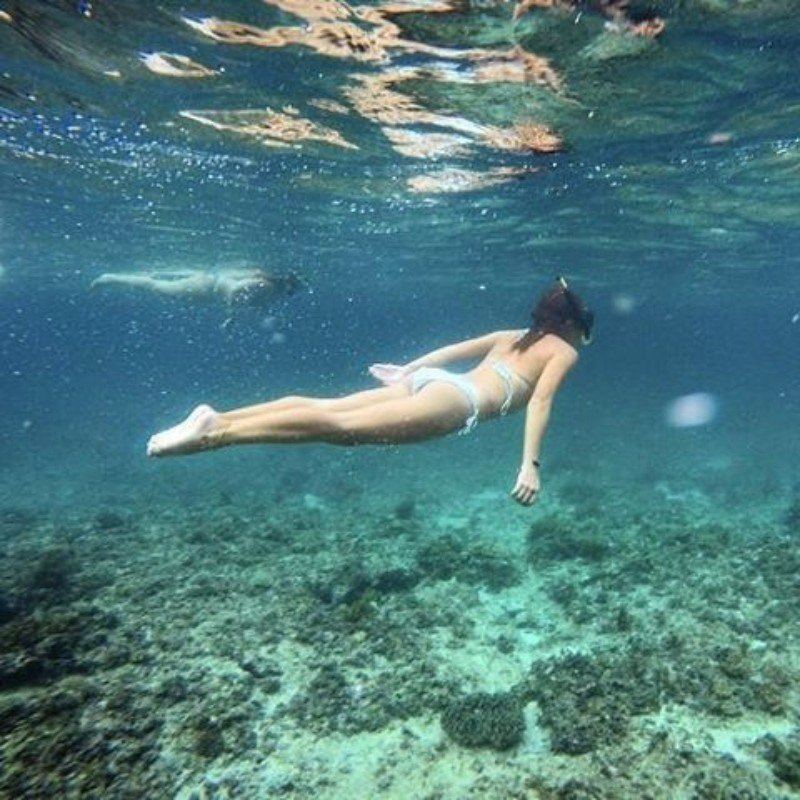 This will definitely be an all-day activity so prepare yourself for some lessons that you can take at Ocean Vida Resort. It has been rated number one for four consecutive years, and it is also home to the Sea Explorers that teach first-time divers. Free diving programs are offered at the school, too.
3. Take a motorcycle ride to the lighthouse.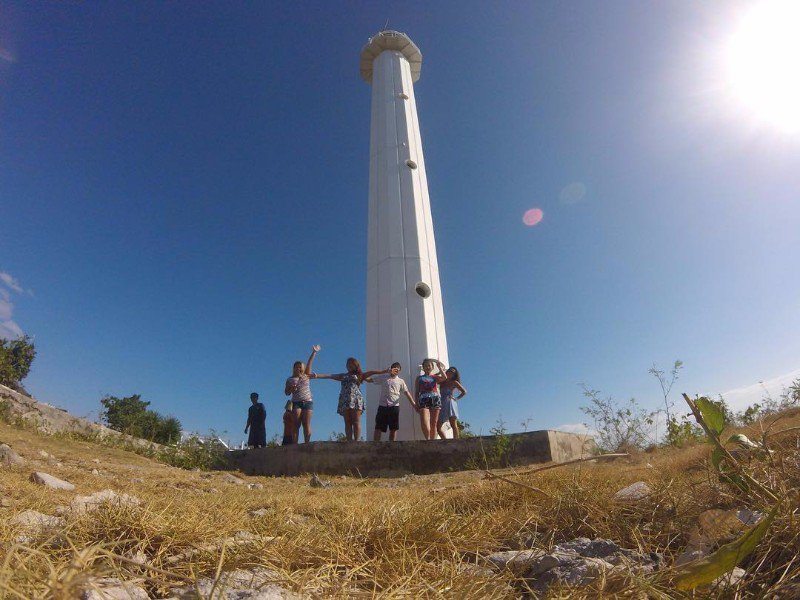 Or what the islanders call a habal-habal. You can find these motorbike drivers around the island who will gladly take you to the lighthouse or anywhere on the island for PHP50/trip. After a 5-minute trek up a hill, you'll be able to access a panoramic view of Malapascua and other surrounding islands.
 4. Laze around Bounty Beach and watch the sunset.
After a tiring day, laze around on the beach and make new friends while sipping on some juice. Or maybe even dance the night away with the locals and foreigners, who frequent the island to watch the beautiful twilight of a sunset, which can only be seen on Malapascua Island. The best views of the sunset can be seen at either Tepanee or Blue Coral Resort, both of which have happy hours!
5. Cap off your night with a bountiful dinner at Angelina's.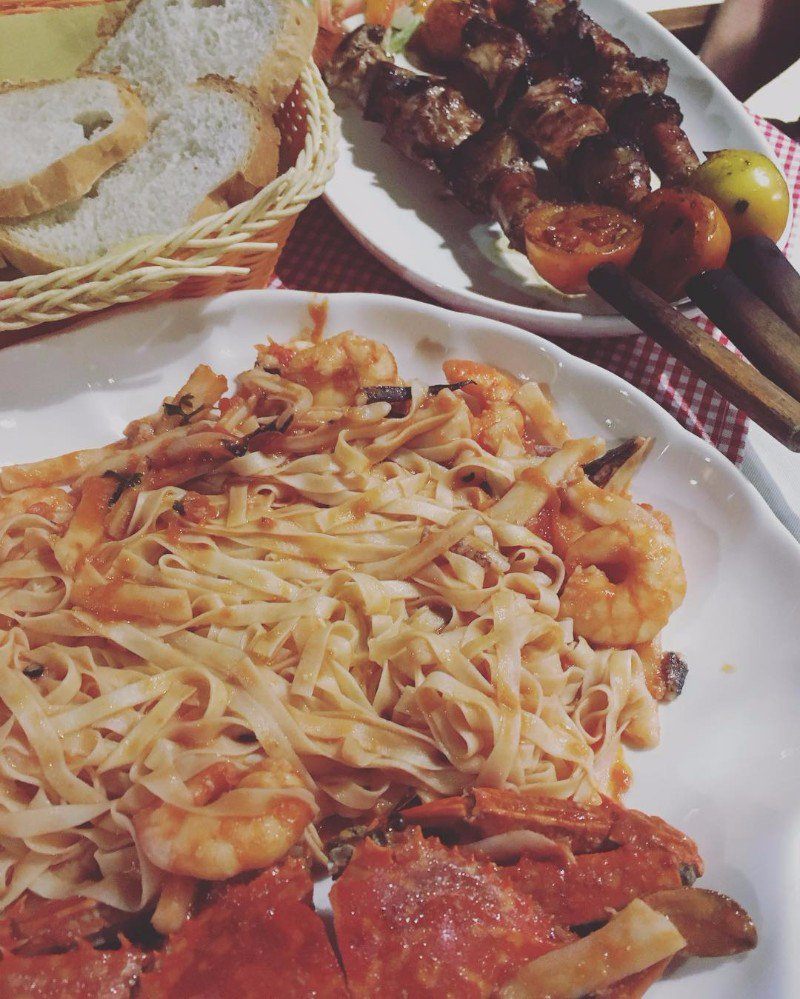 Angelinas's is the proud Italian restaurant of Malapascua that offers homemade pizza and pasta. It is another perfect location to watch the sun go down and while away the rest of the evening.
Day 3 in Malapascua: Kalanggaman Island and Thresher Shark Diving
1. Take a boat tour all the way to Kalanggaman Island.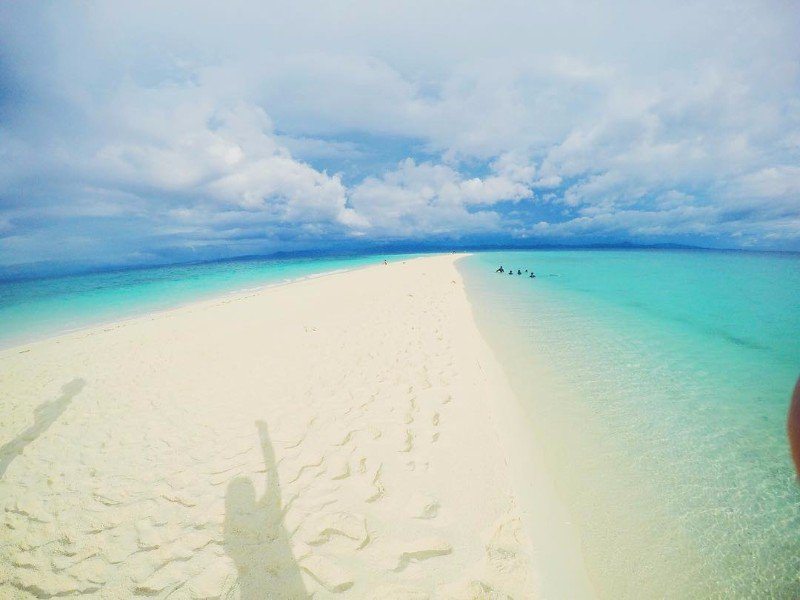 Although most tourists go to Malapascua for the diving thrills, many also visit to capture the beauty of one of the Philippines' treasure islands: Kalanggaman. If you've already heard of this place, then there's a good reason why!
Bordering the province of Leyte, Kalanggaman is famous for its crystal clear water, fine white sand, and vast sandbars stretching on both sides of the island. It's a 2- to 2.5-hour boat ride from Malapascua, and the island only allows 500 tourists per day. You can either go overnight camping or just spend the whole day swimming and chilling out in a native hut! Note though that the rates are quite expensive if you're not traveling in a group, starting at PHP 3,500 for the boat ride.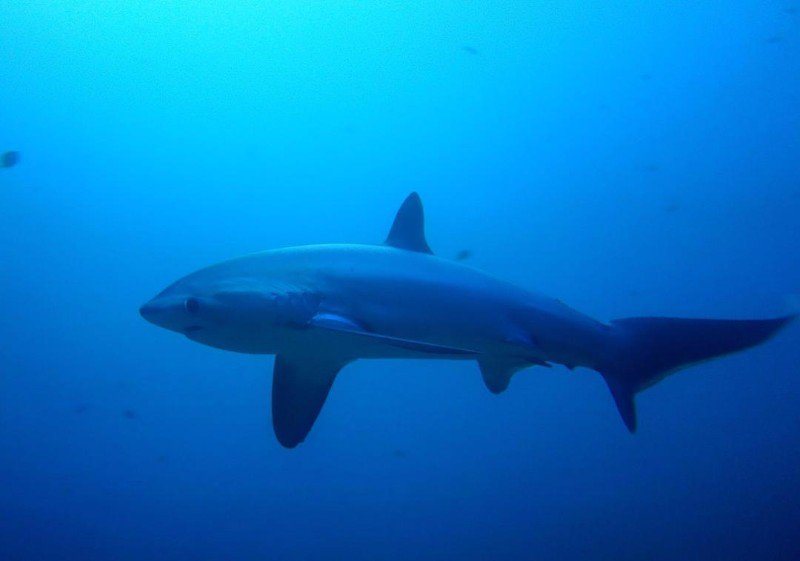 ALTERNATIVE: See the thresher sharks up close! Diving pros can take the plunge at Monad Shoal where the shy thresher sharks are regularly seen. That is if you're willing to go 98 feet below. You can extend one more day for this, seeing as thresher shark sightings start as early as 4:30 a.m to 5:30 a.m. If not, you can always buy the souvenir lookalikes at gift shops on the island (pasalubong idea)!
How to Get to Cebu City from Malapascua Island
Ride a boat back from Malapascua to Maya Port. The first trip leaves at 7:00 a.m. while last trip going back to Maya Port is at 2:00 p.m. This will again cost you PHP 80 for public boats. Once you're back at the port, take a Ceres bus bound for Cebu North Bus Terminal. The bus fare will cost you PHP 150 (non-AC) to PHP 190 (AC). Upon arrival, you'll want to recharge for the rest of the day because the next one will be an extreme adventure.
How to Get to Badian from Cebu City
From your hotel, take a taxi to South Bus Terminal. The taxi ride will cost you around PHP 100.
At the bus terminal, ride a Ceres bus bound for Bato via Barili (not Bato via Oslob!). The one-way bus fare is PHP 120 for a non-air-conditioned bus and PHP 147 for an air-conditioned one. The first bus leaves at 4:00 a.m. and every 30 minutes thereafter until 6:00 p.m. Travel time is around three hours.
Tell the bus driver or conductor to drop you off at Matutinao Church in Badian where the Kawasan Falls jump-off point is. Right across the church is Kawasan Canyoneering's headquarters. Do not transact with unaccredited coordinators!
Badian is the most popular southern part of the island that should be part of your Cebu itinerary!
Day 4 in Badian and Dalaguete: Canyoneering and Hiking
1. Try a beginner-friendly canyoneering experience.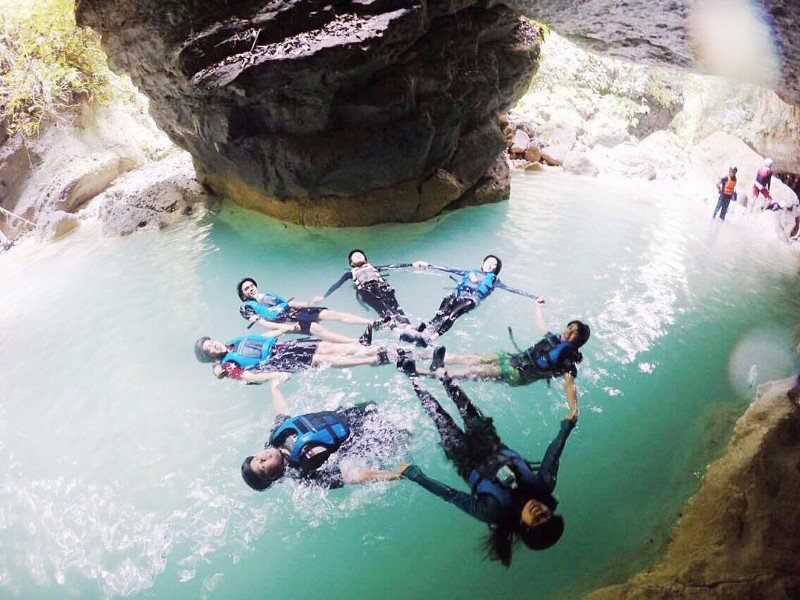 You and your friends can book a tour at Kawasan Canyoneering, a reputable agency that provides safety equipment and accredited guides for each group. Downstream canyoneering will start at Alegria and go through the Kanlaob River all the way to the Kawasan Falls in Badian. This route is very beginner-friendly! If you avail of the package, other activities such as rappelling, rock hopping, down climbing, cliff jumping, water slides and swimming are included for just PHP 1,500 per person.
Kawasan Falls is made up of three levels of waterfalls. You can opt to stay at the first and second stages, which are swimming-friendly areas, or be very adventurous and climb to the third from where you can jump 60 feet off the edge!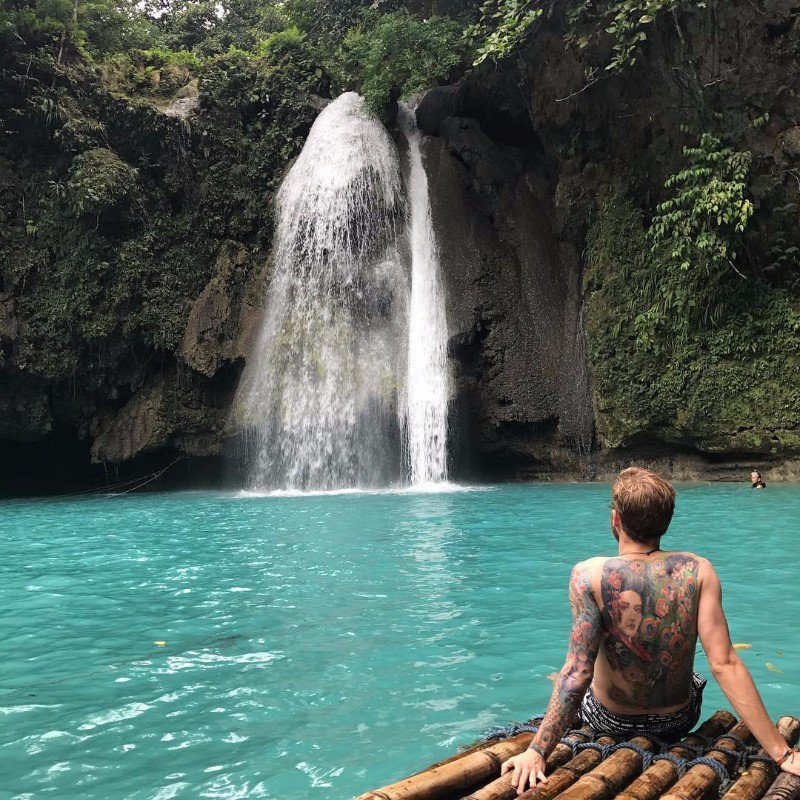 ALTERNATIVE: If you are not up for the canyoneering adventure, you may opt to head straight to Kawasan Falls from the jump-off point. There's a minimal entrance fee of PHP 10. If you want to get closer, you may rent a raft for PHP 300. If you prefer this route, make sure you have some packed lunch with you because prices at the falls can get pretty steep.
PHILIHAPPY PRO TIP: As you alight the bus at the jump-off point, tour guides will offer you guideship services. You don't need to hire a guide! The way up is along an easy and well-established trail that will only take you around 15–20 minutes to walk!
2. Go all the way up to Osmeña Peak.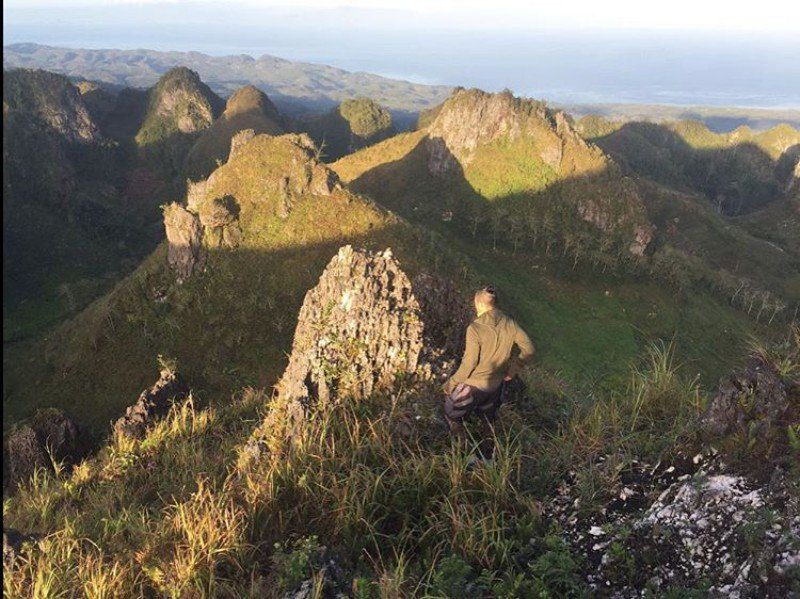 You might as well since you're already so near! Take the habal-habal ride to Osmeña Peak base camp in the town of Dalaguete. This will cost you around PHP 500, plus the registration fee at the Tourist Assistance Center in Dalaguete. From the base camp, it will only take you around 15–20 minutes to the peak, thanks to the habal-habal! Standing at 1,013 meters above sea level, Osmeña Peak is the highest peak in Cebu. Resembling the Chocolate Hills of Bohol, the beautiful sharp peaks and the 360-degree view of the Southwestern coastline of Cebu are really worth the extra hike.
How to Get to Cebu City from Dalaguete
Ride a habal-habal back to Dalaguete junction, and then from here, you can ride a bus bound for South Bus Terminal. The habal-habal ride costs around PHP 150 per person, while the bus fare is around PHP 170.
1. Grab a snack and get the best siomai in Cebu.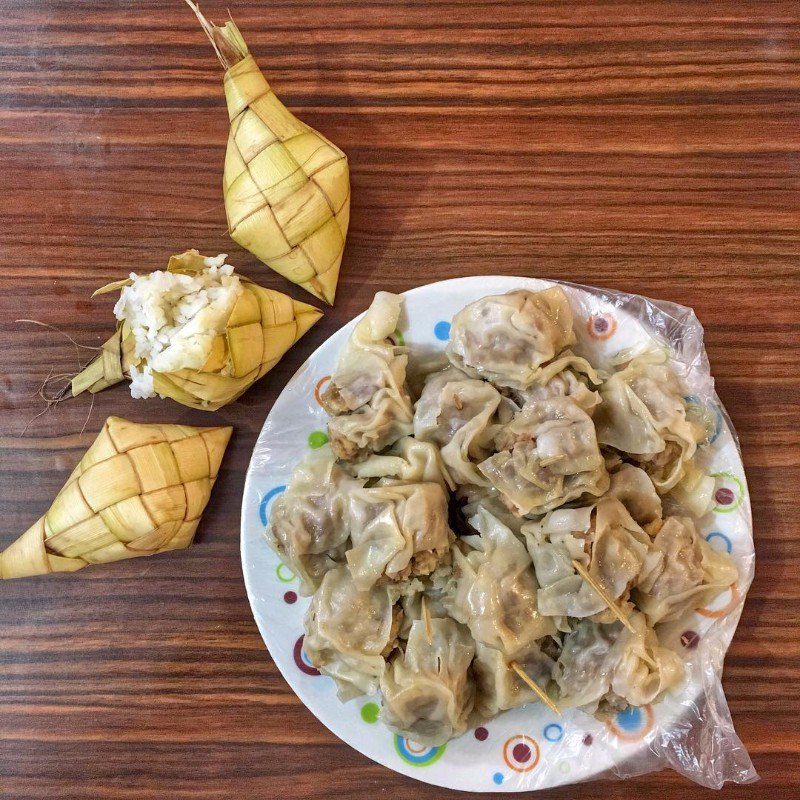 Keeping in trend with the Chinese tradition, you can't leave Cebu without trying the best siomai in town! Ground pork or beef wrapped in wanton, this is a popular Cebu snack food you can find on the streets. But you haven't tasted the best till you get Siomai sa Tisa! Squeeze some calamansi and chili on top and bite into the juicy, meaty goodness! This is best enjoyed with some puso (hanging rice)! And guess what? It's open 24/7 so you can go at any time!
2. Pack yourself some lechon-to-go!
You can't end your 4-Day Cebu Itinerary without buying some lechon to bring with you or to gift your family and friends at home. No need to look around before your flight out, Mactan International Airport has a small kiosk of Cebu's Ayer Lechon across the terminal gates in the domestic departure area. You can also try some native Filipino dishes like bopis, dinuguan, and paksiw at their restaurant before leaving. Ayer makes sure that even after you've landed, their dishes of lechon stay fresh!
Extend Your Trip! Attend the Sinulog Festival! (Optional)
Cap off your 4-day Cebu Itinerary by partying the weekend away on the streets with all kinds of tourists, paints, of course alcohol, and music! Remember the words: Pit Senyor!
Travel during the third week of January (which means you should book earlier a year before) so that by the end of it, you won't miss Sinulog Festival: Cebu's annual festival in celebration of Sto. Nino. It just happens to be the biggest festival in the country too!
Party at LifeDance!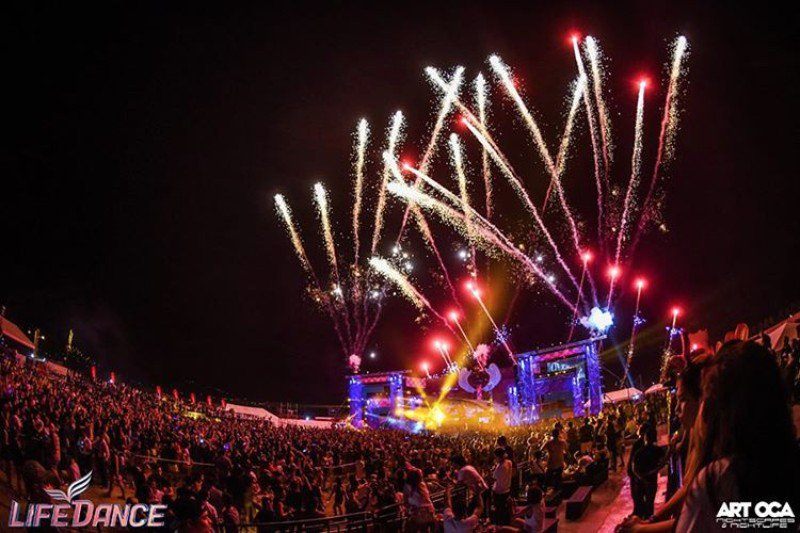 Usually landing on a Saturday night, LifeDance is the Philippines' first outdoor party. It starts at 7:00 p.m and tickets will cost around PHP 750 to PHP 1,500 for Patron depending on when you buy them. Lifedance lures people from all over and Asia (and the world) who come to join in the fun, dancing to international DJ sets, drinking and even watching fireworks throughout the night!
Watch the Sinulog Grand Parade.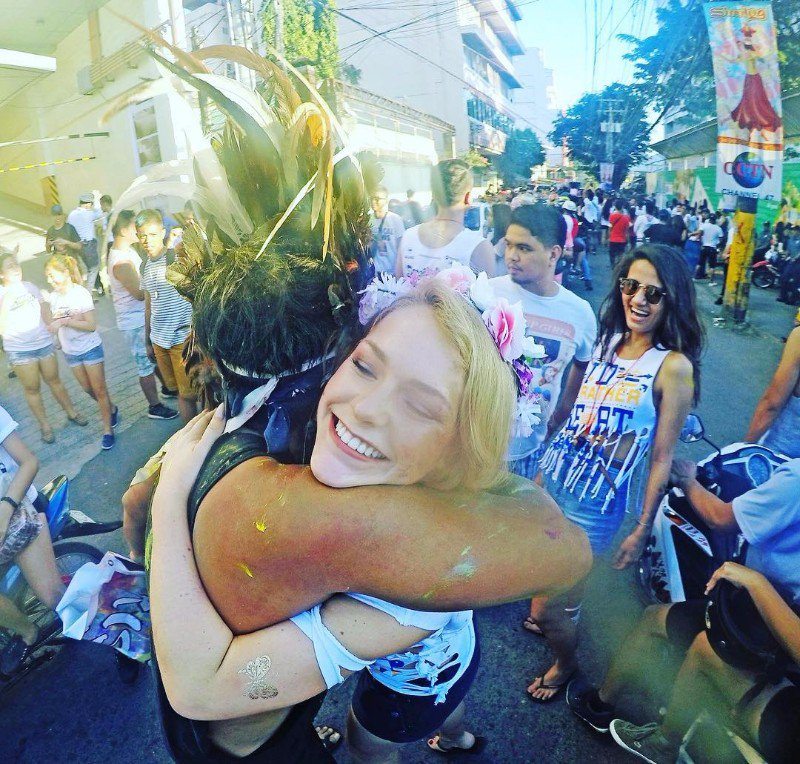 Appreciate what Sinulog Festival is all about by waking up early on Sunday to catch the parade as it marches through the city, showcasing beautiful costumes, floats and native dances of the Cebuano culture. And then grab a spot on the street (although not along the parade route since this has been banned) with your friends and party all afternoon till night! Expect to get dirty at Baseline's Sinulog Invasion, a street party that can get very rowdy with all the paint and colored powder being thrown around.
PHILIHAPPY PRO TIP: Buy a Sinulog shirt or bring any white shirt you don't mind throwing away after (or keeping for memory's sake). Extra pro tip, bring your own jugs to pour alcohol in and share with your friends, seeing as lines for liquor will be long.
Cebu boasts of being not only a metropolis where there's much to see and do from landmarks to nightlife but also of being one of the most beautiful islands with pristine, virgin beaches in the country. And if you have four days, you can explore both sides of the Queen City of the South!
If you want to make Sinulog Festival the center of your Cebu itinerary, then add the weekend but make sure to appreciate Cebu and its other rich parts where you can go on new adventures, pig out, and most importantly, have the best time of your life!