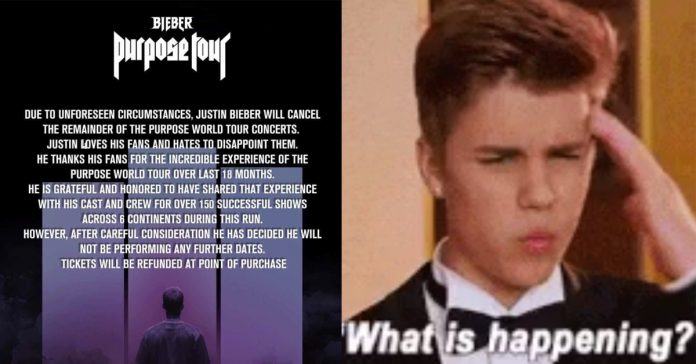 Justin Bieber Cancels His Purpose Tour And This Is How The World Reacts
ICYMI, Justin Bieber has just canceled the rest of his Purpose tour dates due to "unforeseen circumstances." Whaaat?
Justin: 'due to unforseen circumstances the purpose tour is cancelled'
me: pic.twitter.com/n9Bn4InCvF

— ♡ (@BubbleButBieber) July 24, 2017
The Purpose tour has come to an abrupt end, and that's just a fact—a heartbreaking one—that we'll have to accept. But before acceptance, of course, there is denial and a whole mix of emotions.
Here's how shookt the world is about the devastating news.
Raise your hands if this is so you right now.
Justin Bieber fans after hearing he's cancelling the rest of his tour… pic.twitter.com/RhHKwGyggW

— The Ellen Battle (@theellenbattle) July 25, 2017
News: PURPOSE TOUR MNL- CANCELLED
Me: IM GOOD. IM NOT CRYING OKAY IM OK- WTF IM SO SAD I CAN'T 😭😭😭😭😭😭 #PurposeTour #PurposeTourMNL pic.twitter.com/cilNgxCMP0

— Kristal (@kristalreyel) July 25, 2017
Can it be any worse than this…
THIS IS MORE PAINFUL THAN MY BREAKUPS HUHUHU CHAROT #PurposeTourcancelled

— Martha Z. ♛ (@MARTHAlinooo) July 25, 2017
Or this?
Justin Bieber cancelled his purpose tour. pic.twitter.com/C5NpUgDn90

— Halamans Of Manila (@HalamansOfMnl) July 25, 2017
Just kidding!
But think about the jowas who spent thousands of pesos…
So ayun na nga sayang naman effort nung mga nagsuprise ng purpose tour ticket sa kanilang mga jowa sadddddd

— Henz ✨ (@cristelhenz) July 25, 2017
Good thing, there's refund!
And Kim Chiu who fangirled so hard when Justin Bieber said he will see her on his Purpose tour…
Ano kayang nararamdaman ni Kim Chiu na asang asa siya na magkikita sila ni Bieber pero biglang nagcancel ng Purpose tour? #Anopangpurpose?

— Crisjo Pineda (@jhokpineda) July 25, 2017
Ouch, right? We feel you, Chinita Princess!
Purpose tour was just TCTGA.
My World Tour: too young to go
Believe Tour: my country isn't part of the tour dates
Purpose Tour: almost but got cancelled😭💔

(c)

— PTM cancelled (@biebersausage1) July 25, 2017
The concert that got away…
Some were more positive though.
PURPOSE TOUR:

18 MONTHS
150 SHOWS
6 CONTINENTS

Thank you Justin for sharing your purpose with us worldwide! You deserve all the rest!

— Maria Teresa (@BANINENGDYOSA) July 25, 2017
In all fairness to the Biebs, the Purpose tour had been going on for soooo long!
us: when is purpose tour gonna end we're ready for the next era
Justin: cancels the rest of purpose tour
us: pic.twitter.com/9vbaXIi6cd

— Shania (@ShanniaG) July 24, 2017
We totally understand that he deserves a break from all his hard work.
But really, we could only wish that we could use the same excuse at work…
Justin Bieber cancelled his 14 date tour because he's "just over it" LMAO wish I could not show up to work and use that same excuse but w/e

— no. (@thisisnotbrianm) July 24, 2017
"Hey boss, I can no longer come to work due to unforeseen circumstances."
But wait, did you even have a ticket?
Kung makareact naman sa Purpose Tour eh wala ka naman ticket. ᜑᜑᜑᜑ

— Cedricks Blanco (@cedricksjustine) July 25, 2017
With ticket or no ticket, this is no reason for us to hate and leave the Justin Bieber fandom. Will there ever be any reason at all? We don't think so! He has, after all, produced countless hits that continue to put us in a good mood. This is an end of an era indeed, but onto the next one! The question is, are we going to get a Purpose tour movie in the near future? *crossing our fingers*
To make you feel better, here's Justin Bieber saying sorry to everyone—singing rather. We bet you'll be putting his songs on repeat today!
i think it's the time for a purpose tour movie! pic.twitter.com/eJgoEv7pnw

— . (@JgaveMePurpose) July 25, 2017