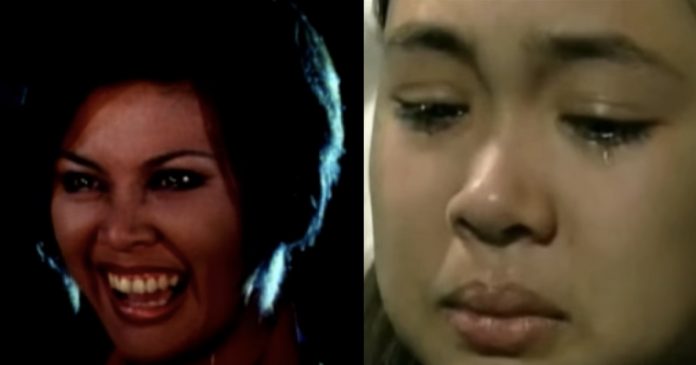 9 Iconic Pinoy Teleseryes We Miss And Must Watch Again
Pinoy teleseryes come a dime a dozen, but some are just harder to forget than others. Whether it's because of an epic rivalry, a kontrabida whose evil laugh shall forevermore be seared in our brains, or a love team who made us all believe that chasing each other in a rice field was the ultimate act of pag-ibig, some teleseryes just endure. In a sea of over-the-top telenovelas, we find a handful that did it right. Here are nine deliciously extra pinoy teleseryes we miss and will always remember.
Mula Sa Puso
Pretty much everything about this teleserye worked. There's the cheesy theme song, the Rico-Claudine-Diether love triangle, Jaclyn Jose as the browbeaten mother. And then of course there's that scene where Princess Punzalan's Selina Matias laughs maniacally at a burning bus supposedly carrying Claudine's character Via. It is undoubtedly that scene that puts this on the top of the list of pinoy teleseryes we miss. Mula sa Puso is so iconic, it has since been remade. And while that satisfied our cravings for good old-fashioned telenovela drama, nothing can match the impact of the 1997 original.
Mara Clara
Between Judy Ann Santos' cherubic api face as Mara and Gladys Reyes' laser-like sneers as Clara, the switched-at-birth storyline, and the rich-vs-poor theme, this teleserye is primetime gold. Throw in an iconic hair-pulling scene, and you've got drama that is pretty much impossible to top. It's no wonder why Mara Clara was the longest-running telenovela in Pinoy TV history. The 2010 remake with Kathryn Bernardo and Julia Montes was a good effort, but again, nothing beats the original.
Pangako Sa'Yo
With the ultimate early 2000s love team in starring roles, this teleserye was made to be a hit. Jericho Rosales' and Kristine Hermosa's chemistry framed within a rich boy-poor girl romance made us watch this show religiously. More than that, the show also foisted upon us the legendary Amor Powers, one of the first true Bad Bitches on local television. Eula Valdez's portrayal of the vengeful Ms. Powers remains unparalleled. (Also, yes, this show has been remade. And no, the remake still does not hold a candle to the original).
Esperanza
With a theme song by the one and only April Boy Regino, and Marvin and Jolens in supporting roles, you simply can't go wrong. And then of course there's the Juday-Wowie love team. Also, a fresh-faced Piolo Pascual. All of that makes this soap opera an underrated but unforgettable gem. Definitely one of the pinoy teleseryes we miss.
Saan Ka Man Naroroon
You know a show is good when you've got Claudine Barretto playing triplets separated at birth. This teleserye includes every soap opera cliche and blows it wonderfully out of proportion. The result is a crazy saga that has one of the triplets falling of a cliff, coming back as a singer, and the three of them managing to share a triple wedding in the finale. This may be one of the pinoy teleseryes we miss the most, especially because it was Rico Yan's last one before he died in 2002 </3.
Sa Dulo Ng Walang Hanggan
Once upon a time, Carlos Agassi wore clothes that actually had buttons. This is the teleserye that proves it. Agassi's surprising chemistry with Claudine Barretto was something that kept us tuned in every night, along with Mylene Dizon's impeccable turn as the kontrabida. What made the show unique, though, was its historical drama/ reincarnation plotline. It's a twist that has not been seen in another teleserye since.
Maging Sino Ka Man
Who can forget that that immortal line "I never said that I love you", made even more unforgettable by Sam Milby's crisp American twang? There hasn't been a TV moment since that strikes that balance between melodramatics and gravitas. With a cast that includes fresh-from-the-PBB house Sam and pre-It Girls Anne Curtis in a love square(?) with the ULTIMATE onscreen couple of that era, Bea and John Lloyd, it was the top teleserye of the late 2000s.
Be Careful with My Heart
When it comes to pinoy teleseryes we miss, this may be the most lighthearted. Its rehashed Sound of Music plot is much simpler than the other teleseryes on this list. That's precisely why we miss it. Carried by the undeniable chemistry between the now-iconic Maya and Ser Chief, it made millions of pinoys swoon on a daily basis. Not to mention, it cemented Richard Yap's DILF status and made him a household name.
On the Wings of Love
As it is, the world is still recovering from OTWOL fever, with the show wrapping up only in 2016. It has a story that manages to veer away from soap opera cliches while still retaining the familiar plot elements that audiences love. Of course, the ratings were compounded by James Reid and Nadine Lustre, who came out as a real couple shortly before the OTWOL finale aired. While it's one of the pinoy teleseryes we miss, we at least still have enough JaDine action to get by on.
Netflix series may come and go, but there is nothing quite like the cult impact of a pinoy telenovela. These pinoy teleseryes we miss are proof of that. And while remakes seem to be the studios' course of action, might we suggest airing reruns instead?